Far-Right Politician Retweeted by Trump Jailed for Hate Crimes
The deputy leader of a far-right group in Britain promoted on Twitter by President Donald Trump has been sentenced to jail for hate crimes.
Jayda Fransen, 32, of the anti-Islam political party Britain First was sentenced Wednesday to 36 weeks in jail for religiously aggravated harassment. The group's leader, Paul Golding, 36, was found guilty of one charge and sentenced to 18 weeks.
The two were tried in January for handing out anti-Muslim leaflets in "a campaign to draw attention to the race, religion and immigrant background of the defendants" in a gang rape case, said Judge Justin Barron. They filmed other instances of racial abuse targeting the public and released the videos through Britain First's website and social media accounts.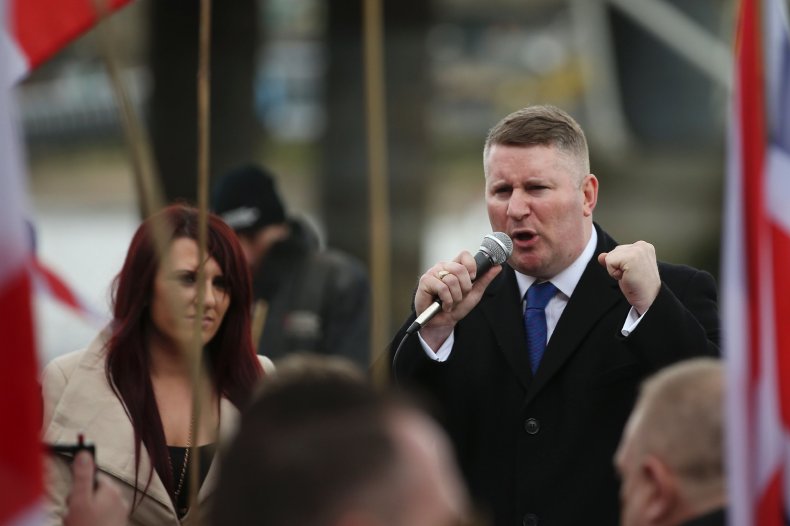 The group pushes anti-immigrant propaganda and mounts provocative stunts to harass Muslims, which it uploads to YouTube and Facebook.
Last November, Trump drew a sharp rebuke from British Prime Minister Theresa May after he retweeted a series of messages Fransen had posted on her social media account. "It is wrong for the president to have done this," May said, adding it caused "anxiety to law-abiding people."
The messages featured a series of videos claiming to show Muslims hurting other people. One titled "Muslim migrant beats up Dutch boy on crutches!" was quickly debunked by Dutch authorities, who said the attacker in the video was not a Muslim or a migrant and is a citizen of the Netherlands.
White House press secretary Sarah Huckabee Sanders said at the time that Trump had not fact-checked or verified the videos.
Related: Who is Britain First's Jayda Fransen, the U.K. far-right, anti-Islam leader who Trump retweeted?
"I think a lot of the people in your country like what I stand for—they respect what I stand for," Trump told Good Morning Britain presenter Piers Morgan during an interview at the World Economic Forum in Davos, Switzerland, in January.
Morgan asked if Trump thought he owed Britain an apology for promoting far-right views of political extremists.
"If you are telling me they're horrible people, horrible, racist people, I would certainly apologize if you'd like me to do that," the president said. "I am often the least racist person that anybody is going to meet. Certainly I wasn't endorsing anybody," Trump said of the tweets.
"This is a very sad day for British justice. Everything I did was for the children of this country, and they are worth it," Fransen said during her sentencing. Her supporters shouted "no surrender" as they left the court.