Antifa Clash with Far-Right in Portland during March for Patriot Prayer's Joey Gibson
Anti-fascist and far-right activists clashed in Portland, Oregon on Saturday night as violence broke out during a march in support of a conservative Republican candidate for the U.S. Senate, media reported.
Scuffles broke out after anti-fascists pelted marchers from the right-wing Patriot Prayer group with eggs, water bottles and firecrackers, the Oregonian newspaper reported. The Patriot Prayer group's founder Joey Gibson is running for the Senate.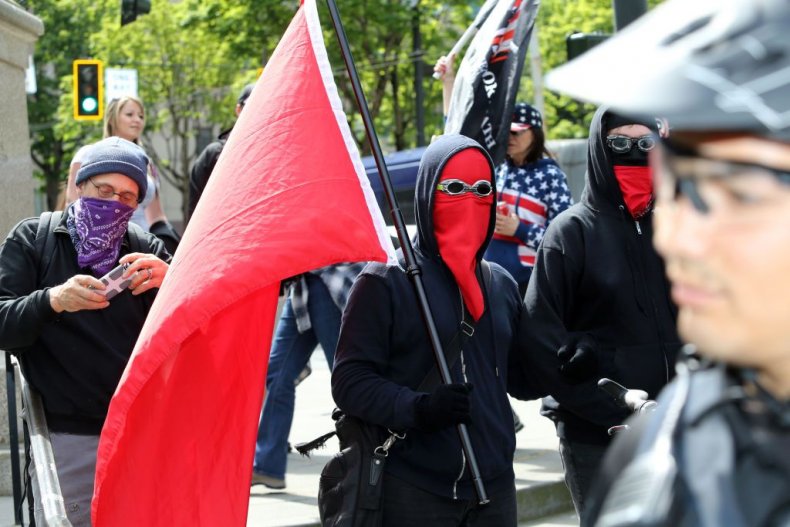 Portland police classified the gathering as a "riot," after officers witnessed assault and other crimes taking place during the march, and ordered protesters to disperse, KOIN reported.
As violence erupted, police used 'aerial distraction devices'—which are similar to stun grenades—pepper spray and pepper balls in an effort to disperse the clashing protesters.
Police made a handful of arrests from both sides, and officers seized utility knives, pepper spray and clubs, according to the Oregonian.
A police officer was injured in the unrest and taken to hospital, but his injuries are not believed to be serious, according to KOIN.
"Portland Police planned for today's protest so that people could exercise their First Amendment rights to speech and assembly," said Deputy Chief Bob Day in a press release. "We seized numerous weapons early on, and interceded and separated people when necessary. However, once projectiles, such as fireworks, eggs, rocks, bottles and construction equipment were thrown and people were injured, we ordered people to disperse."
Patriot Prayer is a Vancouver-based right-wing group, which has held protests in several predominantly cities on the U.S. west coast. Gibson, who is a GOP Senate candidate for Washington, has denied ties to the white nationalist alt-right movement. Anti-facist groups in Portland told the Oregonian that they protested to show their opposition to out-of-town agitators.
The two groups also clashed in protests in the city on June 3.