Far-Right Protesters Battle Anti-Fascists After Stabbing of German Man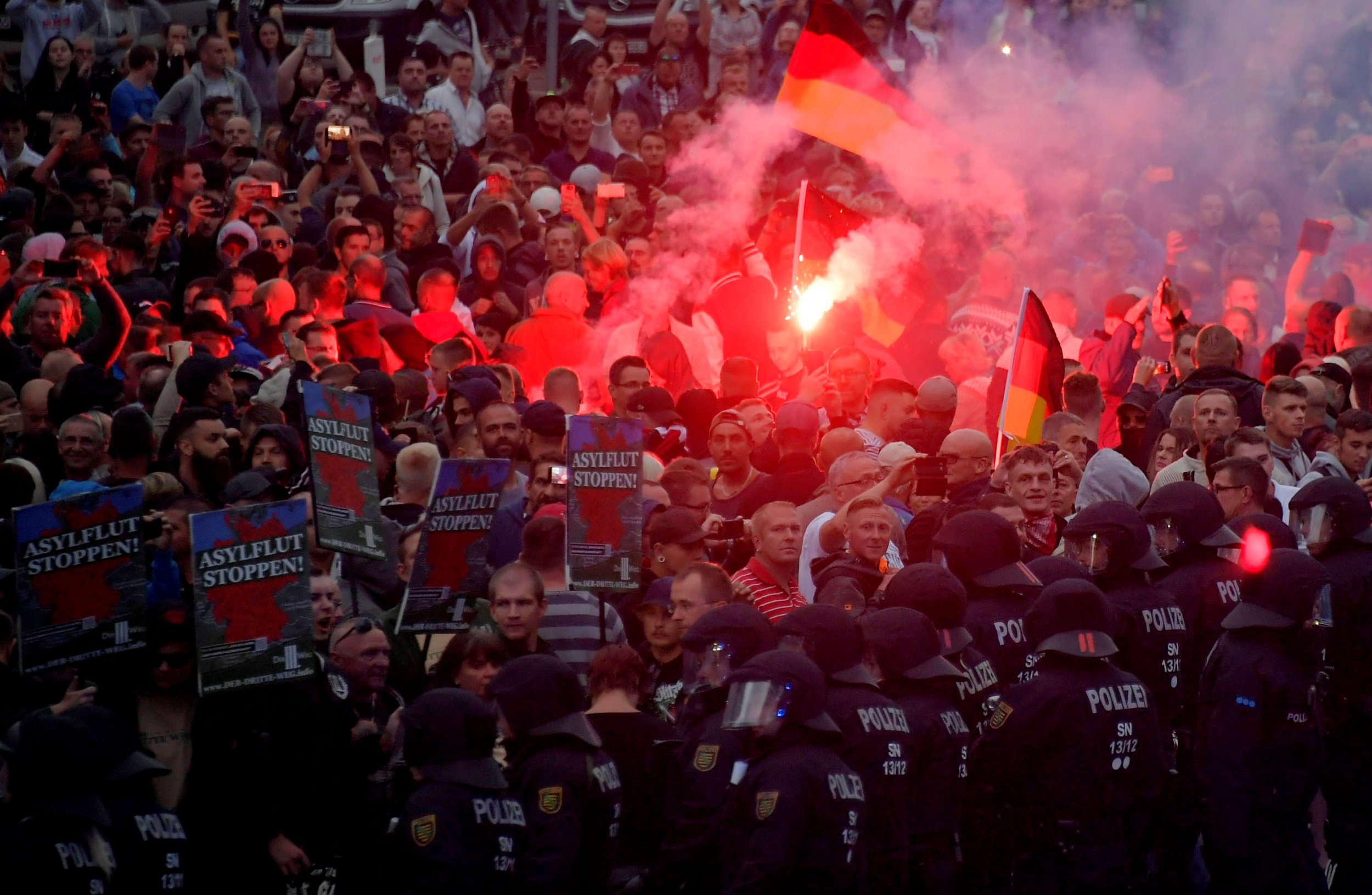 Violence erupted in the east German city of Chemnitz Monday, as far-right protesters clashed with left-wing counter-demonstrators following the alleged murder of a man by two migrants.
Two men—a 21-year-old Iraqi and 22-year-old Syrian—have been arrested on suspicion of murder after the 35-year-German was stabbed to death in the early hours on Sunday. Two other men were seriously injured in the attack. It is not yet clear what sparked the fight, but police have denied it was linked to the sexual harassment of a woman, the BBC reported.
Around 100 far-right protesters gathered at a monument to Karl Marx in the city center on Sunday to voice their anger at the murder. They were later joined by around 800 more people and the demonstration turned violent, with reports of protesters attacking people who did not look German.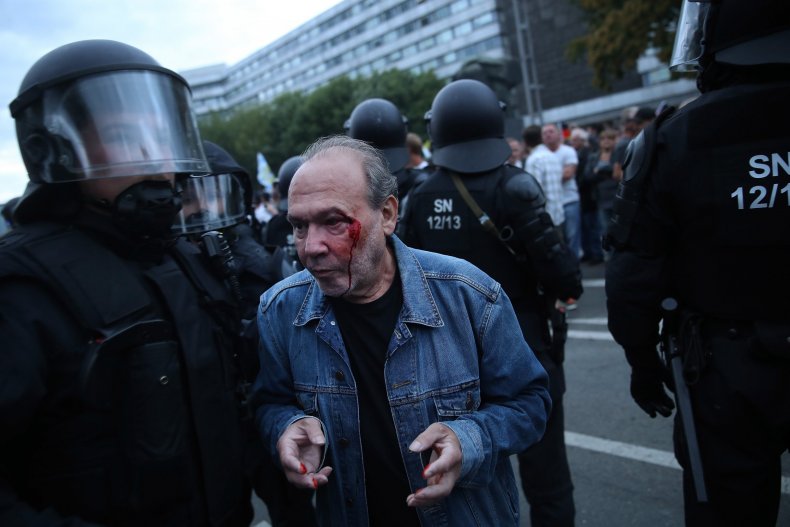 The German government condemned the violence, with Chancellor Angela Merkel's spokesman Steffen Seibert warning "vigilante justice" would not be tolerated. Police are still investigating complaints of violence filed by Syrian, Afghan and Bulgarian people, and at least four people have been charged, Reuters said.
"We don't tolerate such unlawful assemblies and the hounding of people who look different or have different origins, and attempts to spread hatred on the streets," Seibert told reporters Sunday. "That has no place in our cities and we, as the German government, condemn it in the strongest terms," he said. "Our basic message for Chemnitz and beyond is that there is no place in Germany for vigilante justice, for groups that want to spread hatred on the streets, for intolerance and for extremism."
Another event was organized for Monday evening, with the help of the nationalist anti-Islam group Pegida and some members of the Alternative for Germany (AfD) party. More than 1,000 people with German and Bavarian flags turned out, some chanting "We are the people," a common slogan among right-wing groups. Police said the demonstrators were using Hitler salutes and neo-Nazi banners and placards, with messages such as "Stop the asylum flood," the BBC reported.
A similar number of counter-demonstrators gathered nearby, both sides throwing fireworks and objects at one another, which led to police using water cannons to keep them apart. The counter-demonstrators carried numerous anti-Nazi banners and flags.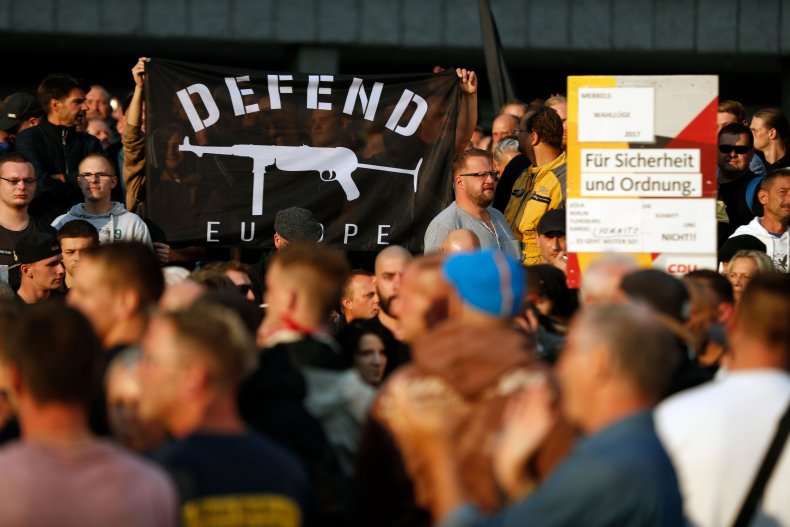 Tim Detzner, the leader of the left-wing populist Left party in Chemnitz, told the rally, "The scenes of people going after those who look like foreigners scare us. We want to show that Chemnitz has another side that is cosmopolitan and opposes xenophobia."
Germany has admitted more than a million Middle Eastern migrants since 2015. Xenophobic tensions in Europe's largest economy have risen, helping right-wing parties like the AfD grow their support base and capture more seats in the country's parliament. On Sunday, AfD politician Markus Frohnmaier warned, "If the state is no longer to protect citizens then people take to the streets and protect themselves. It's as simple as that!"
Martina Renner, a member of the Left party, said right-wingers were using the murder to push their political agenda. She tweeted: "A terrible murder, the background to which is still unclear, is being instrumentalized in the most repugnant way for racist riots in Chemnitz."