People in Germany suspect that police may have played a role in launching days of violent far-right demonstrations that drew condemnation from German Chancellor Angela Merkel.
As aggressive members of far-right groups have rocked the eastern German city of Chemnitz, some spectators wondered why the police weren't better prepared to deal with the mobs of vigilantes. Some also believe that people in the local police may have played a role in starting the events.
The protest took place after a 35-year-old German man was killed in the city. Lutz Bachmann, the founder of the far-right, anti-immigration Pegida movement, obtained a leaked copy of the arrest warrant for the murder suspect and tweeted it to his 10,000 followers. The suspect was a 22-year-old Iraqi, and the tweet brought thousands of Pegida supporters into the streets seeking out foreigners in order to avenge the murdered citizen. Questions still remain over who leaked the arrest warrant to Lutz, and local police have said they are launching an investigation.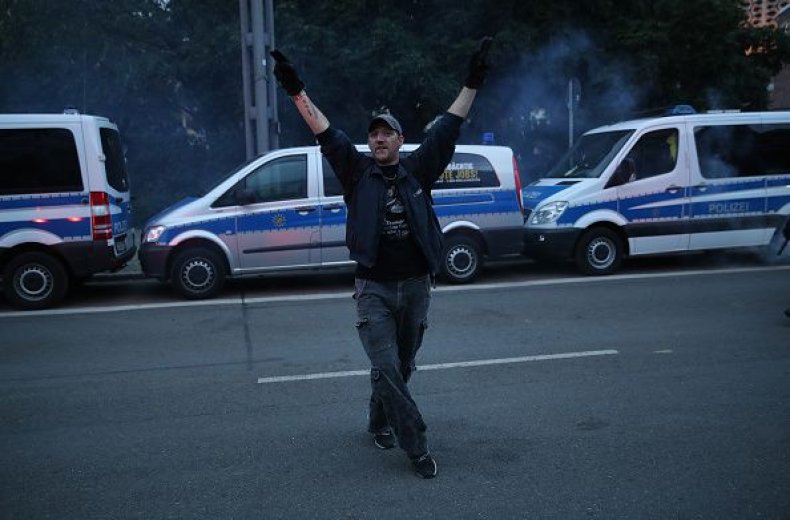 Police in Chemnitz, however, have long been suspected of having ties to the far right, including the political party Alternative for Germany (AFD), which has a strong base of support in the Saxony region where the city is located. Recently, some Germans have started calling the police the Pegizei, a combination of the German word for police and Pegida.
The demonstrations, which began Sunday—the day after the German man's murder—drew around 6,000 demonstrators and nearly 1,000 counter-protesters. Many of the far-right protesters began roaming the streets in search of foreigners. Police are investigating at least 10 people for making Nazi salutes, which is illegal in Germany. Neo-nazis and football hooligans swelled the numbers of the far-right protesters, and some demonstrators traveled from other cities.
Merkel criticized the behavior, saying that videos of mobs seeking vigilante justice are unacceptable in a constitutional state.
"We have video footage showing that there was targeted harassment, that there was rioting, that there was hate on the streets, and that has no place under our rule of law," she was quoted as saying. "In no square and on no street should it come to rioting."
The event proved to be a political opportunity for the AFD, which accused the media of overlooking the 35-year-old's death. The far-right party is gaining support in the region at the expense of Merkel's center-right party.
By Wednesday, the protests had mostly died down. Nonetheless, some officials said they suspect new demonstrations will be launched on Thursday.