Far-right social media network Gab deleted its Twitter account on Friday, following repeated complaints about claiming that mainstream social media outlets treat conservatives unfairly.
Searching for the @getongab account, which had been the site's official Twitter account, resulted in a message that "this account doesn't exist" as of Friday night. In the previous hours and days, the account had posted messages claiming tech companies were stifling "free speech," along with at least one retweet of an anecdote featuring the false claim that President Joe Biden "stole" the presidential election from former President Donald Trump.
Another last-minute tweet made from the account displayed side-by-side photos of former White House Press Secretary Kayleigh McEnany and current White House Press Secretary Jen Psaki, alongside comments claiming that McEnany represented "light," "good" and "angels," while Psaki was aligned with "darkness," "evil" and "demons."
Gab touts itself as "the free speech social network" but is best known as a popular platform for white supremacists, pro-Trump conspiracy theorists and other fringe figures on the far-right of the political spectrum. The site claimed that 600,000 new users were joining its ranks every day after conservative social media platform Parler went offline due to being removed from Amazon web servers and several app stores following the January 6 U.S. Capitol insurrection.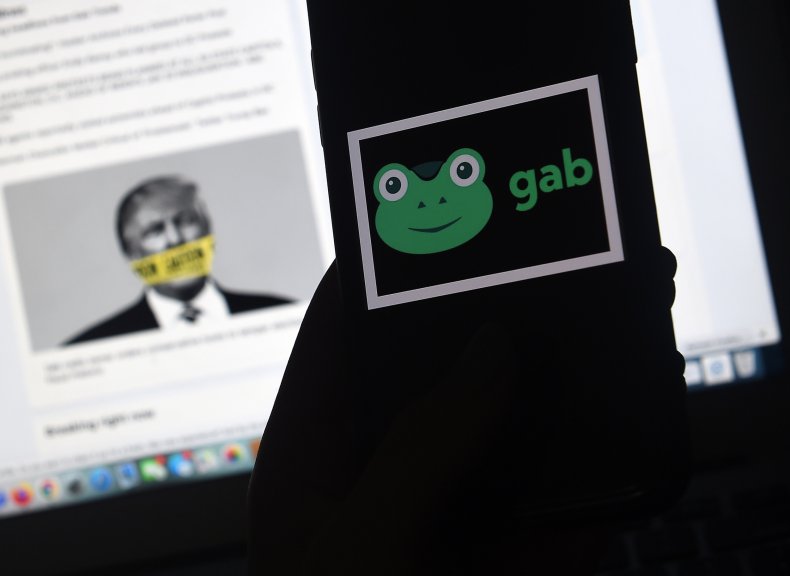 Parler sued Amazon after going offline, demanding that the company be forced to host them. The platform returned in a limited form about a week after being shut down, with the aid of a Russian server that has also hosted Russian government sites, as well as sites popular with extremists and conspiracy theorists such as 8kun, which is heavily associated with the pro-Trump QAnon conspiracy theory.
Gab temporarily went offline in 2018 after its server cut ties with the company due to the platform hosting messages from the man accused of perpetrating the anti-Semitic mass shooting that left 11 people dead at the Tree of Life Synagogue in Pittsburgh, Pennsylvania. The app has also been banned by multiple payment processors and from the Google and Apple app stores for violating hate speech rules.
In addition to providing a social messaging platform open to extremists, Gab also offers a web browser extension called "Dissenter," which is used to circumvent hate speech rules and moderation policies on third-party websites, potentially forcing comments from trolls and extremists to be posted where they would otherwise be blocked.
Although the circumstances of Gab deleting the Twitter account are not entirely clear, the company has repeatedly complained of "big tech censorship." A number of prominent Trump loyalists quit Twitter in protest of the former president being permanently banned from the platform on January 8 over concerns he could incite further political violence before leaving office. Trump was impeached by the House for a second time after allegedly inciting the Capitol insurrection, becoming the only president in history to receive the dishonor twice.
Newsweek reached out to Gab and Twitter for comment.