The annual report from conflict watchdog the Institute for Economics and Peace (IEP) has found that while the number of deaths from terrorism is falling, more countries were affected by terrorist violence in 2018 than in 2017.
The 2019 Global Terrorism Index showed a general downwards trend in the number of attacks, deaths and economic damage wrought by terrorism worldwide. However, the report also noted that terrorist activity remains significant, adding that increasing activity among right-wing terrorist groups is particular cause for concern.
The number of deaths from terrorism fell by 15.2 percent from 2017 to 2018, to a total of 15,952 people worldwide—as illustrated in the below infographic from Statisa. This represents the fourth consecutive year-on-year reduction for fatalities, with the number of deaths having dropped 52 percent since 2014.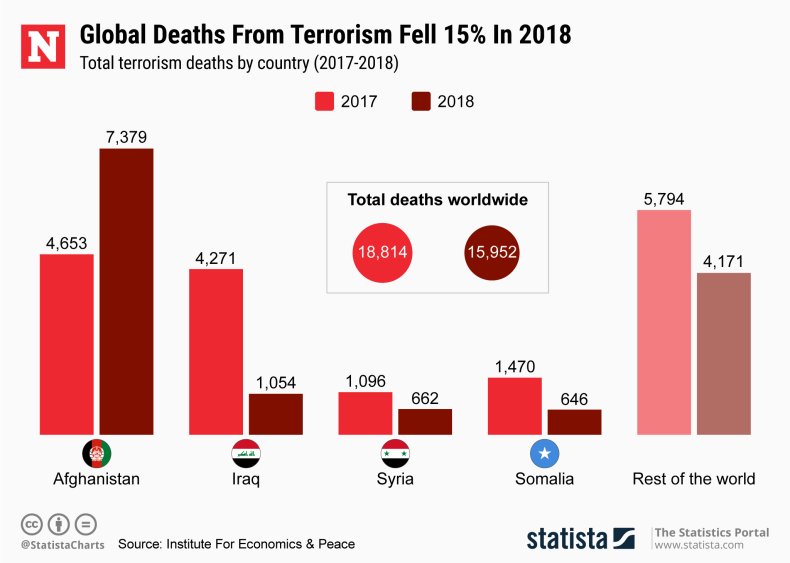 Ninety-eight nations recorded an improvement in the number of deaths, which is the highest number posting an annual improvement since 2004, the report noted. Forty countries recorded an increase in the number of terrorist deaths. Seventy-one countries recorded at least one terrorism-related death in 2018.
Terrorism remains a global threat, the report said, with 71 nations recording at least one related death in 2018—the second-highest number since 2002 and four more than the year before.
The security situation in Western Europe appears to have improved significantly, with terror-related deaths down by 70 percent between 2017 and 2018. However, the report warned that Europe, North America and Oceania are all experiencing a concerning uptick in right-wing terrorism.
Western intelligence and security services have largely focused on Islamist terror over the past two decades, pivoting to face the threat from groups like Al-Qaeda and later ISIS. This has taken the focus off right-wing groups, which in recent years have become more prominent and deadly.
The number of far-right killings in these regions increased by 52 percent in 2018, the IEP reported. The trend has continued into this year, with right-wing terror claiming 77 lives up to the end of September 2019.
In January 2019, the Anti-Defamation League's Center on Extremism reported that every extremist killing in the U.S. in 2018 was linked to far-right individuals or organizations.
Despite pressure to do more to combat the far-right, President Donald Trump's administration has defunded programs intended to stop the radicalization of young white people.
Steve Killelea, the Founder and Executive Chairman of the IEP, noted that although the growth in right-wing terror was starting from "a low base," the 320 percent increase in such attacks between 2014 and 2018 is cause for serious concern.
He added that most of the deaths in North America, Western Europe and Oceania linked to far-right activity were in the U.S. and Canada. One factor is the easy access to firearms in North America, he explained.
The report noted that over the past four decades, around one-fifth of all mass shootings in the U.S. has been classified as terrorist attacks of some ideology. But in the last 10 years, that figure has risen to one third.
The majority of right-wing terror terrorists are not aligned to any particular group, operating as so-called "lone wolf" attackers—though some experts have argued the phrase "lone wolf" is misleading given the process of radicalization all terrorists go through and the networks they belong to.
Islamist attackers also often act alone—especially since the rise of ISIS—but the predominance of lone right-wing terrorists makes it "hard for a security organization to actually track them down and stop attacks in advance," Killelea explained.
The causes of such a trend are myriad, but Killelea said there is "a rise in people who are disaffected with the system," borne out in a loss of belief in political leadership and democratic ideals and exacerbated by economic inequality and a lack of opportunity.
These problems are not going away, meaning right-wing terror attacks could become more and more common.
"I think the trend for far-right terrorist activity is on is on the increase," Killelea said. "Where that goes two, three years out from now is difficult to determine."
Fighting the trend will require engaging in a "constructive dialogue" with people from at-risk communities, Killelea added, to understand and hopefully address the factors that drive them to extremism.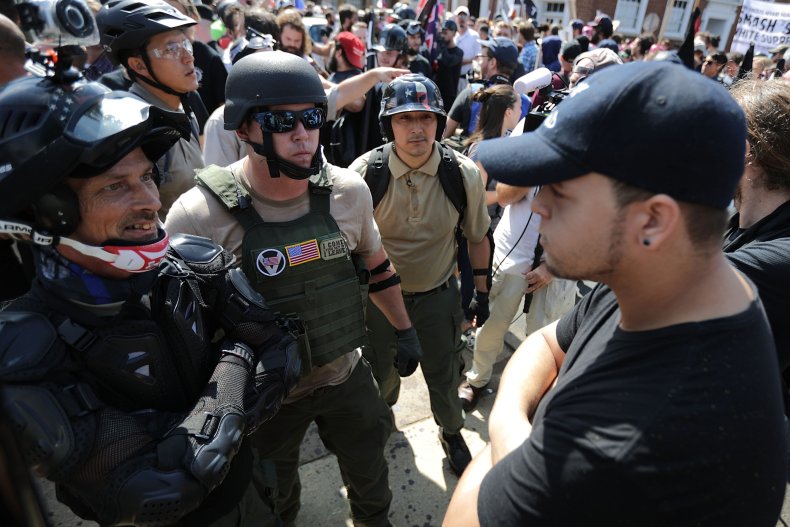 Taliban resurgence
Afghanistan suffered the worst of any nation in 2018, with the Taliban overtaking the Islamic State to become the most deadline terrorist group in the world.
Taliban-related deaths increased 71 percent to 6,103. The Sunni extremist group—which has been negotiating a peace deal with occupying American forces—accounted for 38 percent of all terrorism deaths worldwide in 2018.
With the U.S. seeking an off-ramp in Afghanistan, an emboldened Taliban has intensified its attacks. Fighters have inflicted significant casualties on government forces, and pushed ever closer towards key strategic cities. Both the Taliban and the local ISIS affiliate—ISIS Khorasan Province—have regularly targeted Kabul.
ISIS-KP was the fourth deadliest terror group worldwide in 2018 killing more than 1,000 people, and recorded the second-highest increase in killings after the Taliban.
ISIS in Syria and Iraq has been severely downgraded by Western-backed military campaigns. The group's so-called caliphate has been rolled up and tens of thousands of its fighters—plus leader Abu Bakr al-Baghdadi—killed.
But the remnants of the organization are continuing a guerrilla campaign in both nations. Recent turmoil in the region has allowed at least dozens of fighters to flee Syrian Democratic Forces custody, and Turkey has said it will send detained ISIS foreign fighters back to their home nations regardless of official opposition.
The developments have raised fears that hardened ISIS fighters will soon be released into Europe, perhaps bringing with them plans for attacks in the continent's cities.
Killelea said the risk depends on whether Turkey sends fighters home on planes, making them easy for European security services to pick up, or simply cuts them loose across the border.
Regardless, he suggested European governments will likely have to pass new laws to ensure they can convict any returning fighters—the difficulty of which has been a sticking point in American, Syrian and Turkish efforts to repatriate them.
Other nations recording an increase of 100 terrorism-related deaths or more over the year were Nigeria, Mali and Mozambique, all of which have been grappling with extremist Islamic violence. Killelea said these nations require significant attention in the future.
In northeastern Nigeria, for example, the Boko Haram organization has sworn allegiance to ISIS and is still launching devastating attacks against civilians and state security forces. Boko Haram fighters have taken refuge around the country's northwestern borders, dragging neighboring Niger, Cameroon and Chad into the fighting.
Killelea said the lesson from the security situation in countries like Afghanistan is that "the first thing we need to do is really be careful of starting wars, particularly if we don't have any understanding of how we're going to stop them."
Killelea also explained that the vast majority of terrorism takes place during ongoing conflicts or in nations where governments are practicing state-sponsored terrorism against their own citizens. Thus, he suggested, world leaders must try to avoid new conflicts and curtail government abuses.
This article has been updated to include an infographic.