Far-Right Triumph in Israel Election 'Deeply Troubling'—Jewish Americans
American Jewish groups have expressed concern after the far right made big gains during Tuesday's election in Israel, and could be about to enter government as part of a coalition headed by Benjamin Netanyahu.
The Religious Zionist Party/Jewish Power alliance is on track to win 14 seats in the Israeli parliament, or Knesset, making it the third-largest party.
After over 90 percent of ballots were counted by Thursday morning, Netanyahu's bloc was on course to win 65 out of 120 seats. That will allow him to form a government, but only if religious and ultra-nationalist factions remain on side.
Parties must get at least 3.25 percent of the vote to enter the Israeli parliament, with this threshold likely to exclude two smaller left-wing parties.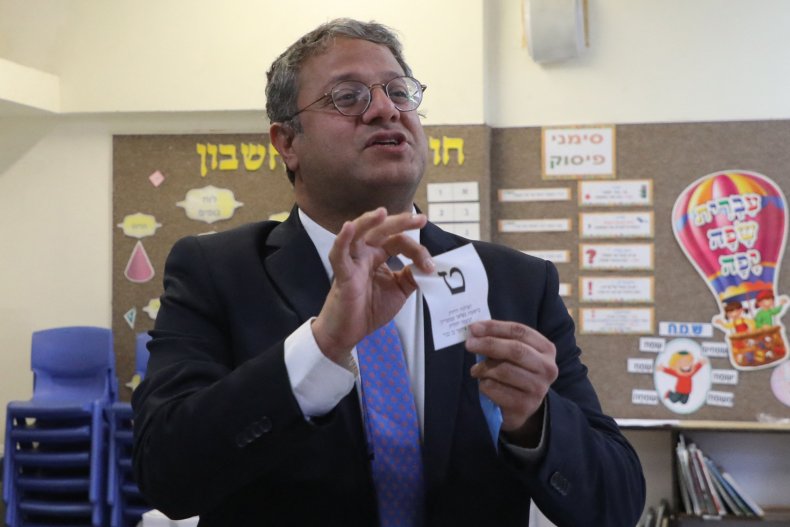 The Religious Zionist Party stood as part of a bloc led by Itamar Ben-Gvir and Bezalel Smotrich, both of whom have been accused of anti-Arab sentiment.
Ben-Gvir was previously convicted of supporting a terrorist group and inciting racism, though on Wednesday he said he will "work for all of Israel, even those who hate me."
Smotrich caused outrage last year when he told Arab members of the Israeli parliament they are "here by mistake because Ben Gurion [Israel's first prime minister] didn't finish the job and throw you out in 1948."
Reacting to the news, Jeremy Ben-Ami, president of U.S. Jewish group J Street, tweeted: "Last night's election results in Israel are deeply troubling. Let me share some thoughts about how we, as a movement representing liberal, democratic, mainstream American Jews, see this moment.
"Votes are still being counted, but all signs point to Benjamin Netanyahu forming the next government with the support of one of the most extreme, anti-democratic, far-right political parties ever to enter the Israeli Knesset: Itamar Ben Gvir's Jewish Power party.
"Ben-Gvir & fellow ultranationalist Bezalel Smotrich raise the specter of a government willing to strip Israel's Palestinian-Arab citizens of rights, weaken the judiciary, short-circuit Netanyahu's legal charges & ratchet up intercommunal tensions and violations of Palestinian rights."
J Street describes itself as a group of "pro-Israel, pro-peace Americans," who want to promote "our deeply held Jewish and democratic values."
The Religious Zionist Party was also condemned by the Democratic Majority for Israel (DMFI), which seeks to defend Israel within U.S. progressive circles.
In a statement, the group said: "We cannot help but be deeply troubled by the fact that an anti-democratic and extremist party led by Kahanist Itamar Ben-Gviv and Bezalel Smotrich will gain a large foothold in the Knesset.
"While this party only represents about 10% of Israeli voters, it may well wield outsize political influence as former Prime Minister Netanyahu can only put together a governing coalition with its support.
"DMFI has repeatedly reiterated our belief that this party should have no place in Israel's governing coalition."
Concern was also raised by the American Jewish Committee (AJC), which describes itself as "the leading global Jewish advocacy organization."
Via a statement, published on Twitter, the group said: "For AJC, and for many Jews in America, Israel, and around the world, past statements of some potential members of the governing coalition raise serious concerns about issues we prioritize: pluralism, inclusion, and increased opportunities for peace and normalization."
Netanyahu, Israeli prime minister during 1996–1999 and 2009–2021, criticized former U.S. President Barack Obama over his Iran nuclear policy in his new memoir.
Yair Lapid, the current Israeli Prime Minister who looks set to lose his post, came under fire from the Israeli right in September after he backed the creation of a Palestinian state during a speech at the UN.
Former President Donald Trump caused controversy caused controversy last month, after he claimed he could "easily be P.M." of Israel on social media.
The Israeli foreign ministry has been contacted for comment.