Far Right Turns on Marjorie Taylor Greene
No longer happy with GOP Representative Marjorie Taylor Greene, some extremist figures in the party have recently reversed course after supporting the Georgia congresswoman, turning some once-cordial relationships sour.
First elected in 2020 and reelected last month, Greene has become one of the most controversial members of Congress, known for her incendiary remarks, and with Republicans ready to take control of the House in January, she is poised to gain power. Her expanded influence in the chamber should be cheered by hardline conservatives, but instead she has gotten some pushback for breaking with the far right in order to stick with current party leaders.
In recent weeks, far-right political activists like Nick Fuentes, a white nationalist leader who recently dined with former President Donald Trump, and Laura Loomer, a failed GOP congressional candidate in Florida, have criticized Greene, accusing her of switching positions and of undermining Trump's 2024 presidential run.
Many political observers had expected Greene to back right-wing challenges to House Minority Leader Kevin McCarthy's bid to become the next House speaker, a move championed by one of her biggest allies, Representative Matt Gaetz. Instead, the congresswoman called those efforts "risky" and a "bad strategy" for the party and vowed to vote for McCarthy.
Joseph Uscinski, a political science professor at the University of Miami and co-author of American Conspiracy Theories, told Newsweek that Greene's decision to align herself with top House Republicans exemplifies the precarious position she's in as an elected official with more support outside of D.C. than inside the capital.
"She doesn't have a big group of allies," Uscinski said. "And if McCarthy wins, he's going to have power. Nick Fuentes and Laura Loomer don't really have any institutional power. So if she wants to get things done in Congress, she's gonna need people like McCarthy on her side and not necessarily Nick Fuentes."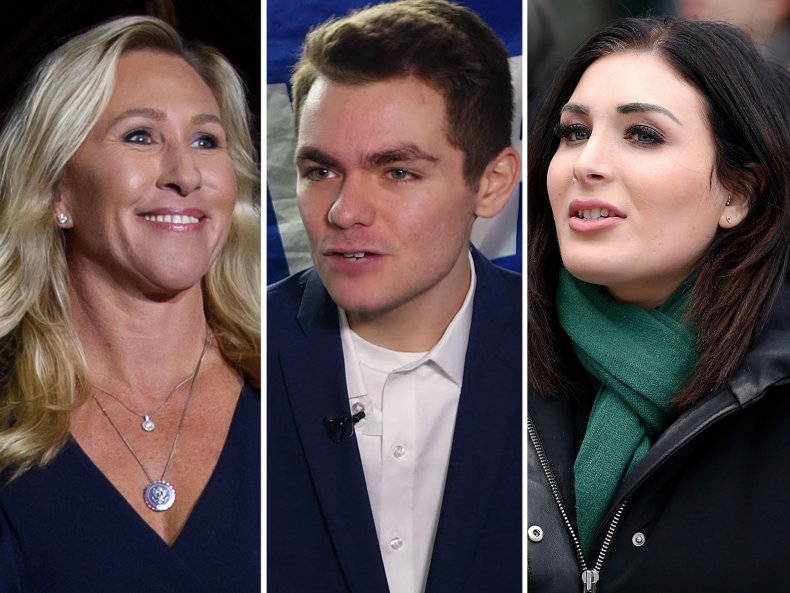 Despite being one of the few prominent Republicans willing to be seen alongside Fuentes during February's America First Political Action Conference, Greene publicly denounced the event's white supremacist organizer last month after he had dinner with Trump at the former president's Mar-a-Lago estate in Florida.
"Of course I denounce Nick Fuentes and his [racist] anti-semitic ideology. I can't comprehend why the media is obsessed with him," she tweeted.
Her change of heart was attacked by Fuentes, who said Greene voices her controversial positions only until "the second it gets too hot."
"Has she ever done anything that shows good character in her entire life?" he asked on a December 3 episode of the online show Politically Provoked. "She's just weak. She'll go and say something edgy to get attention, and when the pressure comes, she buckles."
Fuentes has also attacked Greene's personal life, accusing her of having an affair and chastising her for being the "face of Christian nationalism" while also being a "divorced woman girlboss." He also said that he had been "pretending" to support her in the past.
Loomer, whom Greene endorsed during her unsuccessful 2020 bid in Florida's GOP primary in the 11th Congressional District, also questioned the congresswoman's character last week. In a post shared to Telegram, she said Greene's decision to hire Milo Yiannopoulos, who formerly managed Kanye West's 2024 presidential campaign, as a congressional intern contradicted her support for Trump. Greene has maintained that Yiannopoulos' internship in her office ended in August.
"It bothers me and should bother all of you that MTG is claiming to be pro-Trump and using Trump to boost her profile, while she and her team are secretly undermining him by using Milo as a political operative to make Trump look bad," Loomer said. "MTG is a snake and she needs to go. That's why I call her Marjorie TRAITOR Greene."
Greene has denied the accusation that she was working against Trump. Her spokesperson reiterated Greene's support for Trump to Newsweek, saying the congresswoman has been "very vocal" in her endorsement of his run for president in 2024.
On Telegram, Greene wrote: "Laura Loomer and others like her make a living by keeping you outraged with made up salacious rumors about people like me in our government. Trust me, they know NOTHING!"
While distancing herself from the far right seems a surprising move for Greene, experts say it is a likely shift for a congresswoman vying for more congressional influence.
Republican strategists Jay Townsend and Alex Patton told Newsweek they suspect Greene and McCarthy have struck a deal that involves granting her more power in exchange for her support for him as House speaker.
Given the political advantages, Townsend said, he doubts Greene will walk back on her speakership endorsement "because of criticism from the ultra-kook wing of the ultra-MAGA movement."
Uscinski said, "There are clear incentives for her to align herself with people that can help her in Congress, rather than align herself with friends and internet personalities. Having already done a term in Congress, I think she is starting to understand the value of having allies."
Newsweek reached out to Greene for comment.