The Far Side Is Back — But Here's Why Gary Larson Left In The First Place
The Far Side fans, rejoice! Cartoonist Gary Larson has returned. Larson is known for his award-winning single-panel cartoons The Far Side that ran in newspapers from 1980 to 1995. He had not published anything since, so it's safe to say that his new work has been long-awaited for many.
Why Larson hadn't created anything and remained quiet these years, however, wasn't exactly clear. In a letter on his website under the label "New Stuff," Larson explained what happened in the time he hadn't released any new cartoons. He began the note mentioning that this new section of the site was not a resurrection of The Far Side cartoons.
He also explained that he didn't stop drawing because he hated his job."The thing is, I thoroughly enjoyed my career as a syndicated cartoonist, and I hope, in spirit at least, we had some laughs together." However, he found the process exhausting after a while, and felt burnt out after 15 years of deadlines for his hilarious cartoons.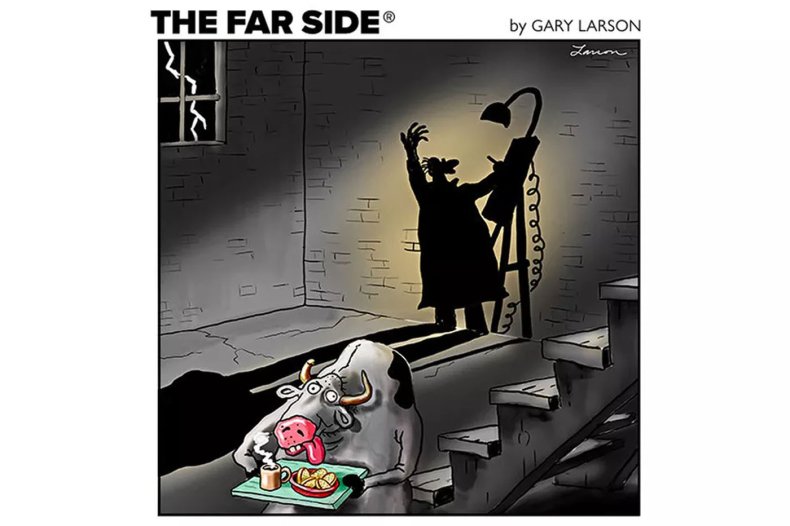 "The day after I retired from syndication, it felt good not to draw on a deadline. And after moving on to other interests, drawing just wasn't on my to-do list. Things change. But then a few years ago—and returning to the subject at hand—­something happened in my life, and it started with a clogged pen."
Larson explained that while he was retired from syndication, he still took time every year to draw a Christmas card. However, his pen constantly clogged up and he grew frustrated with each cleaning. The process stood in the way of him enjoying his work this time around, until he switched to using a tablet for art.
"So a few years ago—finally fed up with my once-loyal but now reliably traitorous pen—I decided to try a digital tablet," Larson continued. "I knew nothing about these devices but hoped it would just get me through my annual Christmas card ordeal. I got one, fired it up, and lo and behold, something totally unexpected happened: within moments, I was having fun drawing again."
The cartoonist noted that his "New Stuff" will feature his art completed via tablet, and that there was a learning curve for him. "But as overwhelmed as I was, there was still something familiar there—a sense of adventure," he said.
"That had always been at the core of what I enjoyed most when I was drawing The Far Side, that sense of exploring, reaching for something, taking some risks, sometimes hitting a homerun and sometimes coming up with "Cow tools." (Let's not get into that)" Larson wrote. "But as a jazz teacher once said to me about improvisation, 'you want to try and take people somewhere where they might not have been before.' I think that my approach to cartooning was similar—I'm just not sure if even I knew where I was going. But I was having fun."
Larson concluded his letter by saying he's got his coffee, "cool gizmo" and no pressure from deadlines to move forward with his cartoons. "Again, please remember, I'm just exploring, experimenting, and trying stuff. New Stuff."
"I have just one last thing to say before I go: thank you, clogged pen," he quipped.
During his tenure drawing The Far Side, Larson won many awards for his work including the Reuben Award for Outstanding Cartoonist of the Year from the National Cartoonists Society in 1990 and 1994, the Best Syndicated Panel Cartoonist in both 1985 and 1988, and Max and Moritz Award for Best International Comic Strip Panel by the International Comic Salon in 1993.
According to his website, in honor of the 40th anniversary of The Far Side, Larson will periodically unveil new work. Check out Gary Larson's new work here.