Faraday Future—FF for Short—Reveals Its Wild New Concept Car...and More Mystery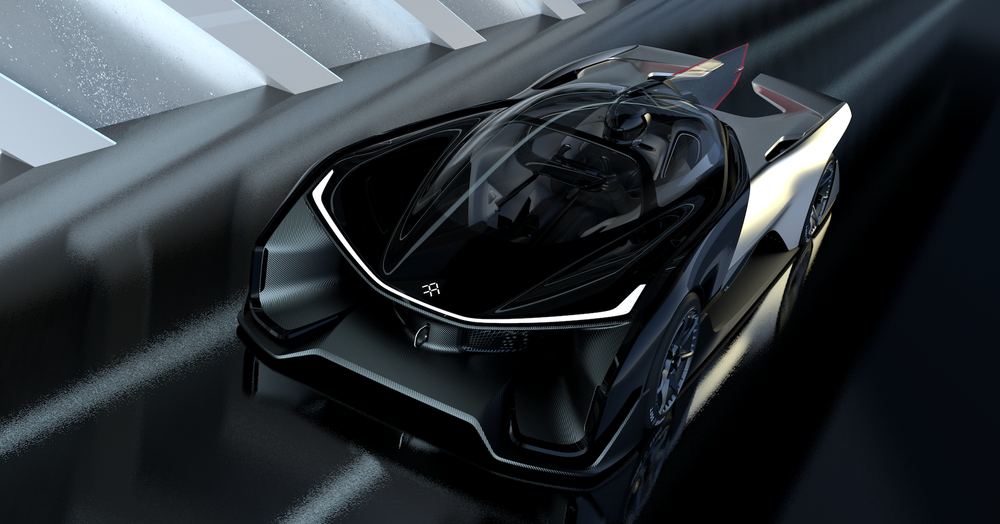 The mounting hype surrounding Faraday Future reached a fever pitch at the Consumer Electronics Show in Las Vegas on Monday evening, ahead of a major unveiling by the new electric car company. The debut of the company's concept car, the FFZero1, on the night before CES opened, was one of the most anticipated moments of the annual event.
Those watching have wondered if Faraday, which employs several former Tesla employees and is bankrolled by Chinese billionaire Jia Yueting, might be the Tesla killer. Rumors have even swirled that the company is a front for Apple's supposed car division. Meanwhile, Faraday's website seemed to hint at a bold future that completely rethinks the automobile. And behind it all, the mysterious company lurked, like Bruce Wayne in his Batcave—so perhaps it's fitting that the company unveiled a wild and impractical car that seems to be modeled after the Batmobile. The vehicle seats just one.
Monday didn't start well for Faraday. It was reported that the company's chief battery designer had jumped ship to Lotus. And then, ahead of Monday night's event, a Twitter user ruined the big surprise of Faraday's concept car, posting what he found on an app that was apparently available early on the Apple store.
On Monday night, Faraday's senior vice president of product development, Nick Sampson, a former employee of Jaguar, Lotus and, yes, Tesla, said that in just 18 months Faraday Future, or FF, had hired 750 employees from companies such as Apple, BMW, Ford, GM and NASA. The key, he said, to FF's success is going to be acting "more like a technology company than an automotive company." And the name of that game is speed. Sampson said he expects to have a production car in "just a couple years' time"—an impressive goal he measured against Tesla's nine-year path to delivering a car.
Faraday is opening a $1 billion plant just north of Las Vegas, so on Monday night the company had the hometown crowd on its side. Nevada Governor Brian Sandoval, who helped secure the deal, was in attendance at the event.
Promotional material in the lead-up to Monday's presentation hinted at a new ownership model for FF cars—one that might allow people to share and borrow. "What if you don't so much own a car as use one whenever you needed it," a narrator said. Yet there was no mention of such a model or plan on Monday night.
Instead, a sheet was pulled back on Monday night over the FFZero1, a concept car that Head of Global Design Richard Kim said would even provide oxygen and water to its sole occupant, who will be sitting in a seat based on NASA's zero-gravity cockpits.
The design is bold, and Kim promised that the translucent mohawk on the back of the car, called the "UFO line," will become a signature touch on FF cars.
The vehicle impressed the audience in Las Vegas—even if it doesn't exist for the public now. But it's unlikely to leave the car crowd at large satisfied. This type of ultracool electric sports car has been attempted before—both by Tesla and by the bankrupt Fisker Karma. On Monday, there were hints that Faraday is working on a production car and the ability to design several. But they were nowhere to be seen.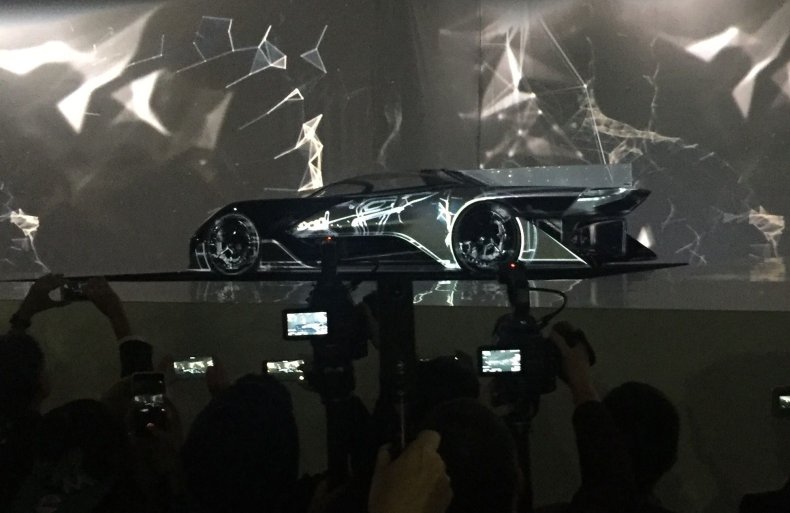 FF seems think it has designs beyond playthings for millionaires, but on Monday the company just showed off its cool factor.
Ironically, the biggest electric car reveal a company could make this week in Las Vegas might be an affordable vehicle with great range, or something that could replace a taxi fleet. But CES 2016 is only in its first days, and there's always Ford's rumored collaboration with Google that might be revealed Tuesday.