Farm Workers March to French Laundry in Protest of Vetoed Union Elections Bill
A farmworkers union said Wednesday some of its California members were marching to The French Laundry restaurant in protest of a union elections bill that California Governor Gavin Newsom vetoed this week.
The Sacramento Bee reported about the United Farm Workers (UFW) protest march Wednesday evening, shortly after the union made its announcement.
Union members were already marching toward Sacramento in the hope of meeting with Newsom to discuss the piece of legislation awaiting his signature when Newsom's office announced he had vetoed it. Following news of the veto, the union said its members would instead march toward the famed restaurant in Napa County, where Newsom is known to have dined in the past.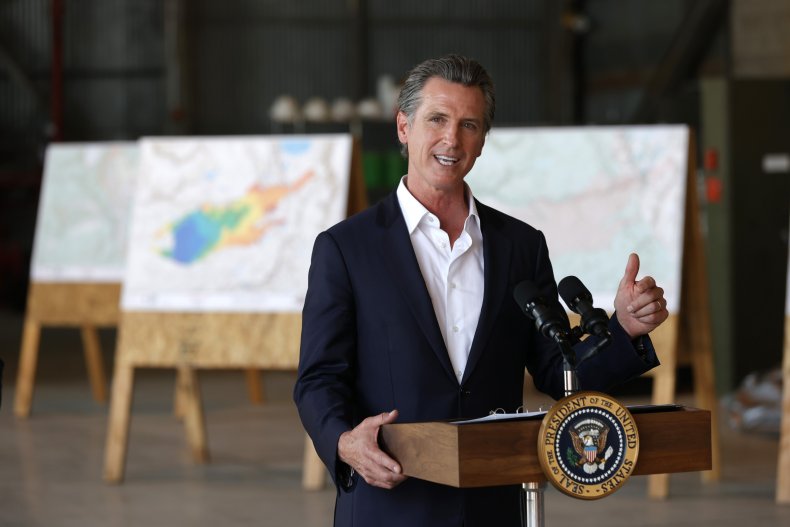 "Just one day into farm workers' march for Gov. @GavinNewsom's signature, he has vetoed #AB616," UFW tweeted Wednesday afternoon. "Workers are now marching towards the French Laundry, hoping to finally meet with the Governor."
The bill Newsom vetoed was initially brought to the state legislature for consideration earlier this year by state Assemblyman Mark Stone, who represents California's 29th assembly district. It proposed allowing agricultural labor unions to elect their representatives through ballot card elections, which would have enabled votes to be cast either at in-person polling locations or by mail.
On Wednesday, UFW representatives said some of its members would, over the course of 19 days, march 260 miles from Farmersville to Sacramento to encourage Newsom to sign the bill, which, according to the UFW, "gives farm workers the right to cast a secret ballot in many of the same ways that California voters used to defeat the Republican-backed bid to oust Governor Newsom."
UFW was one of the organizations that backed Newsom in last week's gubernatorial recall election, according to The Sacramento Bee. The recall effort would have resulted in Newsom's early removal from office if a majority of Californians had voted to do so.
In a statement on Wednesday about his veto decision, Newsom said the bill "contains various inconsistencies and procedural issues related to the collection and review of ballot cards." He added any "significant" changes to the state's current laws governing agricultural labor "must be carefully crafted to ensure that both agricultural workers' intent to be represented and the right to collectively bargain is protected, and the state can faithfully enforce those fundamental rights."
Though UFW supported the proposed union elections bill, other agricultural organizations did not. In a statement released after Newsom's veto decision, Western Growers praised the decision, saying the veto "preserved the integrity" of the Agricultural Labor Relations Act of 1975. The California Farm Bureau's president also issued a statement in support of the veto, according to The Sacramento Bee.
In contrast, UFW criticized the veto in posts on social media and said the union would continue trying to meet with Newsom, a request UFW said it had been making since June. Instead of heading to the state's capitol as originally planned, UFW said its members would march toward The French Laundry, where Newsom was criticized for dining with an unmasked group last November in violation of his office's recommendations amid the ongoing coronavirus pandemic.
Newsom's dinner at the restaurant has been widely credited with frustrating voters and driving support for the recall effort that ultimately succeeded in qualifying for a ballot, though it did not result in Newsom's removal from office.
"AB616 would have allowed farm workers to form a union by casting a secret ballot in many of the same ways CA voters did in the recall," UFW tweeted on Wednesday. "We will try again to meet with Gov. @GavinNewsom. We will explain why this bill is as important to us as the Voting Choice Act was to the governor."
Newsweek reached out to Newsom's office for comment and will update this story with any response.