Farm Organization President Says He Hasn't Received Subsidies From Last Year as Trump Announces $16 Billion Bailout
The president of the National Black Farmers Association said he still hadn't received money from President Donald Trump's first farm bailout in 2018 after the White House announced on Thursday it would provide farmers with another $16 billion to offset their losses from the ongoing trade war with China.
"Right now, I still haven't received my payments from the last round that the president—the $12 billion that he promised farmers. And generally when the government gets involved, and there's paperwork and necessary things that have to be filled out in order to participate in a certain subsidy, that means bad news for black farmers and small-scale farmers," John Boyd Jr. said while speaking with CNN anchor Don Lemon on Thursday night.
Boyd questioned why farmers, who voted overwhelmingly for Trump in the 2016 election, continued to support the president despite suffering financial damage from the trade war.
"White farmers are hurting more than we are, and I don't understand for the life of me why they aren't more vocal about the financial conditions that they're in," he said. "These farmers are going to end in bankruptcy and committing suicide and losing their farms and they're still talking about supporting the president."
He called on Democrats to "come up with a plan to help small-scale farmers like myself."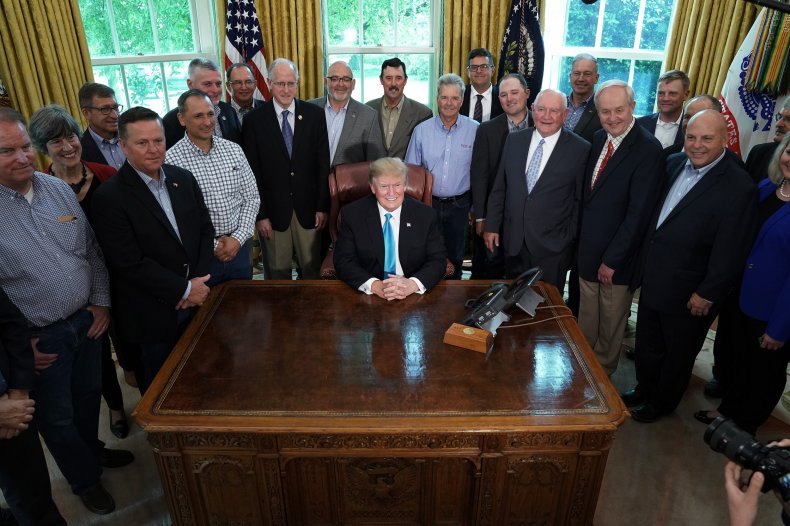 "We checked with Mr. Boyd's county Farm Service Agency office a couple of weeks ago and were told he had not yet certified all of his 2018 production. He has until May 31 to do that," David Warner, the director of external affairs for the USDA's Farm Production and Conservation mission area, told Newsweek by email when asked about Boyd's comments.
"Apparently, there are--or were until recently--quite a few farmers who have yet to certify their 2018 production because bad weather had delayed" harvest.
After Trump announced that he would be offering $16 billion to assist farmers, some prominent farm groups criticized the move as a temporary solution. Critics reiterated statements that short-term bailouts could not mitigate the damage from shifting trade relations.
"We appreciate President Trump and USDA Secretary Sonny Perdue's leadership in putting together a support package for farmers who have been harmed by retaliatory tariffs for more than a year," Illinois Farm Bureau President Richard Guebert Jr. said in a statement mirroring previous criticisms of Trump's trade policies.
"While the aid package will help farmers pay their bills, this is not a long-term solution to the damages caused by lost markets. Farmers prefer to earn their income from the marketplace, which is why we must remain focused on resolving trade disputes and on forging new trade agreements with our global partners."
The Iowa Soybean Association also expressed concern that the solutions offered by the administration did not align with necessary measures.
Legislators from states with heavy agriculture industries also expressed frustration about the impacts of the escalating trade tensions and farm bailouts.
"This is becoming more and more like a Soviet type of economy here: commissars deciding who's going to be granted waivers, commissars in the administration figuring out how they're going to sprinkle around benefits," Senator Ron Johnson, a Wisconsin Republican, said.
While farmers are among those who have been hit hard by existing tariffs, recent escalations have provoked concern about further increase in tensions affecting a wide array of consumers.
Analysts have expressed particular concern about the Trump administration's targeting of Chinese telecommunications company Huawei, which the Bureau of Industry and Security placed on its "entity list" last week, prohibiting U.S. companies from selling or transferring technology to the business without government consent.
This article has been updated to include comments from David Warner.