Farmer Facing 'Mouse Plague' Criticized for Burning Rodents Alive in Viral TikTok
An Australian farmer is sparking controversy on TikTok after sharing his method for addressing so-called mouse plague that has been ravaging rural parts of the country for months.
As has been reported by outlets worldwide, the mouse plague has reached near-biblical proportions over the last six months. The negative effects of the rodent population boom—which experts attribute at least in part to increased rainfall—are far-reaching and include crop loss, poisoned native wildlife and even severe house fires.
In the now-viral TikTok post, user @andyj3825—known only as Andrew—shows the extreme measures he's taken to rid his farm of the rodents. In the clip, hundreds of vermin are seen falling from a large piece of farm equipment before landing in a fiery blaze.
Specifically, wrote News.com.au, "mice infested his auger, a corkscrew-like farming machine." He then dropped the mice from a "grain conveyor" and into a "44 gallon drum" that had been set on fire. The mice are clearly alive as they fall into the flames: those who miss the fire are seen scampering away from the blaze.
The video, posted four days ago, gained immediate traction on the app, having already amassed 6.2 million views. Countless commenters are debating the ethics of his methods, with many arguing that the drastic measures are necessary while others call the video "cruel" and "heartless."
"This is brutal but I'm on the farmer's side here," read one comment in support of the TikToker.
"Seems cruel but the huge mice population is absolutely warfare. They're destroying all the…crops and houses. Anything to stop them," echoed another.
Others, however, felt that a more humane solution would have sufficed. "The lack of empathy people have these days is concerning," wrote one commenter.
"I think there are several methods of removal," said another. "Doing this is a demonstration of animal cruelty."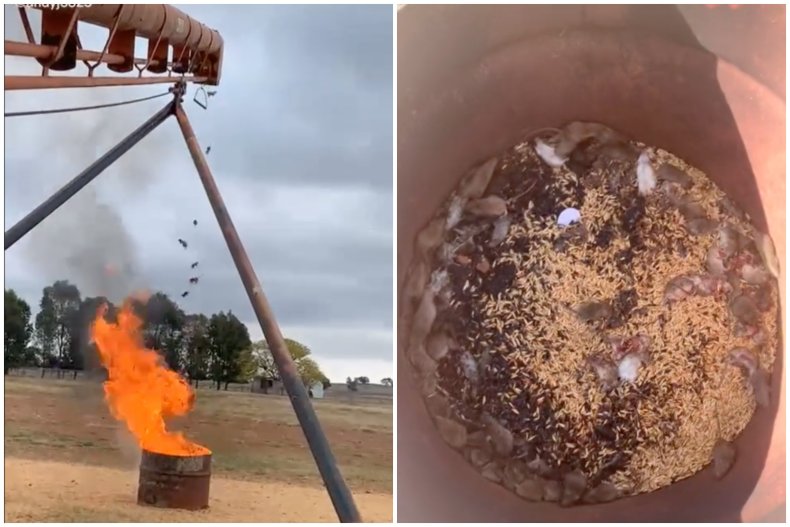 In two follow-up videos posted in the days since the original mouse-burning TikTok went viral, Andrew highlighted his further attempts to get the mouse population under control—but these times, sans fire.
In the first clip, the mice are seen falling from the grain conveyor, but instead of landing in the fire, they merely land on the ground. Those rodents then scuttle off in every direction.
Similarly, his most recent TikTok shows the mice falling into a barrel. It's unclear whether the online backlash to the first video influenced Andrew's decision to film the follow-ups without the use of fire.
The New South Wales government recently announced a plan to help those affected by the mouse plague, meaning that Andrew may not have to resort to his DIY measures in the future. According to the NSW government website, farmers will have access to treatment that will turn grain into mouse bait, via the rodenticide bromadiolone, for use around the perimeter of their crops.