Farmer Tells Fox News Trump's Trade Deal With Japan Is a 'Double-Edged Sword,' But He Trusts the President
Randy Sowers, a farmer from Maryland, expressed a degree of skepticism about President Donald Trump's potential trade deal with Japan, saying it was "kind of a double-edged sword" but insisted that he still trusts the president.
"It should help us," Sowers told Fox News morning show Fox & Friends on Tuesday. "But it's kind of a double-edged sword for us, because we're livestock producers. So if the price of grain skyrockets, it costs more for farmers that have to buy grain to produce the milk that they have," he explained.
However, despite the concern he expressed, Sowers said: "I trust what Trump's doing." The farmer said the president is "out there to help farmers and I think he's gonna help the farmers." He then lamented that farmers are "usually the last" to get any support.
On Sunday, Trump and Japan's Prime Minister Shinzo Abe announced that they had agreed to a new trade deal "in principle." The deal has not yet been finalized or ratified by either country, but according to U.S. Trade Representative Robert Lighthizer, Japan is expected to open its markets significantly to greater imports of U.S. agricultural goods, such as dairy products, beef, pork, wheat, wine and ethanol. Lighthizer said the amount of additional U.S. agricultural products purchased by Japan would total about $7 billion.
"We have been working on a deal with Japan for a long time," Trump said. "It involves agriculture. It involves e-commerce. It involves many things. We've agreed in principle."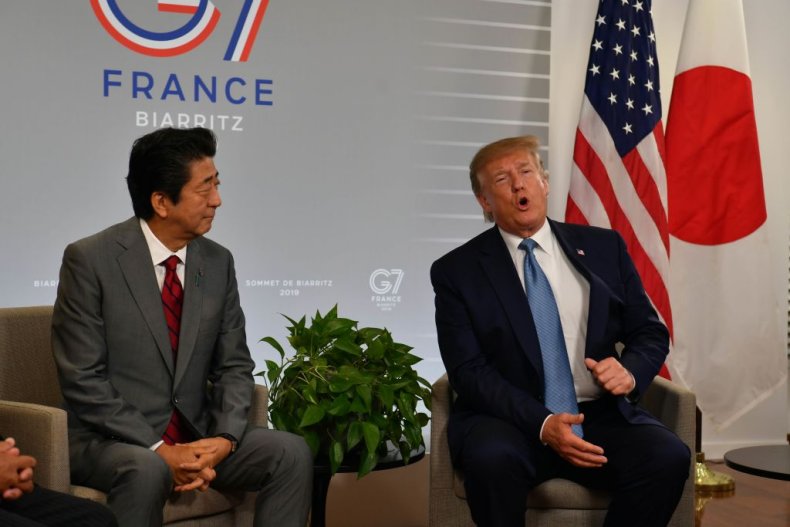 Abe said there was still "some work that needs to be done" on the deal. "But we would like to make sure that our teams would accelerate the remaining work so as to achieve the goal of signing this agreement on the margins of the UN General Assembly in September," he added.
Grain futures have risen since the weekend, as investors have perceived an easing of trade tension between the U.S. and Asian markets. In his interview with Fox & Friends, Sowers lamented that "big business" could control the costs of agricultural products in this way.
"I don't understand the commodity market and why anybody can trade grain and even make money while the farmers take all the risk and do all the work, and you know, we're limited in what we can make," he said. But Sowers insisted that Trump would take care of the farming community.
"You know, the trade deal, I trust him to do the right thing for everybody," he said. "I don't question what he does, I just hope it turns out."
Trade tensions sparked by Trump's administration have had a particularly hard effect on American farmers. Last year, the government gave out $12 billion in bailout money to farmers to subsidize losses resulting from the trade tensions. This year, the government promised another $16 billion in aid.
While Sowers and many other farmers continue to support the president, despite the financial difficulties, others have become highly critical of Trump's policies.
Gary Wertish, the president of the Minnesota Farmers Union, slammed the government's bailout money in an interview with CNN earlier this month.
"It does not nowhere near cover the gaps– the markets that we lost," Wertish said. "It does not nowhere near cover the loss of income." He also warned that U.S. taxpayers could grow frustrated that they were being forced to subsidize farmers for the losses.