Farmer John Meatpacking Plant Fined for Exposing Hundreds of Its Workers to COVID
A California meatpacking plant has been fined for allegedly not protecting workers from coronavirus, after more than 300 cases of the disease and a number of hospitalizations were reported.
California's Division of Occupational Safety and Health has hit the Farmer John plant with the largest packinghouse citation of its kind nationwide, after it reportedly did not adequately follow regulations.
Smithfield Foods, owner of the Farmer John meatpacking plant in Vernon, California, and temporary staffing agency CitiStaff Solutions were fined almost $105,000 in total after an investigation into their COVID-19 safety measures.
The state authority learned about the factory in May and claims it was not using face coverings or social distancing on busy production lines, where thousands of pigs are slaughtered to make various pork products.
Smithfield Foods of Virginia strongly disputes the findings and maintains that it has protected its workers from coronavirus. The company intends to appeal the fine.
United Food and Commercial Workers Local 770 (UFCW 770) alerted the authorities to the complaints it had received about the plant from its members.
UFCW 770 reported that 17 per cent of Farmer John workers had contracted coronavirus since March, with 315 workers out of 1,800 testing positive. Allegations against the factory include workers not being about to "physically distance on the major lines in the plant," said a statement from the union.
"In the absence of leadership from Smithfield, we have taken it on ourselves to call for safer working conditions and an investigation from [the state regulator]," said José Guzman, a worker at Farmer John. "They've never taken our health seriously – we are disposable to them as long as their profits keep going up, and it's no surprise to see this many citations given."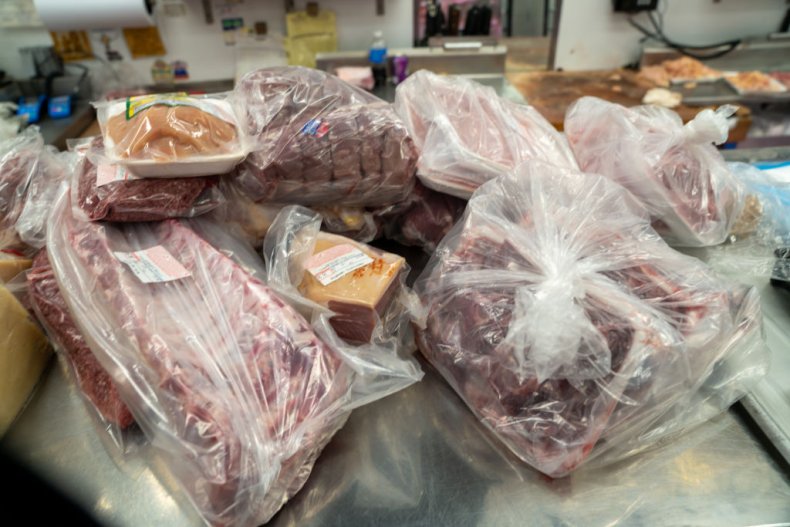 It is also alleged that Smithfield did not properly investigate or notify employees of potential COVID exposure when they came to work.
"Nothing Smithfield, nor local Farmer John management, has done has been in the interest of workers. Even back in May when cases spiked to 135 workers, one of the worst outbreaks in Los Angeles county, they did not address safety concerns and they ignored recommendations and concerns from their own employees. Instead the number has now risen to over 315," said John Grant, president of UFCW 770. "The working conditions there have been horrific and these citations show exactly what workers were exposed to every day they were on the job."
The proposed citations are $58,000 for Smithfield and almost $47,000 for CitiStaff Solutions.
Keira Lombardo, Chief Administrative Officer, Smithfield Foods, Inc, said in a November 15 statement:
Smithfield fully participated in all aspects of California OSHA's (Cal/OSHA) COVID-19 inquiry at our plant in Vernon, Calif. We produced more than 4,000 documents and facilitated interviews with numerous production employees and managers. This six-month investigation culminated in the issuance of six perplexing COVID-19 related citations and two citations unrelated to COVID-19.

Four of the COVID-19 citations are for allegedly not reporting and recording positive cases among our workforce as "work-related." Cal/OSHA did not individually analyze how these individuals contracted COVID-19. Rather, the agency has taken the surprising position that every single person working at the plant who contracted COVID-19 caught the virus at work.

The agency's position completely rejects the clear evidence established by health experts that community spread exists. Smithfield diligently investigates every positive case among our workers, identifying every possible source of infection. We only wish Cal/OSHA had undertaken a similarly careful analysis, rather than jumping to the incomprehensible conclusion that any worker in the state who tests positive for COVID-19 must have been infected in the workplace.

Cal/OSHA claims that we should have reported an alleged COVID-19 related hospitalization on Feb. 14, 2020. This defies logic. It was not until nearly two weeks later that the first non-travel related COVID-19 case in the United States was confirmed – on Feb. 26, 2020 in Sacramento County. At the time, the California Department of Public Health emphasized in messages to the public that, "The health risk from the novel coronavirus to the general public remains low at this time."

No employer reasonably could have concluded that a single illness two weeks prior was COVID-19 related. Indeed, Cal/OSHA did not even issue its "Recording and Reporting Requirements for COVID-19 Cases" guidance until June.

The final two COVID-19 citations generally relate to COVID-19 precautions – masks, barriers and social distancing. As has now become typical from state and federal OSHA, these citations relate back to time periods when no meaningful guidance on COVID-19 mitigation measures existed.

Smithfield procured and provided masks, face shields and other personal protective equipment early and aggressively and, without question, during the time period covered by the Cal/OSHA citation. Indeed, the citations cover the period of time when employers were specifically told not to require masks. The California government did not require masks at work until June and did not issue food industry guidance until July – long after Smithfield implemented mask requirements at all of its facilities. Yet, as with the reporting/recording citations, Cal/OSHA wants to punish employers who were, in fact, following or exceeding prevailing state and federal guidance. The only way Cal/OSHA has issued these citations is based on a misguided use of hindsight.

As a company, we took seriously our obligation to protect employee health while also producing safe food for millions of people. We implemented aggressive measures to ensure our employees were safe, healthy and protected so that they could continue the vital mission of producing food for millions of people.

To date, we have invested more than $650 million in extensive workplace protective measures, including masks, face shields, reconfigured workstations, plexiglass barriers and robust social distancing mandates. We have installed air purification systems and implemented COVID-19 policies and protocols that do everything possible to prevent sick employees from entering our facilities, including paying them in full for any COVID-19 related absences. These measures are working, and the incidence rate across our workforce is notably lower than the communities where we operate, even amid the current wave that is impacting so many.

This fact is noteworthy because, unlike much of America who has sheltered at home, our team members have continued to report to work. Across the nation, local, state and federal plans emphasized the importance of critical sectors and businesses in continuing operations, captured in the Department of Homeland Security's clear guidance: "If you work in a critical infrastructure industry, as defined by the Department of Homeland Security, such as healthcare services and pharmaceutical and food supply, you have a special responsibility to maintain your normal work schedule."

We wonder why, based on this information, there has been so much focus on our essential industry, which is feeding people during the pandemic. The unfortunate reality is that every segment of our society has been impacted by the virus.

Smithfield will appeal and aggressively defend these citations.
A Smithfield Foods facility in Sioux Falls, South Dakota, was fined $13,494 by the U.S. Department of Labor's Occupational Safety and Health Administration in September for not protecting workers against COVID. About 1,300 employees contracted the virus in spring and four workers died. The plant was closed for 14 days in April, but has since reopened.
Update 11/17/20, 3:20 p.m. ET: This article was updated to include a statement from Smithfield Foods.