Farmer Shocked After Finding Cat and Rabbit Moms Raising Babies Together
A farmer at an animal rescue sanctuary has captured the moment she found a cat and a rabbit in her care raising their respective litters together.
In the now-viral TikTok video, the cat and the rabbit, living at Roberson Creek Farm in North Carolina can be seen parenting their young ones together in what looks to be a large hutch.
The video has been captioned "Monday morning surprise." The unlikely friendship between the pair has melted hearts online.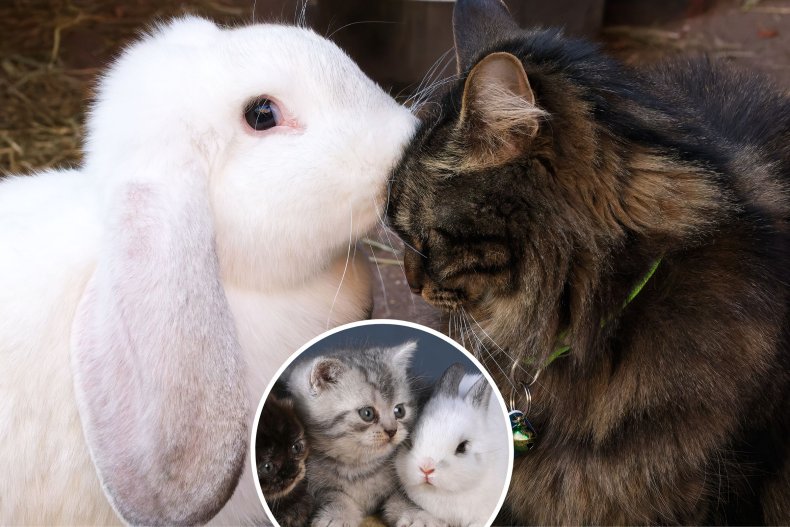 The adorable moment has already been viewed over 6.5 million times since it was shared on the social media platform by @Roberson.Creek.Farm on February 20.
Roberson Creek Farm in Tobaccoville aims to rescue and care for abused and neglected animals.
Destiny, a farmer at the sanctuary who shot the video, called upon TikTok users for their advice regarding the surprising situation.
"Shall I separate the babies or let them raise them together," she wrote across the video, which can be seen here.
Can You Raise A Cat And A Rabbit Together?
According to the New Jersey-based Animal Welfare Association, cats and rabbits can co-exist, provided they are properly introduced to each other.
"However, it is important to always remember that cats are predators and rabbits are prey. If your cat exhibits predatory behavior, introducing a rabbit will put the rabbit in danger. Cats need space to run and play and so does a rabbit—but a running/hopping rabbit can trigger a cat's prey drive. The best option is to set up visual barriers between the rabbit and the cat so that the cat can feel more relaxed and the rabbit feels a greater sense of safety," the nonprofit recommends.
The organization also notes that "rabbits are far more territorial than cats, are capable of defending themselves, and could possibly cause injury to a cat."
What Do the Comments Say?
Over 17,000 TikTok users rushed to comment on the post, with many offering their advice to the concerned farmer.
"Rabbits tend to eat their babies for any number of reasons, I would be afraid she may do the same with the kittens," one user shared under the post.
Another user agreed, commenting: "I used to raise rabbits. They eat their babies if you don't have a birthing box/nest. Hopefully, they don't harm the kittens."
"Separate, unfortunately. I had to learn the hard way. I had a momma bunny but no babies so we had baby kittens but no momma cat," advised a third user.
Newsweek reached out to @Roberson.Creek.Farm for comment.
Do you have funny and adorable videos or pictures of your pet you want to share? Send them to life@newsweek.com with some details about your best friend and they could appear in our Pet of the Week lineup.