Farmers' Almanac: Brace Yourself For a 'Polar Coaster' Winter
The United States should brace for an intensely cold winter this year, according to Farmers' Almanac, a centuries-old agricultural guide that makes weather predictions far in advance.
"Are you ready for another winter ride, full of chills and thrills?! This winter will be filled with so many ups and downs on the thermometer, it may remind you of a 'Polar Coaster,'" the website says.
What does it really mean?
According to the almanac, the Northeast, including the corridor running from Washington to Boston, will experience colder-than-normal temperatures this coming winter. Only the western third of the U.S. will escape the arctic blasts and reach standard winter temperatures.
The fun-sounding "Polar Coaster" won't be the winter wonderland its name implies—particularly in the final weeks of January and the beginning of February 2020, which will witness the coldest outbreak of the season.
In the Northeast, "our outlook forewarns of not only a good amount of snow, but also a wintry mix of rain, sleet—especially along the coast," the almanac foresees.
The 2020 predictions suggest the year will begin with heavy precipitation and a "suspenseful start." There could be lots of snowfall, rain and sleet from January 4 to January 7, with another bout a few weeks later.
From the northern tip of Texas to the western Great Lakes, a "memorable storm" is expected in the third week of January, initiating a ripple effect of dipping temperatures nationwide. Owing to unprecedented cold temperatures, the almanac predicts the chill will last till April with a late spring.
Farmers' Almanac provides 16 months of weather forecasts for seven zones in one compact book and is predicting bitterly cold conditions this year.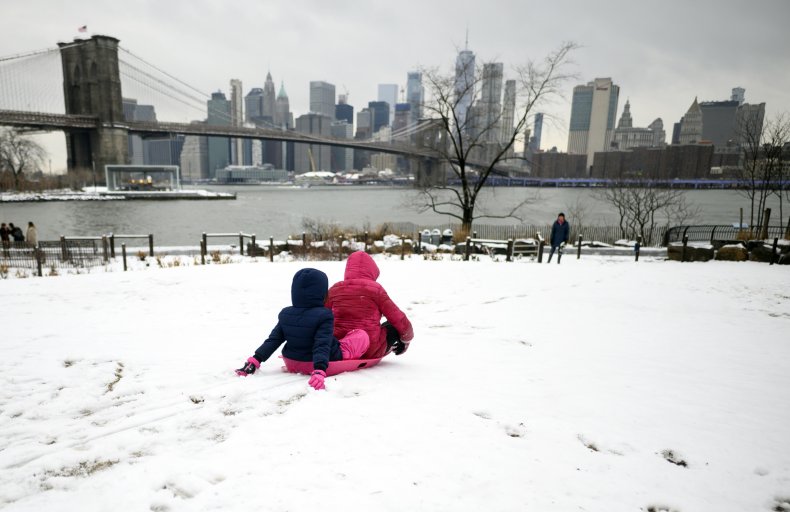 How accurate has it been in the past?
The Farmers' Almanac website claims it uses a "mathematical and astronomical" formula to make weather predictions, but these have proven to be inaccurate in the past.
Minnesota NBC affiliate Kare11 reported on Tuesday that the almanac's predictions have been off for the past five consecutive years. For instance, for the winter of 2017 to 2018 the almanac predicted the season would prove "not as harsh as usual," but the U.S. faced brutal cold with rounds of heavy snow.
In 2006, meteorologist Paul Knight told Penn State News, "The ability to predict events that far in advance is zero. There's no proven skill, there's no technique that's agreed upon in science to be able to do that."
Meanwhile, netizens have already tweeted using the hashtag #PolarCoaster.