American farmers confronted Agriculture Secretary Sonny Perdue on Wednesday, criticizing the administration's trade policy and voicing discontent with the impact of the ongoing trade war with China.
During a forum in Minnesota, representatives from the Minnesota Farmers Union, the Minnesota Corn Growers Association and the American Soybean Association took aim the Trump administration's trade policy, Bloomberg reported.
"We are not starting to do great again," said Brian Thalmann, the president of the Minnesota Corn Growers Association, referencing statements from President Donald Trump. "We are starting to go down very quickly."
The complaints came after a dramatic escalation in the trade war between the world's two largest economies. Last week, Trump threatened to slap tariffs on $300 billion more Chinese imports. China, which in 2017 imported $19.5 billion in U.S. farm goods, said in response it would halt all imports of U.S. agricultural goods.
The move provoked dissent from farmers, who have already been hit hard by the ongoing trade war with China. Beijing has levied tariffs on a range of agricultural products and last year, Chinese businesses bought just $9.1 billion in farm goods from the U.S.
The Trump administration has depicted its trade war with China as a necessary burden to renegotiate a lopsided relationship that damages the U.S. Trump has focused complaints on the vast trade deficit, in which the U.S. imports hundreds of billions of dollars more goods than it exports to Beijing, and China's intellectual property policies, which he has called theft.
Despite the strong economic toll of the trade war on farmers, the Purdue Center for Commercial Agriculture's most recent producer survey found that 78 percent of farmers said they think the China trade dispute will ultimately be resolved in a way that benefits U.S. agriculture. The high support represented a 9 percentage point increase from June sentiment.
Still, not all farmers are enthused with the trade war and disruption to their supply chains. The Illinois Farm Bureau has been a vocal critic of the Trump administration's attempts to renegotiate trade relations and said it is concerned about the long-term damage that Trump is having on established relations with trade partners.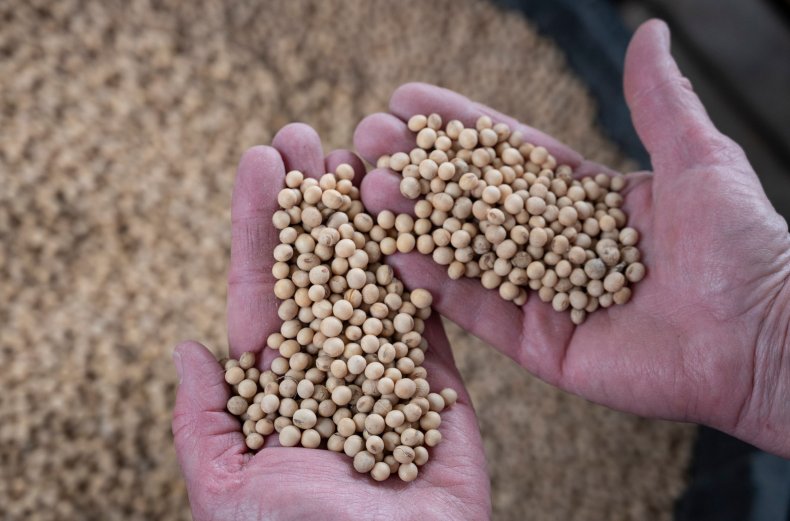 Trump has sought to mitigate the damage from the trade war by offering bailouts worth $16 billion this year and $12 billion in 2018 to farmers. He hinted on Tuesday that he could authorize another bailout payment in the future.
A July report from the Environmental Working Group showed that the initial $12 billion payment mostly large farmers, with the top one-tenth of recipients getting 54 percent of all the payments.