Farmers Credit Ivanka Trump's Program With Saving Livelihoods Despite Criticism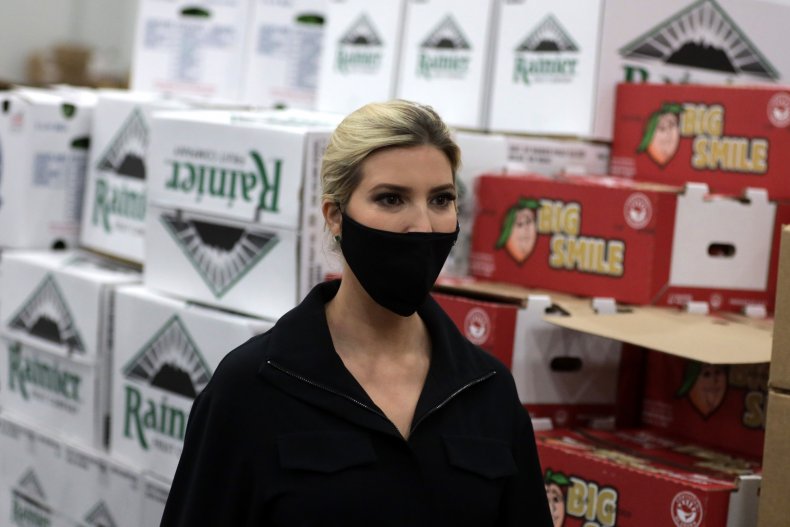 As the coronavirus pandemic took hold this spring, first daughter and senior White House adviser Ivanka Trump helped spearhead the launch of a new $3 billion program aimed at helping farmers whose livelihoods were at risk with restaurants closed, while also providing fresh food to needy families.
Farmers to Families, which is run through the U.S. Department of Agriculture, quickly came under scrutiny over allegations that it awarded contracts to dubious entities and concerns that it might not provide food in an "efficient and equitable way." Farmers who spoke to Newsweek, however, said they benefited from the program and, in some cases, credited it for saving their livelihood. White House officials, meanwhile, told Newsweek the kinks have largely been ironed out and there's potential for the program to continue in some form long term.
"It truly is an historic program in terms of the scale and in terms of its impact," Ivanka Trump told Newsweek. "It was really 'How do we connect the farmer with the person most in need?' It was a common sense, but innovative, solution."
Trump said she thinks the program has provided an avenue for families to stay "well fed" during the pandemic.
"It really is a beautiful, virtuous and enormous program," she said.
Farmers to Families provides two-pound boxes of fresh vegetables, dairy and meat to anyone in need of groceries during the pandemic that has seen near record unemployment levels. More than 65 million of the Blue-Apron style meal boxes have been distributed across the country in the weeks since its implementation, while Ivanka Trump has traveled to distribution points on the ground to assess its progress.
Trump said she's been struck by the number of people who have been affected by the program — families and farmers.
"Whoever I hear a story from, it's just amazingly motivating," she said.
The program was born out of White House officials frustrations with stories of family farms going under, crops being tilled and milk being poured down the drain when demand from the food industry suddenly dropped as restaurants were required to shut down in-person dining and scale back their offerings to try to curb the spread of COVID-19.
But as they review coronavirus relief spending, some members of Congress have questioned whether the program turned into a money grab for people looking to profit from the billions that the federal government set aside to help those most harshly impacted by the pandemic. Democrats, in particular, have taken issue with contracts that went to companies without experience and entities with no clear ties to the farming industry, including caterers and tech companies.
No companies have been charged with wrongdoing, but Democrats say they want more information about how the federal government has administered the program and whether lapses in oversight may have allowed money to be misspent.
A group of 19 Democratic House members has asked the USDA for additional information this month about how contracts were handled and whether any consideration had been given to minority and veteran-owned suppliers.
"This effort has been more successful in certain cities and regions than others. While we are happy to hear of success stories, there are also very apparent flaws and inconsistencies in the implementation of the program," they wrote. "Some applicants who were selected to distribute large contracts of food have lacked experience working with food banks and wholesale food distribution, while other companies with strong connections to food supply chains in their region were inexplicably passed over."
Many farmers and suppliers, however, have credited the program with saving their businesses, which typically rely on schools, restaurants and other entities largely shuttered for months.
Newsweek spoke to multiple farmers, distributors and suppliers who have received contracts through the program. Nearly all of them said that while it may not have been a perfect roll out, they saw the idea behind the program as crucial to keeping the nation's food supply chain intact during an unprecedented time. The Trump administration last year had pushed a controversial plan to reduce food stamp benefits and replace them with a "harvest box" system before the coronavirus outbreak, but the idea was widely panned because it relied on states to implement and because recipients likely would have received less-healthy processed foods, instead of fresh.
"Government got this one right," Chalmers Carr, owner and operator of South Carolina-based Titan Farms, told Newsweek. "You couldn't ask for a better one-two combination, period."
Carr's farm planted broccoli in February to be harvested in May. Then the coronavirus hit. Eighty percent of his broccoli crop would normally go to restaurants that had to shut down entirely or scale back.
"We were throwing perfectly good broccoli away," he said, before the food boxes provided a new demand to fill. "It's definitely helped on our end."
The Farmers to Families program, which is funded through a coronavirus relief package Congress passed in March, isn't intended to take the place of the Supplemental Nutrition Assistance Program's food stamp benefits. Growth in SNAP during COVID-19's spread shows food insecurity sharply rose as people lost their jobs and businesses shut down.
More than six million people enrolled in food stamps between February and May, according to an analysis by the left-leaning Center for Budget and Policy Priorities, and the total number of food stamp recipients swelled to 43 million people in May. SNAP is also run by the US Department of Agriculture.
In a statement to Newsweek, Agriculture Secretary Sonny Perdue said he's spent recent weeks meeting with food banks and people who have received boxes through the Farmers to Families program.
"It's been heartening to hear all the positive feedback on how the program has saved businesses and fed Americans in need," he said. "We're working harder than ever to continue to build on the success of the program."
He also praised the efforts to quickly get the program running and work through initial missteps, which in addition to questions raised about the first round of quickly-awarded contracts, included problems with the quality of the boxes and the items they contained. Distribution sites reported receiving boxes with spoiled items and items that had little nutritional value. One farmer recounted hearing a story about a contractor who filled boxes just with onions. Meanwhile, families have faced long lines at distribution points, hoping to get their hands on a box before they run out.
"Because USDA has rushed this program out the door, there is very little quality control with regard to who gets these contracts and who is qualified to actually meet the need," House Agriculture subcommittee Chair Marcia L. Fudge of Ohio, said in a statement.
The Trump administration has bristled at suggestions that the program could be a magnet for fraud, abuse or waste.
A White House official told Newsweek that some contracts have been revoked or allowed to expire without re-upping them as the program has faced questions.
"It's a learning curve for everybody," said the official, who wasn't authorized to speak on the record about the inner-workings and criticisms of the program. "If they don't do the work and don't meet the requirements, they won't get extended."
Perdue called the program's latest 65-million-box milestone "a testament to everyone's hard work."
"I couldn't be prouder of the great job done by the food box program staff and the many farmers, distributors and non-profits that helped to get this program off the ground for the American people," he said.
Doug Peterson, CEO of California-based tech start-up Aggrigator, Inc., entered the program to help small farmers connect with each other and work together to meet the program's demand. The company had mostly worked with schools, restaurants and hotels that shut down during the pandemic.
"We had the connections, the facility, the know how," he said. "Even though it was very quick we were able to ramp up."
Peterson said the program has been a lifeline for small family farmers.
"There's a number of small farmers who have worked with us who said they would shut down without this," he said. "With everything shut down, they had no place to go with their products."
Brendan Comito, chief operations officer for Iowa-based produce distributor Capital City Fruit, told Newsweek that his business dropped 40 percent in a day when the pandemic prompted wide-spread economic and social activity shutdowns. Capital City Fruit primarily works with restaurants and hotels.
"We've never had a government contract before, but we also knew the restaurants weren't coming back anytime soon," he said. "We were probably going to have to lay off people (until the contract) came through, instead we ended up hiring 10 people."
He said he hopes the government finds a way to keep the program going long term.
"But even if it's just a short-term thing," he said, "it's getting a lot of people through a really tough time."