Nation of Islam leader Louis Farrakhan defended Congresswoman Ilhan Omar against claims she made anti-Semitic comments and blamed the "wicked Jews" for using him to break up the women's movement.
During his keynote address at the Nation of Islam's Savior's Day convention, Farrakhan expressed his joy at more than 100 women being members of Congress and turned attention to Omar. The congresswoman recently came under heavy criticism for comments she made about the American Israel Public Affairs Committee (AIPAC). Omar posted on Twitter that it was "all about the Benjamins" and that she believed AIPAC was responsible for paying American politicians to be pro-Israel.
Democratic leaders, including Speaker of the House Nancy Pelosi, called for the freshman congresswoman to apologize for using "anti-Semitic tropes" and making "prejudicial accusations" about Israel's supporters. Omar apologized, saying she was grateful for Jewish allies and colleagues who educated her about the history behind her comments.
While the apology satisfied some high profile people such as former first daughter Chelsea Clinton and Congresswoman Alexandria Ocasio-Cortez, Farrakhan criticized her for apologizing.
"Sweetheart, don't do that," Farrakhan said. "Oh, pardon me for calling you sweetheart but you do have a sweet heart cause you sure using it to shake the government up."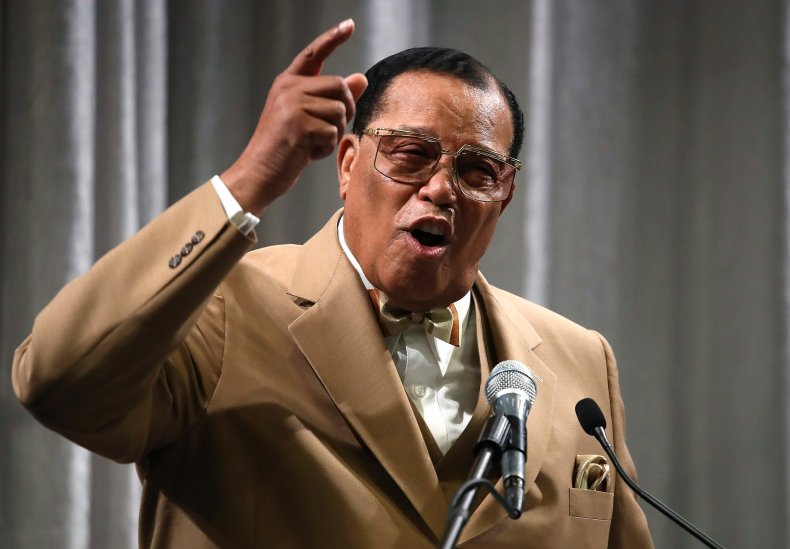 He added that Omar had nothing to apologize for and reiterated the congresswoman's claim that AIPAC pays off Senators and Congressmen to "do their bidding." Therefore, Farrakhan claimed Omar wasn't lying and shouldn't be "lying down."
Omar wasn't the only woman Farrakhan mentioned during his speech and at one point he called attention to the entire women's movement. He described the inaugural Women's March as being one of the "most beautiful sights" he could have laid eyes on.
Farrakhan praised Women's March co-founder Tamika Mallory for her work and claimed the "wicked Jews" want to use him to break up the movement. Mallory has been criticized for her relationship with Farrakhan and some critics said being supportive of the Nation of Islam leader is being supportive of anti-Semitism and homophobia.
Mallory defended her attendance at the Savior's Day convention in 2018 on the basis that just because she appeared with Farrakhan, it doesn't mean she necessarily agrees with everything he says. The View co-host Sonny Hostin pushed back a bit, asking why she called him the "Greatest of All Time" in a post on Instagram.
"I didn't call him the greatest of all time because of his rhetoric," Mallory said. "I called him the greatest of all time because of what he's done in black communities."
Bob Bland, a co-president of the Women's March, said the march condemns statements of bigotry and anti-Semitism, although, Mallory wouldn't unequivocally say she condemns Farrakhan's remarks.
Farrakhan, who has made anti-Semitic comments in the past, denied that he called the Jews termites during his Savior's Day speech. He played a clip from his 2018 keynote address, during which time he said, "I'm not anti-Semite. I'm anti-termite," and blamed people for interpreting his words wrong.
In June, Farrakhan lost his Twitter verification after he posted a speech on his twitter, during which, he called Jews "satanic" and claimed it was "Jewish power" that controlled Hollywood's casting couches.