#Fartgate has been trending ever since a rather audible farting sound aired during the first three minutes of an interview between Hardball's Chris Matthews and Congressman Eric Swalwell.
The video, which covered testimony during the president's impeachment trial, begins like any other. In the middle of a sentence in which Swalwell said, "The evidence is uncontradicted that the president used taxpayer dollars to ask the Ukrainians to help him cheat an election," a very loud and audible farting noise may be heard. Swalwell reacted to the noise by pausing for a moment before continuing.
Swalwell, who sits on the House Intelligence Committee, denied to BuzzFeed's Addy Baird that it was he who farted:
"It was not me!!!!!" Swalwell texted to Baird. "Ha. And I didn't hear it when I was speaking."
"You look like you heard it and are stifling a laugh," said Baird.
"I def did not hear it," replied Swalwell to Baird, who said that it was "funny tho."
The official Hardball Twitter initially replied to the trend with a meme of two Spider-Men pointing at one another, then deleted the message, causing Twitter users to tweet their disappointment.
S.E. Cupp replied to the trend with a thread explaining her belief that Matthews did indeed supply it.
"THREAD: I hate to let the air out of these #fartgate theories, but the inimitable laws of physics clearly point to Chris as the culprit. For one, Swalwell's mic wouldn't likely have picked it up in the noisy liveshot location... Second, the fart conveniently manifests when it goes to a one-shot, where Chris is off camera to let it rip without anyone seeing... Finally, it was likely acoustically amplified after bouncing off the back of Matthews' chair... Unless you're telling me that thing bounced through the echoey Capitol building, into Swalwell's lav mic, through control to the main audio, then that is one magic fart. There is also, of course, the possibility that there was a second farter."
Chuck Ross of the Daily Caller provided more evidence:
Twitter user elatticus provided a meme:
"If someone tries to tell you that America isn't the best country in the world, remind them that on Nov 18, 2019, #FartGate was the number 1 trending topic in the country ✊" said Twitter user Nate Wyss.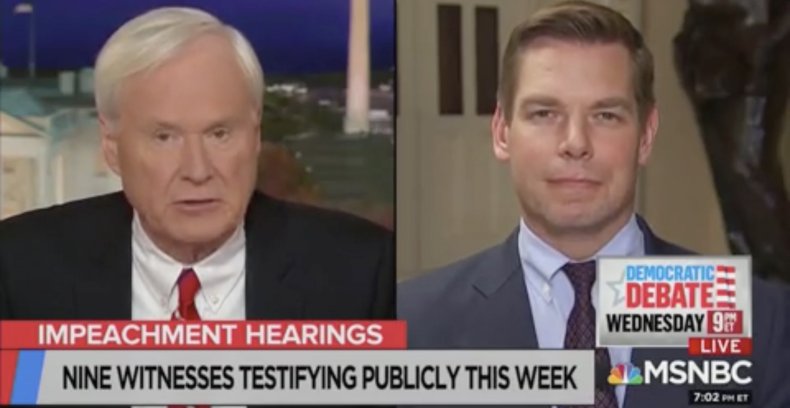 Eventually the official Hardball Twitter weighed in to claim it was a mug scraping across a desk:
"TOTAL EXONERATION!!" replied Swalwell.
Despite Swalwell accepting Hardball's explanation, not everyone was convinced.
"Unless the mug is made out of rubber i don't see how that's possible," Twitter user @ataru05334491 wrote. And @_wintergirl93 was even more direct, merely posting an animated GIF of Ron Burgundy from Anchorman captioned "I don't believe you."