Tess Holliday Slams Revolve's 'Being Fat Is Not Beautiful' Design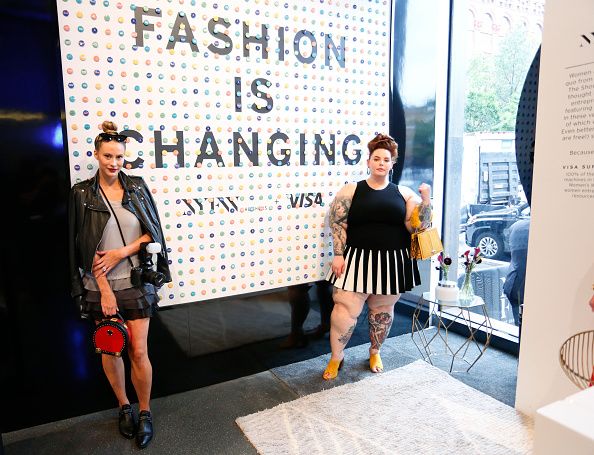 A misguided attempt at fighting cyberbullying backfired in the past week on fashion brand Revolve.
The company was forced to pull down photos Wednesdayof a new collection of designs after a sweatshirt for sale emblazoned with the words "Being fat is not beautiful, it's an excuse" sparked an uproar online and caught the attention of plus-size model and activist Tess Holliday.
This comment was reportedly directed at plus-size model Paloma Elsesser. The sweatshirt was one of five designs released as part of Revolve's new charity to combat cyberbullying and featuring real online comments made to people including Elsesser, Lena Dunham, Emily Ratajkowski, Cara Delevingne and Suki Waterhouse. Pia Arrobio, founder of fashion brand LPA, teamed up with Revolve to create the clothing.
The other phrases printed on the garments included "Horrible result of modern feminism," "If you translated a bum onto her face, she'd have a better face" and "Too boney to be boned."
Newsweek subscription offers >
Critics quickly accused Revolve of fat shaming, and the backlash against the brand only became stronger after Holliday posted a photo of the sweatshirt to her Twitter account on Friday and called the design "a mess."
Newsweek subscription offers >
Holliday, author of The Not So Subtle Art of Being a Fat Girl, is a prominent voice in the movement for body acceptance and was featured on the cover of Cosmopolitan UK's October 2018 issue. The cover, which showed Holliday in a green swimsuit, received criticism in August from British journalist and TV personality Piers Morgan, who called it "just as dangerous [and] misguided as celebrating size zero models."
Florence Given, a London-based artist and social issues advocate, posted screenshots of the clothing to her Instagram Wednesday and accused the brand of "selling fatphobia to rich skinny women."
Given explained that she reached out to Elsesser, who claimed she was "mortified" at how the comment was being used in a separate post made Wednesday. After Given issued a complaint with LPA, the photos were taken down from Revolve's website.
"Problematic marketing [equals] a problem with diversity in the workplace," Given wrote. "This is still incredibly problematic and an awful attempt at 'claiming back' toxic narratives because (in my opinion) it just gives them power by putting them back into the world and at a £162 price tag." The sweatshirt was also available in the U.S. for $165.
Given continued, "The designs went up to XL, so the women who this tee is supposed to 'empower' probably wouldn't even fit into one."
Tess Holliday Slams Revolve's 'Being Fat Is Not Beautiful' Design | Culture