Fashion Brands Must Be Held Liable for Gender-Based Abuse | Opinion
Everyone has a right to be free from violence and harassment at work, including gender-based violence and harassment.
But for the millions of mostly women garment workers in the Global South, who toil for up to 16 hours a day on poverty wages to make our clothes, violence and harassment are a daily reality. Factory floors are plagued by allegations of discrimination, abuse and wage theft. For decades this abuse has been driven by an unequal and unsustainable power dynamic between brands and suppliers, which allows brands to reap financial benefits from workers' labor at the lowest possible cost, creating and sustaining the conditions for widespread violence and harassment.
Unfortunately, this abuse only intensified during the COVID-19 pandemic. As fashion brands canceled orders, delayed payments and squeezed suppliers further to protect profits, suppliers were often unable to pay workers their owed wages and made mass layoffs. Once lockdowns lifted, things only got worse; we spoke to 90 women garment workers from 31 factories across India—all of whom had recounted troubling stories of abuse during the pandemic.
Manisha, an Indian worker producing garments for international brands at a factory in Karnataka, explained, "During the COVID-19 lockdown, they did not pay us full wages. Then, when we returned to work, they increased production targets and abused us. If we were sick and needed to take leave, they would curse us. If we were unable to meet production targets, they would curse us. I do not want to revisit this time, even in my mind. The hunger, the abuse at home and in the factory, the deaths of loved ones, the feeling of gloom—this is what 2020 is to me."
Manisha's story is not unique. Disturbingly, every woman we spoke to reported either directly experiencing or witnessing gender-based violence and harassment in their factories; often perpetrated by male supervisors driving them to meet unreasonable production targets set by fashion brands. Women spoke of routine physical, sexual and verbal abuse, discrimination and unfair dismissal, lack of protection from COVID-19 and intensified work rates leading to exhaustion and increased accidents.
Meena, a garment worker at a factory in Tamil Nadu, which produced clothes for C&A, Carrefour and Tesco, said threats of termination were "frequent" and workers who made even minor mistakes were "threatened aggressively." She continued, "Verbal and physical harassment, including hitting and throwing bundles of clothes at women workers were more common during this period."
This abuse wasn't confined to the factory floor. Many suppliers resumed work before national lockdowns were lifted to avoid penalties imposed by brands for delays. Workers were forced to show up to work during lockdowns, leading to police harassment and violence during their commutes. Anita, employed at a factory in Delhi, said she was pushed to the ground and yelled at by the police when caught breaking lockdown orders on her way to work.
The workers we spoke to made clothes for at least 12 global fashion brands including American Eagle, H&M, Primark and VF Corporation. These brands—like most—have policies prohibiting mistreatment and abuse in their supply chains, but at the same time squeeze their garment suppliers on price and speed to maximize profit margins, with women workers in the Global South paying the price.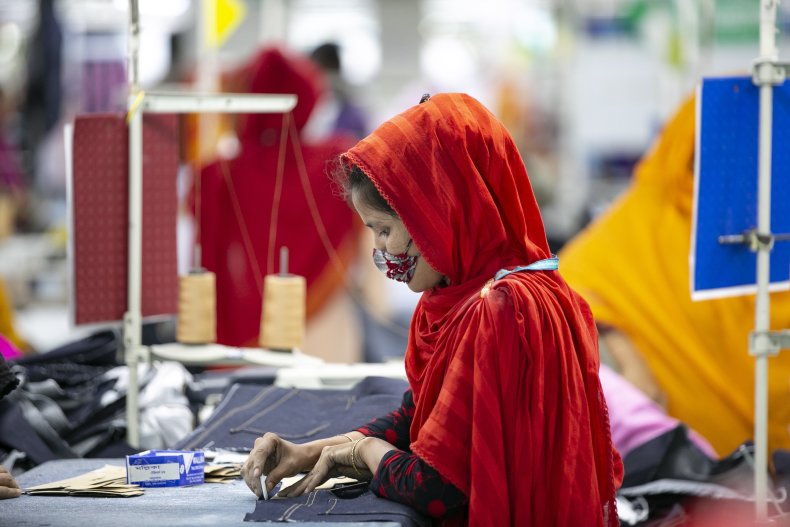 Gender-based violence and harassment doesn't only affect workers producing for these brands; it's an industry-wide problem, deeply embedded into the exploitative fashion business model. In Cambodia, nearly 1 in 3 women garment workers reported experiencing sexual harassment at work over a 12-month period. In Indonesia, 71 percent of women garment workers experienced gender-based violence at work, including verbal, sexual, psychological and physical abuse.
It's time for fashion brands to be held legally accountable for the violence and abuse faced by the women workers who make their clothes and profits. Legally binding agreements can go a long way in protecting workers on the factory floor. Earlier this year H&M—along with labor groups Asia Floor Wage Alliance, Tamil Nadu Textile and Common Labour Union and Global Labor Justice-International Labor Rights Forum—signed a ground-breaking agreement after 20-year-old garment worker Jeyasre Kathiravel was allegedly raped and murdered at a H&M supplier factory in India. A recent investigation found that at least two other women were murdered at the factory, prior to Kathiravel.
If we are to transform workplaces in the garment sector, we also need international law on our side. Three years ago, women workers and trade unions won a hard-fought battle when the International Labour Organization adopted the Violence and Harassment Convention, which protects all workers, not just employees, and provided the first international definition of violence and harassment in the workplace. It also includes informal workers—largely poor women and migrants—who fall outside of social protections and are the most vulnerable to exploitation and abuse. Unfortunately, only 11 countries have ratified this treaty in through their national laws—with the U.K. only doing so earlier this year.
Although COVID-19 exacerbated gender-based violence in garment factories, this abuse is endemic and urgently needs systemic change. As Smita, a garment worker at a factory in Tamil Nadu which produced for ASDA, C&A, Carrefour, JD Sports and Tesco, described, "Verbal, physical and sexual harassment exists in every garment factory—not just this one. It existed before COVID, it exists during COVID and it will exist after COVID."
Names have been changed to protect identities.
Alysha Khambay is the head of labor rights at the Business & Human Rights Resource Centre.
The views expressed in this article are the writer's own.