Arrests as Fast Food Workers Strike Across the Country for $15 an Hour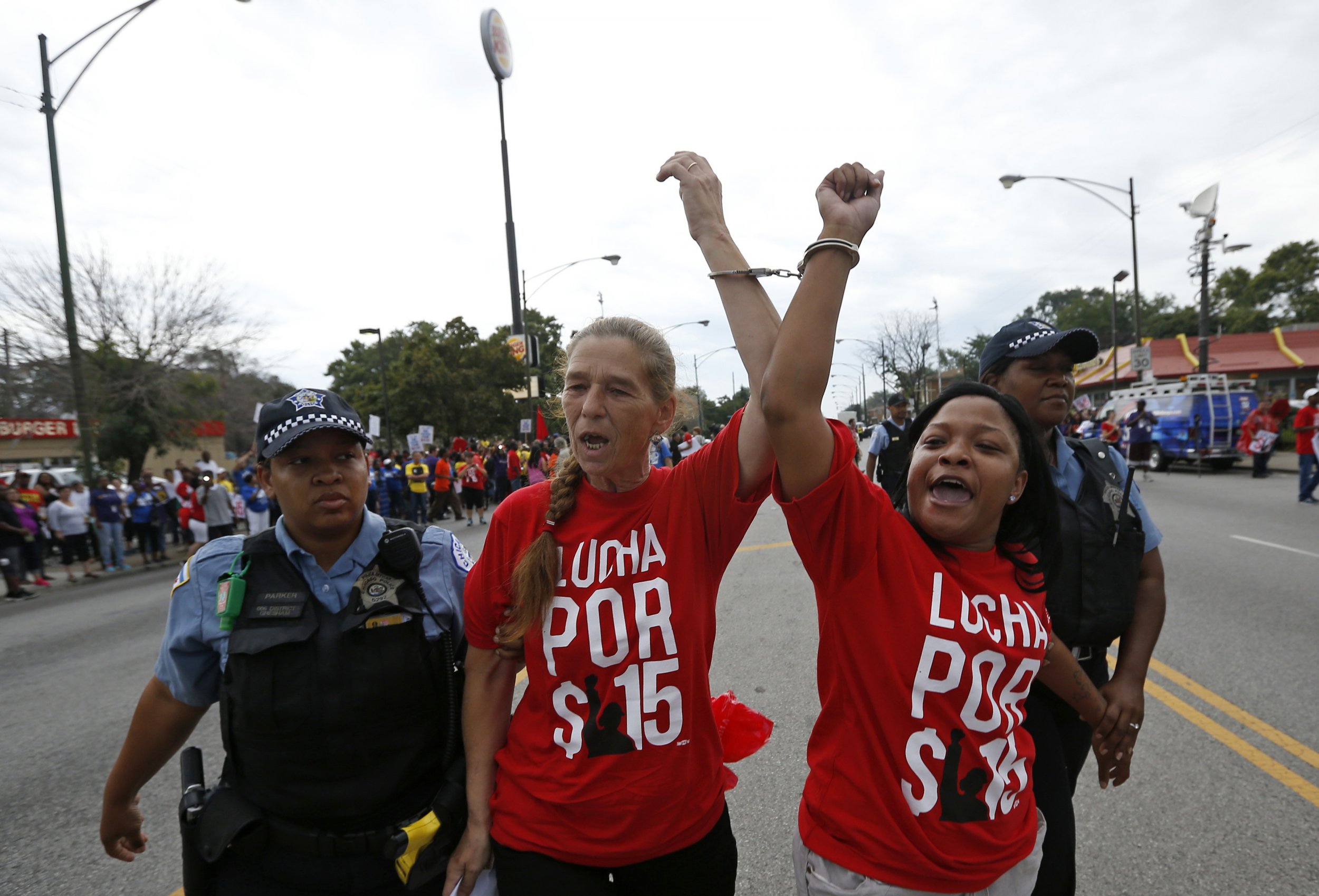 Thousands of workers at fast food restaurants across the country went on strike Thursday, demanding better wages and the right to unionize without retaliation. Organizers said strikes would take place is around 150 cities and would include workers from McDonald's, Burger King, Wendy's, KFC, and more, Huffington Post reports.
In addition to the right to unionize, workers are demanding a $15 hourly wage. "There has to be civil disobedience because workers don't see any other way to get $15 an hour and a union," Kendall Fells, organizing director of the organizing group Fast Food Forward, told USA Today.
Earlier in July, fast food workers gathered in Chicago for a convention, where they unanimously voted to use nonviolent civil disobedience in their pursuit of higher wages. Despite that, protesters have been arrested in New York, Las Vegas, Philadelphia, Pittsburgh, Boston, Detroit and other cities. Police in Detroit made so many arrests they were reportedly "running out of handcuffs," according to the local ABC affiliate, WXYZ.
At least one representative of the fast food restaurant industry fired back, calling the demonstrations "[c]horeographed street theater directed by Big Labor." Rob Green, executive director of the National Council of Chain Restaurants, also lambasted The Affordable Care Act, which he said creates "stiff economic headwinds" for small businesses.
Whether or not fast food franchises should be considered small businesses at all is another point of contention. In August, the National Labor Relations Board ruled that the McDonald's corporation will now be treated as a "joint employer" of workers, along with franchise owners. Previously, McDonald's had been able to dodge responsibility for labor law violations by claiming that its franchisees, not its corporate headquarters, were responsible for working conditions of McDonald's workers. McDonald's is appealing the ruling.