'Fast and Furious 9': All the Hints that 'F9' Will Be Set in Space
Fast and Furious 9 was originally meant to be released this year, but the coronavirus has led to its release date being postponed until April 2021. What this means for fans is that they have had plenty of time to speculate/make wild theories about the upcoming F9.
One of the biggest theories would be that Fast and Furious 9 would be partly set in space. Like many things, this began as a joke, but as tends to happen on the internet, as time went on more and more people believed that it was the only logical place the franchise could go.
After all, after The Fate of the Furious saw the team taking on a nuclear submarine, and the Hobbes and Shaw spin-off saw them facing off against a literal cyborg, where else is there for the franchise to go but up into the heavens? After all, the films have got more and more James Bond-esque, it is surely only a matter of time before they follow Bond, who traveled into space in the 1970s in Moonraker as the aging franchise tried to cash-in on the Star Wars bandwagon.
Though the idea that Dominic Toretto (played by Vin Diesel) and the rest of the team would head into the heavens began as a fan theory, cast members then started saying things that may have confirmed this plot.
Tej actor Ludacris was the first to hint at a (literally) out of this world storyline for Fast and Furious 9. After an interviewer asked him about the movie going to space, the actor and rapper said: "I will say that you are very intuitive, because you said something right, but I'm not going to give it away."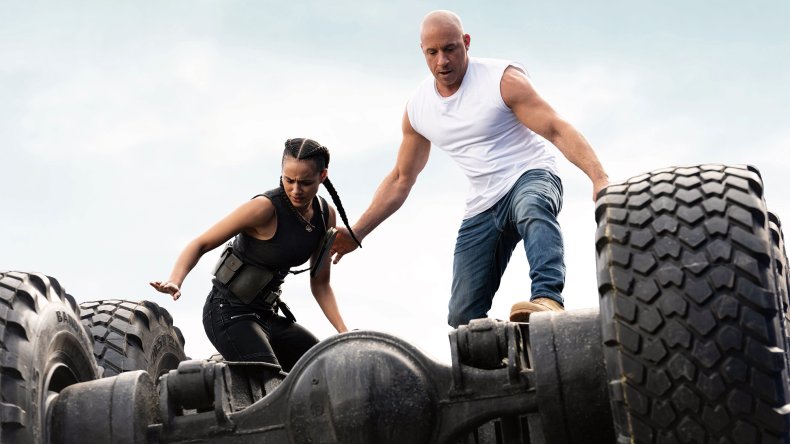 Ludacris, however, is not the only cast member to hint at a galactic plot thread in F9. Most recently, Letty actor Michelle Rodriguez was asked about the rumors. She said on The Jess Kagle Show: "Oh, no way. How did you guys find that out? See what happens? People start talking behind the scenes, man. When a movie doesn't come out and forget about it, things get out. Nobody was supposed to know that."
However, it is unclear exactly how sincere she was being about the rumors, especially as she then added: "No, I'm not lucky enough to hit space." That could mean that no one is heading into the stars, or just that her character is left behind while Toretto dons his spacesuit.
Previously, Fast and Furious screenwriter Chris Morgan had previously said to The Hollywood Reporter about a space storyline: "I will say—what's the best way to answer this?—you'll have to wait and see. Listen, as long as the stakes were set up correctly, then I'm down for whatever."
However, the writer is taking a break from writing the franchise for F9, for the first time since 2 Fast 2 Furious, meaning that even if we do not get space in the latest film the future movies in the franchise will eventually go interstellar.
Fast and Furious 9 comes to cinemas on April 2, 2021.