Fastest-growing Cities: Where Are Americans Flocking To?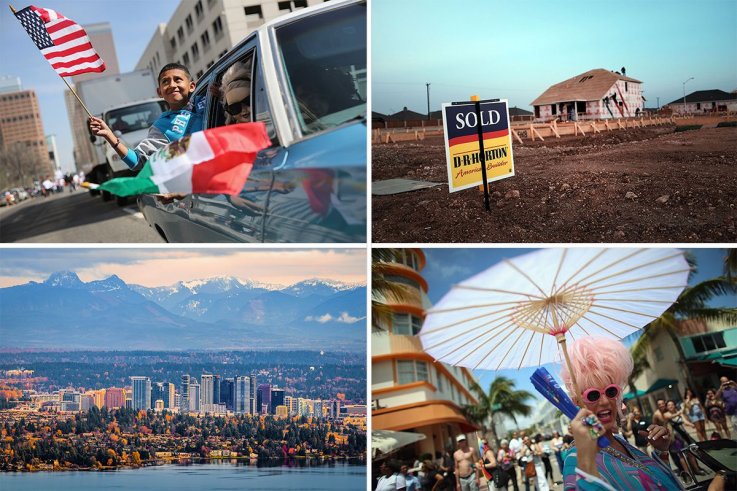 The U.S. population has grown by 18.9 million people since the 2010 census, according to the U.S. Census Bureau—an increase of over six percent. But not all of this growth has been spread evenly across the country. Some areas are actually shrinking, particularly in the ex-industrial heartlands.
However, a number of Southern cities are seeing a massive uptick in population.
Frisco in Texas leads the pack of these suddenly-booming cities. Located in the north of the Dallas-Fort Worth metro area, Frisco had just over 6,000 residents in 1990, but now boasts 177,286 people—twice that of the 2010 census.
A 25-minute drive from downtown Dallas, Frisco has award-winning schools and is home to the NFL's Dallas Cowboys. It has a high rate of job growth and, according to Data USA, the median household income is $117,642. That's far higher than the national average, which stands at $55,352.
Frisco Mayor Jeff Cheney has been open about the city's ambitions, recently telling The New York Times he hopes the e-commerce giant Amazon will settle in the town and fuel even more growth.
"Our city's only about 60 percent built out, so we've got a lot of available land where we can build to suit," he said. "We play to win. We're innovators. We're forward thinkers, and we're serious."
Frisco isn't the only southern success story—Texas is home to over a fifth of all the fastest-growing cities in the nationwide top 25. The Lone Star State added 12.6 percent more people since 2010, with a strong job market encouraging growth.
Hispanic Texans are primarily driving this growth, although the state is seeing a large increase in Asian residents, according to the Texas Tribune.
Michigan, which led the list of cities in severe population decline, doesn't appear in the top 25 fastest-growing cities at all. And although California continues to expand, data suggests growth is moving away not only from the heartlands but the coasts as well. If you want a glimpse of America's future, you may do well to look South.