Fat-Shaming President Trump Is Wrong, and Bad Activism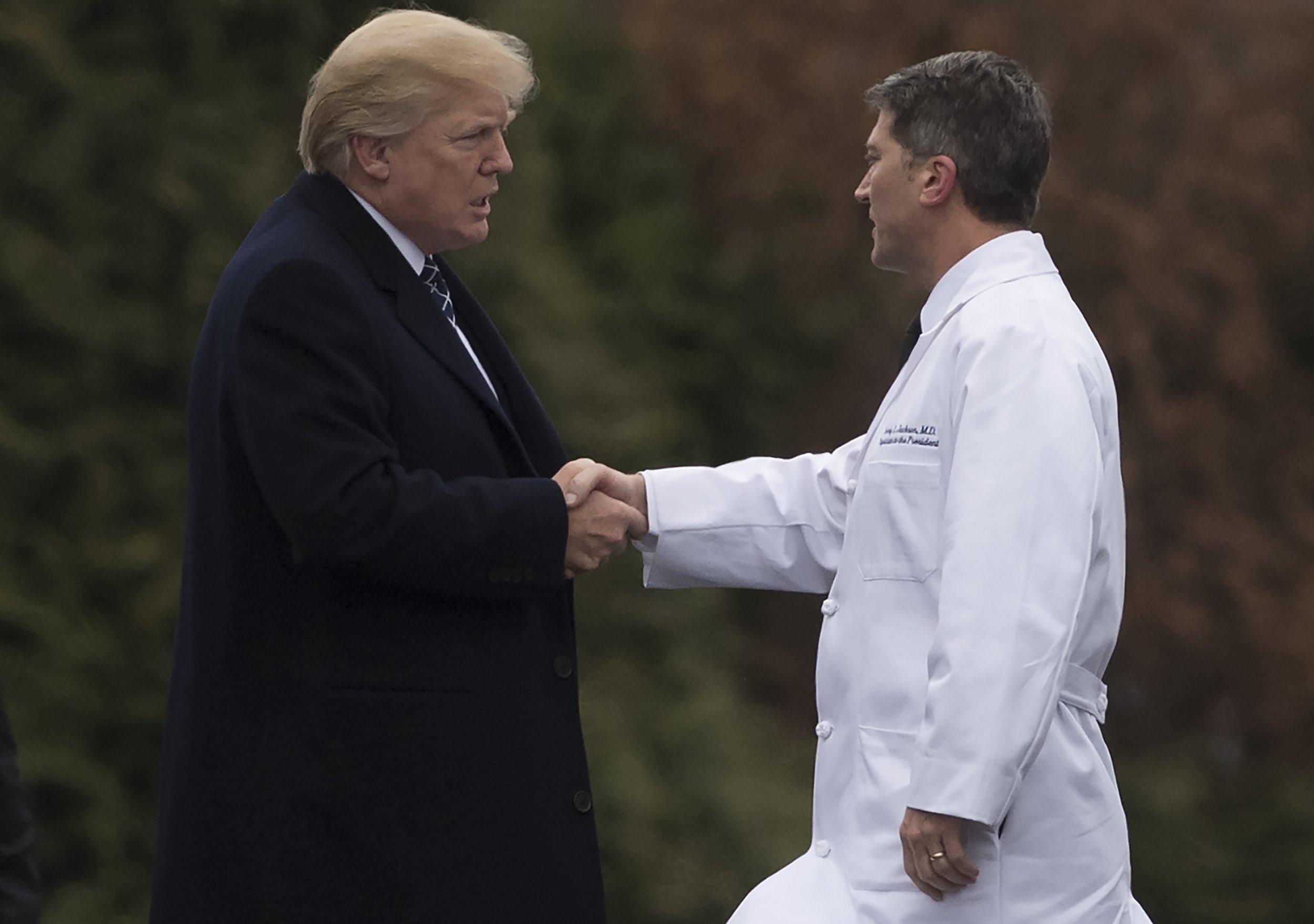 The rise of the recent "girther" movement (a riff on the birther movement that relentlessly questioned Barack Obama's birth origin) has brought focus to President Donald Trump's weight. So-called girthers claim on social media that the results of the president's first White House physical, made public this week, underrepresented his weight: One pound heavier, and his height-to-weight ratio would have pushed him into the realm of what is considered medically obese.
The girther movement demands that Trump weigh himself on an "accurate scale" and continues to speculate on his weight, posing full-body photos of Trump next to others whose weight and height are supposedly known.
Why, in a presidency that finds Americans more imperiled by the decisions of our president than at any other time in modern history, are people so focused on his weight? What do people have to gain (so to speak) by going after Trump about the veracity of his scale?
While the intention may be that people want to expose yet another example of Trump's hypocrisy, I believe it is lazy activism that creates more harm than good.
Trump is so immune to ridicule that he hears boos as cheers and sees any form of negative attention as positive. He perpetuates weight bias consistently, especially with regards to women's bodies. Going after his weight is simply reinforcing a paradigm he wholeheartedly believes in. Trump doesn't hear his detractors, no matter how intelligent or well-formed their arguments are. The girthers, by focusing on his weight, are simply reinforcing body shame and causing harm to all who read their missives.
This is not the first time Trump has been body-shamed. A drawing depicting him with a "micropenis," and the ensuing jokes, did nothing to sway voters before the election. Women's March signs about his small hands played into others' insecurities about the ways in which their imperfect body is perceived.
Perpetuating body currency benefits the billion-dollar diet, cosmetics and plastic surgery industries—and Trump himself. Body currency, coined by body positive thought leader Jes Baker, is the idea that certain bodies are given different value based on a matrix of privilege and oppression. Bodies that are fat, poor, bodies of color, older, female, transgender or disabled, to name just a few, are less valuable than wealthy, white, male, young bodies. Critics who are spending their time focusing on his body rather than his policies are simply doing Trump's own work by body shaming.
The terms medically obese and overweight are both completely suspect. I have chosen to embrace the word "fat" as a benign descriptor of my body that does not represent my health. I am a group exercise instructor, in medically great shape, yet my body would still be considered overweight and medically obese.
Some fat people, just like some thin people, are healthy. Some fat people, just like some thin people, struggle with disease. Adipose tissue, the tissue that makes up fat, can be a result of genetics, side effects from other diseases, trauma or lifestyle. The medical community is doing us no favors by pathologizing fat.
All people, no matter their size, need encouragement and positivity to make choices that keep them active and seeking self-care. If shame worked to get fat people to lose weight, we wouldn't have any fat people because we live in a society filled with body shame. Trump doesn't care about anyone's health and certainly wouldn't hear it if his self-care practices were called into question.
Instead of body-shaming Trump, we could focus on substantive issues with the presidency: a new extension of religious freedom to allow medical professionals to object to treating gay and trans patients; the Republican tax bill that causes harm to the entire middle class, working class and poor folks; the threat of repealing health care for millions; deregulation of the Environmental Protection Agency and the administration's support for oil and coal industries that destabilize an already imperiled environment.
Body-shaming Trump, by going after the veracity of his reported weight, his small hands or his "micropenis," makes one no better than the body-shaming bully-in-chief himself. We can all do better to support the eradication of body currency, but let's shame him instead for imperiling our country and government.
Bevin Branlandingham is a leader in the Body Positive movement and the founder of Fat Kid Dance Party Aerobics (For All Sizes to Heal from Body Oppression). You can find her at queerfatfemme.com.