Fatal Earthquake Measuring 6.8 Magnitude Strikes Philippines
The Philippines has been struck by a powerful earthquake that has left at least one person dead.
The earthquake measured 6.8 magnitude on the Richter scale, with its epicenter located around 50 miles southwest of the city of Davao on the island of Mindanao, according to the U.S. Geological Survey.
Officials said that the quake had caused damage to buildings in the city and left several people injured, Reuters reported.
According to Vincent Fernandez, mayor of Matanao town near the epicenter in Mindanao's Davao del Sur province, a six-year-old girl was killed when a concrete wall collapsed on her.
The quake is the latest in a series of tremors that have struck the region in recent months. Four powerful quakes in October and November left a total of 20 people dead.
"We don't know what to do anymore. Do we respond first or attend to our families first?" Anthony Allada, a public information officer for nearby Magsaysay Town, told Radio DZMM.
Allada said that the full extent of the damage is currently unclear, although power was out in the town. He noted that supplies of food, water, tarpaulins and blankets were needed.
Davao is the home of Philippines President Rodrigo Duterte. He was in the city when the quake struck but is reportedly unharmed.
"He is ok. He and his daughter Kitty were in their house when the quake struck," presidential spokesman Salvador Panelo said. "First Lady Honeylet was on her way home when the ground trembled. She said her car was swaying. She is unhurt."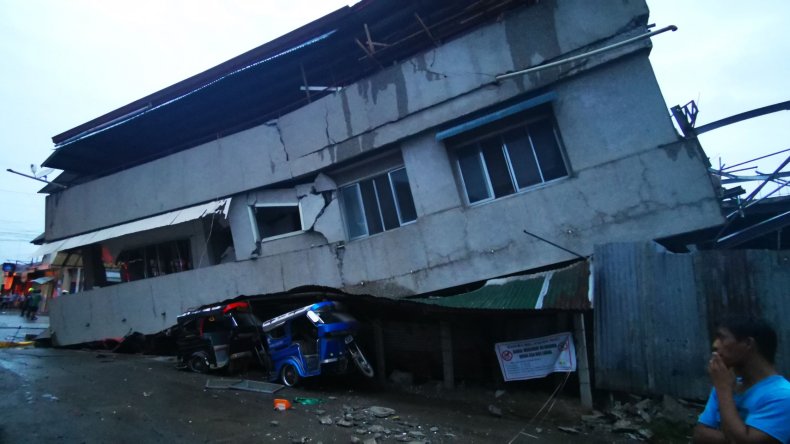 In Padada—another town in Davao del Sur—a three-storey building collapsed while people were still inside, local authorities said. Superintendent Samuel Tadeo, the Bureau of Fire Protection operations chief, said an undetermined number of people are still trapped, Al Jazeera reported. A search and rescue operation is currently underway.
"I saw the building when it fell," local resident Leighton Angcan told Reuters. "It was the tallest here and it was really destroyed. I saw people running outside."
Fortunately, the Pacific Tsunami Warning Center has said that there is no tsunami threat as a result of the quake.
Nevertheless, several strong aftershocks have been recorded, including one north of General Santos City which had a magnitude of 5.7 on the Richter scale.
The Philippines lies on the "Ring of Fire"—a long, horseshoe-shaped, seismically active belt that extends around the Pacific Ocean basin. As a result it often experiences earthquakes.