Fatal Shooting Follows Meetup to Return Stolen Dogs at Gas Station: Deputies
A planned meeting to return stolen dogs turned deadly when one of the individuals in attendance was fatally shot, Texas authorities said Wednesday.
The shooting occurred shortly before 6 p.m. local time on Tuesday at a gas station located in a Walmart parking lot in Wallisville, Texas. Homicide detectives with the Harris County Sheriff's Office (HCSO) responded to calls of a shooting at the gas station and arrived to find one man suffering from gunshot injuries.
In a video update shared Tuesday by Lt. Robert Minchew with the HCSO's homicide unit, Minchew said the man had been shot in the leg. The man, who has not been publicly identified, was taken to a nearby hospital and pronounced dead.
Homicide detectives' investigation was "very preliminary" as of Tuesday evening, but Minchew said authorities were searching for a black four-door Chrysler 300 believed to be transporting three people. Detailed suspect descriptions were not immediately available Tuesday evening but have since been shared by the Harris County sheriff.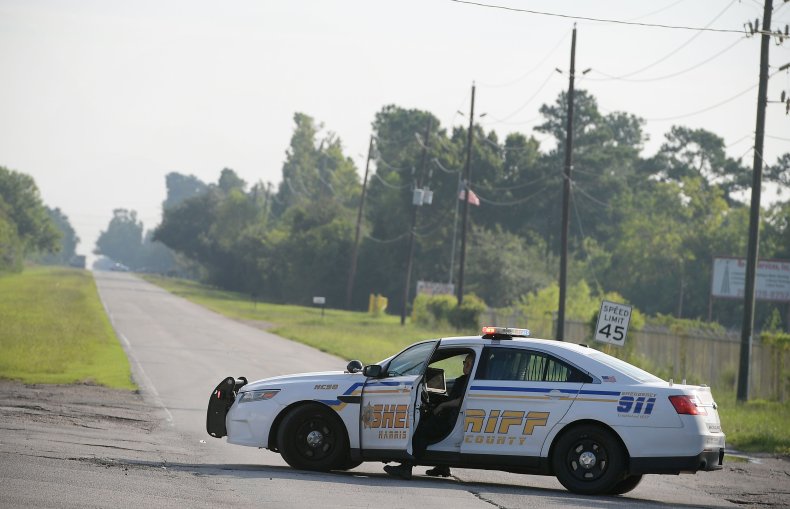 Minchew said Tuesday the circumstances surrounding the shooting were initially unclear.
"There was a little bit of shoving, and then the guns came out," Minchew said, adding that the deceased individual "was shot right here at the gas station."
Another person believed to be "a friend or acquaintance" of the man who was shot ran into the nearby Walmart, where they were then detained for questioning by police, according to Minchew.
On Wednesday morning, Harris County Sheriff Ed Gonzalez said in a series of tweets that the people who fled the shooting in the Chrysler sedan "had allegedly stolen multiple dogs from a breeder/kennel and then contacted the owners about returning the dogs in exchange for a reward."
Gonzales did not specify the number or breeds of dogs that were allegedly stolen or the details of the reward offered for their return.
Once the meeting had been arranged and both parties were in attendance, "a disturbance broke out" between them, Gonzalez said. The person who was fatally shot was "a friend" of the dog owner, he added.
Gonzalez tweeted that the individuals who left the scene of the shooting in the vehicle were believed to be "three light-complexion black males in their 20s."
A photo of the vehicle allegedly involved in the shooting was also released by the sheriff Wednesday morning.
Individuals who think they may have information about the shooting were encouraged to contact Crime Stoppers or the HCSO's homicide unit.
Newsweek reached out to the HCSO for further comment and will update this article with any response.