The 10 Republican members of Congress who voted to impeach President Donald Trump for his role in instigating the mob that marauded through the Capitol on January 6 knew the riot would be a historic turning point for the country. What they didn't realize: The events of that day might also mark the beginning of the end of their own political careers, and that their actions would give Trump and politicians loyal to him a rallying cry to help them retain control of the Republican Party.
Six months after the riot, the impeachers are the GOP's most endangered incumbents. Nine of the 10 already face credible primary challengers ahead of next year's midterm elections, and all have been the targets of relentless attacks from Trump and his supporters, as well as on social media from once-supportive constituents livid about their impeachment vote. Wyoming Representative Liz Cheney, stripped of her leadership role in the House for her persistent criticism of the former president, has absorbed the most venom. But Trump seems bent on exacting revenge on the entire group, calling out the names of each of the GOP representatives who voted to impeach him one by one in a speech at the Conservative Political Action Conference in February, then telling the audience: "Get rid of them all."
If that effort is largely successful, it would be the clearest sign yet that, even out of office, Trump retains control of the Republican Party and the future is doomed in the GOP for anyone who vigorously opposes the 45th president.
"If all or most of these guys lose, that's a pretty ironclad case that going against Trump is the death knell," says Jeff Timmer, co-founder of the Lincoln Project, an anti-Trump PAC. "You're more likely to see a muddied result. Some might win, some might lose. But he'll hang the losers around Cheney's neck."
Other Republicans believe the hand has already been dealt. "If any of the 10 are up against a primary challenger who's a Trumper and who can breathe, walk and talk at the same time, they're gonna lose," says former GOP Representative Joe Walsh of Illinois, a former Trump partisan turned critic. "They're all in serious trouble. And they know that."
At least one of the 10 GOP impeachers agrees, speaking to Newsweek in a blunt, not-for-attribution interview. Says the representative: "I'll admit that the politics of 1/6 are very different today than I thought they'd be on 1/13 when we voted on the articles of impeachment. And because of that, I will probably lose my seat."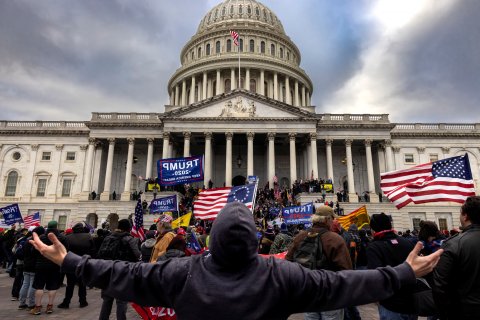 The sharp turnaround in the group's political fortunes is a neck snapper, given that less than a year ago each of them cruised to their party's nominations and won their elections just seven weeks before the Capitol riot. With the exception of Cheney, daughter of former Vice President Dick Cheney, and perhaps Illinois Representative Adam Kinzinger, most of the GOP 10 are rank-and-file representatives, little known beyond their districts or states. Cheney has faced the biggest backlash so far, losing her role as the No. 3 Republican in House leadership in May to New York Representative Elise Stefanik, whose fealty to Trump overshadowed the fact that her voting record is significantly less is conservative than Cheney's. The outcome only proved to the other nine that their fates don't depend on how conservative they are or what they've done for their districts so much as how dedicated to Trump their primary voters are.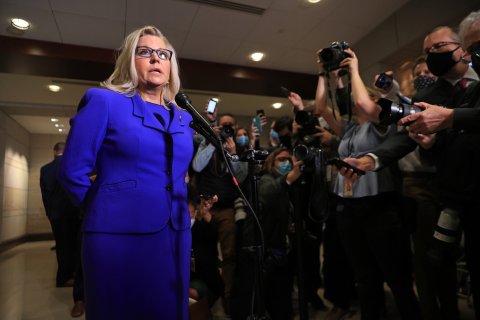 "Part of the test will be how many of these members lose and what share of Republican primary voters will essentially do the former president's bidding," says Kyle Kondik, managing editor of the nonpartisan election forecasting newsletter Sabato's Crystal Ball. "It may be that Trump remains really popular within the party, but Republican primary voters show more tolerance for some of these members than we think."
Other political forecasters doubt that outcome. Says House elections expert Dave Wasserman of the nonpartisan Cook Political Report, "Overall, I'd be surprised if more than three of the 10 are still in Congress in 2023."
The Cheney Gang
The GOP 10 were not a natural unit before the impeachment vote and their subsequent experiences as ongoing targets of Trumpists' anger. All members of the House, the group included hard-core social conservatives Cheney, Dan Newhouse of Washington and Tom Rice of South Carolina; libertarians Kinzinger and first-termer Peter Meijer of Michigan; establishment conservatives Fred Upton of Michigan, Jamie Herrera Beutler of Washington and Anthony Gonalez of Ohio; and moderates Tom Valadao of California and John Katko of New York, who both hail from districts that voted for Joe Biden in 2020.
Most of them did not have reputations as disruptors or rebels within the House GOP caucus. Even including the impeachment vote, eight of them have voted with House GOP Leader Kevin McCarthy more than 90 percent of the time so far this year, according to an analysis by ProPublica. The remaining two aren't far behind: Upton, voting with McCarthy 86 percent of the time, and Kinzinger, at 88 percent, could hardly be considered intransigents. By comparison, the most vocal pro-Trump Republicans in the House, Stefanik and fellow Representatives Marjorie Taylor Greene, Lauren Boebert and Matt Gaetz, have all bucked McCarthy's lead more often.
"It's not like we can look at the 10 and say, 'Oh, it's this group of people who bonded together, they're always a clique,'" Timmer says. They've only ever made one joint statement as a group, when nine of them wrote a letter to Pelosi in March objecting to a short-lived Democratic effort to contest or overturn an Iowa congressional race that Republican Mariannette Miller-Meeks won by six votes. (Rice did not co-sign the letter.)
What the 10 have in common is that they've never let go of their fury over the hoards of Trumpists who beat Capitol Hill police; paraded through Statuary Hall carrying Confederate flags; chanted the desire to hang Vice President Mike Pence, House Speaker Nancy Pelosi and others; rifled through Senator Ted Cruz's desk and put their feet up on Pelosi's desk. And in their anger, each also condemned the origin of that mob's anger—the lie promulgated by Trump that the 2020 election was stolen by widespread voter "fraud." Those claims were debunked by, among others, Trump's own Department of Homeland Security, which said the election was "probably the most secure" in U.S. history, and rebuffed repeatedly by dozens of judges—including some appointed by Trump—who threw out some 60 lawsuits challenging election results.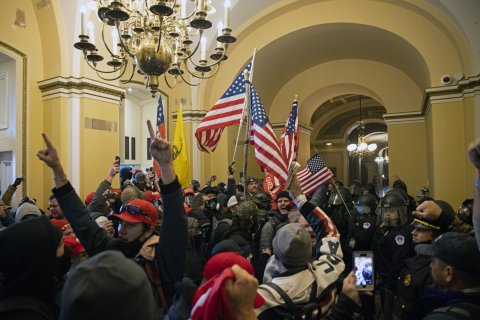 The impeachers were emboldened, too, by the widespread dismay aimed at Trump from fellow Republicans in the immediate aftermath of the riots. Senate Minority Leader Mitch McConnell, for instance, took to the chamber's floor to say the January 6 mob was "provoked by the president and other powerful people" to prevent Congress from certifying the election results that day. McCarthy agreed that Trump "bears responsibility for Wednesday's attack on Congress." During the riots, Republican Representative Mike Gallagher of Wisconsin posted a video urging Trump to stop the mayhem, insisting, "You are the only person who can call this off." Republican Nancy Mace of South Carolina, a first-term representative and hardline pro-Trumper, said on NBC's Meet the Press that he had "put all of our lives at risk."
Perhaps, many anti-Trump Republicans thought, the gruesome, indelible nature of the January 6 attack, coupled with the fact that the president would soon leave the White House, had finally broken Trump's grip on the GOP. "I remember at the time, somebody said to me, 'I slept okay last night because I know Trump's done now,'" says Sarah Longwell, founder of Republican Voters Against Trump, a PAC that spent $10 million in 2020 to defeat Trump. "I remember saying at the time, 'I would not bet on that.'"
Yet 10 House Republicans did bet on that—with their political lives. Meijer, in fact, knew there was risk, telling the Detroit Free Press after the impeachment vote: "It may have been an act of political suicide but it's what I felt was necessary for the good of the country, to have accountability in this moment but also to set a path to moving forward."
The impeachers hoped there would be enough of them to embolden enough Republican senators to convict the outgoing president, which would have barred him from running for the presidency again in 2024, Kondik says. That failed, though, and with that "exoneration," as Trump calls it, the ex-president returned to the party's helm awash in grievance and demanding that, to be viable, GOP leaders must support his baseless claims of voter fraud election and agree the January 6 riots weren't as disastrous as they once seemed.
Joe Kent, a former Green Beret challenging Herrera Beutler in Washington's 3rd Congressional District, believes the impeachers fatally miscalculated: "I think she and others thought, 'Okay, this is our chance, I had to hold my nose and vote for some of the stuff that Trump wanted because he was so popular but now, I can pin this horrible day all on him, and I'm going to come out on top.' I believe that that was her calculus."
Yet the impeachers all insist their decisions were divorced from personal political considerations. "That day was a direct attack by the executive branch on the legislative branch and it cannot stand," Rice told constituents in a telephonic town hall in January. "Any president that does that, I will vote for retribution." Herrera Beutler echoed this in a speech on the House floor: "I am not choosing a side; I'm choosing truth."
Whether it was an act of pure conscience, a play for a leading role in the post-Trump world or a mix of the two, it's hard to argue with the assessment of Catalina Lauf, who is challenging Kinzinger in northwest Illinois: "All of them grossly miscalculated whatever they were trying to do. The Republican Party is the party of President Trump. He led the new direction forward. That's where we are."
The Growing Backlash
Perhaps nowhere has the political tide turned on a dime quite as stunningly as in northeastern South Carolina, where Rice was such a well-known Trump supporter that many people thought he'd voted to impeach by accident. He didn't, and within weeks he had several challengers ready to pick at his political carcass. Now Rice, a 63-year-old five-termer, is seriously considering retirement rather than put his undefeated electoral career at risk, according to a Rice source on Capitol Hill who spoke on condition of anonymity for fear of losing their job.
The impeachment vote has so damaged Rice that one of his opponents, Ken Richardson, can't talk about his platform at campaign stops until he thoroughly denounces Rice's vote. "In order for me to show people the job I can do, I need to talk about things that I want to change and things that I would like to accomplish in Washington, but before I can talk about me, we spend the first 10 to15 minutes letting people get off of their chest how they feel about Tom Rice," Richardson says.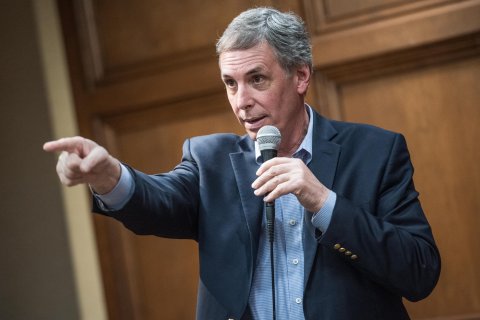 And so it goes in district after district represented by the GOP impeachers. Their every utterance—be it Valadao's attack on Biden's budget or Rice's well wishes to his wife on their wedding anniversary—are greeted with harsh responses about his impeachment vote. Only Katko has yet to draw at least one credible primary challenger, so Trump sent a handwritten letter in late June to two conservative upstate New York county leaders offering to back a "great candidate" to unseat Katko. "I won big in area—will help with campaign," the note said. (Trump lost to Biden by nine points in Katko's Syracuse-area district but won by large margins in its sparsely populated rural counties.)
Meanwhile, eight of the impeachers have been censured by their county or state Republican parties for the impeachment votes; Katko and Valadao, both Republicans who won districts Trump lost, are the exceptions. The Clark County Republican Women's Club, the largest in Washington State and encompassing the city of Vancouver represented by Herrera Beutler, said it would support a primary challenge against her. The chairs of six counties that comprise Newhouse's sprawling rural Washington district have called for him to resign.
Maggie's List, a PAC focused on supporting Republican women candidates, released a tranche of 2022 candidate endorsements in June that conspicuously omitted Cheney, Herrera Beutler and Senator Lisa Murkowski of Alaska, the only senator of the seven who voted to convict Trump who is up for re-election next year. The PAC had endorsed all three women in all of their previous elections.
While a spokeswoman for the organization insists the list is merely incomplete and more endorsements are forthcoming, a Maggie's List board member tells Newsweek that debate is raging within the group over whether endorsing impeachers might draw controversy and imperil donations. "If a credible female candidate takes on Liz Cheney, we want to be able to consider her," the board member says.
And in Michigan, leaders of the state Republican Party say they won't "get involved in the primaries, essentially saying that Meijer and Upton are on their own," says Timmer, a former Michigan GOP chair. "That might just sound OK, benign. But that's a change in policy. The party has always supported its incumbents in the primaries. If they're not, that's a key departure from tradition in the way the party has operated. That means the MAGAs control the party."
Trump, too, is just getting started. On the last Saturday of June, he took to a podium on a soggy fairgrounds in northeastern Ohio to bash Gonzalez, a 36-year-old second-term Republican, the first Latino elected to Congress from Ohio, a former NFL player and, most germane to the locale, a one-time Ohio State football hero. Gonzalez cruised to victories in 2018 and 2020, but the hometown crowd nonetheless rippled with boos at the mere utterance of his name.
"In a single vote, he betrayed the Republican Party, our president, our values and most importantly, he betrayed the voters of his district," said Gonzalez's primary opponent Max Miller, a former White House aide who launched his candidacy in February and, with Trump's endorsement, raised $508,000 in his first month on the campaign trail.
Less than two years ago, the president praised Gonzalez at a White House reception as "a friend of mine" and "a tough cookie;" now Trump called him "a sell-out, a fake Republican and a disgrace to your state." Gonzalez slapped back with vigor. Trump, Gonzalez said, "was doing the same thing that he does every time he's mad at somebody. He makes up a bunch of stuff, calls them mean names. I don't, frankly, give it any thought."
Rice, is trying to reassert his conservative bona fides with social media jeremiads against "critical race theory" and Vice President Kamala Harris' border appearance. He and seven of the other GOP impeachers even voted on June 30 against establishing a House Select Committee to investigate the events of January 6 in a near-party line vote that drew GOP support only from Cheney and Kinzinger; while all 10 impeachers voted a month earlier to create an external 1/6 commission, they claimed the process now being organized by Pelosi is too partisan. (The external commission was killed in the Senate; the House investigation does not require bicameral approval.)
Says Richardson, the Rice challenger: "Sometimes in life, you only get a chance to make one bad mistake, and Tom made one bad mistake."
Banding Together
For her part, Cheney is trying to help her impeachment brethren. The weekend of Trump's rally in Ohio, for instance, she and Gonzalez announced a joint fundraising committee, Cheney-Gonzalez 2022, "so donors who wanted to write checks to both of them" could do so easily, a Gonzalez aide says. While Trump was speaking that Saturday, in fact, Cheney tweeted: "Great night to donate to Rep Anthony Gonzalez."
Cheney declined to speak for this report, but a spokesperson told Newsweek to look for similar coordination as Trump moves around the nation attacking other impeachers.
Given how polarizing Cheney is, though, her support carries its own risks. "I welcome Liz's fundraising chops, but I wonder if having her come here will only excite the MAGA snakes," one of the nine told Newsweek.
Still, Cheney isn't the only member of the group lending a hand to the rest. Both Valadao's Vitoria PAC and Newhouse's New Energy PAC gave $1,000 to each of their fellow impeachers, and Newhouse and Valadao appeared in May at a fundraiser together. Kinzinger's PAC has also doled out sums to the others.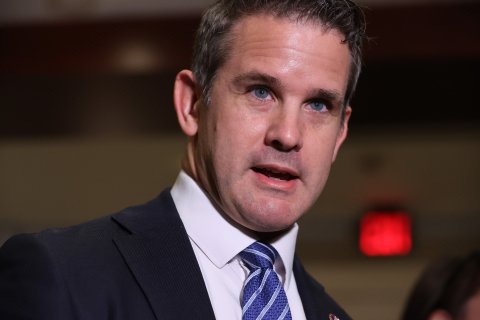 What's more, the GOP 10 also have a key ally in Longwell, who earlier this year launched the Republican Accountability Project with a goal of raising $50 million to spend supporting the Republican impeachers as well as local and state Republican officials who faced down Trump's ire by insisting he had lost their states despite his claims otherwise. So far, she's collected $13 million.
"We want to help them because there's not that many groups that will," Longwell says. "The plan is to really fight for them in their primaries. We're going to launch a campaign to defend these guys. I had hoped there was going to be a bunch more of them to defend."
Herrera Beutler and Newhouse of Washington and Valadao of California are seen as having the best chances to survive the primaries because their states require candidates of all parties to compete in the same primary for one of two general election berths. That scenario means those three incumbents may be bolstered by votes from independents and even Democrats both in the primary and the general election, whereas hard-right challengers must compete for votes among the most strident pro-Trump corners of the electorate.
"I don't really think there's much chance that a more conservative Republican muscles Valadao or Herrera Beutler out of the top two slots," Wasserman says of the Fresno-area district.
Wasserman views Rice and Cheney as most at risk because their districts—in Cheney's case, the entire state of Wyoming—are so deep red that the primary essentially decides the general election. (In 2020, Trump won Rice's South Carolina district by 19 points and Wyoming by 52 points.) Also, candidates in South Carolina must get more than 50 percent of the vote in a party primary to avoid a runoff for the nomination, which may be difficult for Rice given he faces at least three challengers.
"Out of the 10, he's probably in the worst predicament because he has to get to 50 percent in the primary," Wasserman says.
Meijer, the only first-termer of the bunch, and Gonzalez, in his second term, could also be vulnerable to strong conservative challenges because they haven't had time to build up close ties with their constituents. Meanwhile, Upton, a fixture in southwest Michigan whose moderate voting record has long made him an unsuccessful target for more conservative primary opponents, may benefit from that experience.
"Fred Upton has a long personal brand that he's built separate from the party, whereas a guy like Pete Meijer is brand new and doesn't have a lot of deep roots in terms in politics and the people voting for them," Timmer says.
Still, Wasserman senses some real vulnerability for Upton, now 68 and in office since the Reagan era. "I'd be very surprised if Fred Upton runs for another term. He won his primary in 2020 with a pretty unconvincing margin for someone who's been there since 1987." (Upton has not said whether he will seek an 18th term.)
A lot also depends on whom Trump endorses and whether he visits the district to campaign. Tom Norton, a local village president in Michigan hoping to unseat Meijer, says Trump likely will handpick the anti-Meijer candidate. "A lot of major donors, when I call them, say they're waiting on Trump to choose someone," Norton says.
Indeed, the scramble is on to get his support; both Lauf, who is challenging Kinzinger, and Kent, who is opposing Herrera Beutler, flew to Mar-a-Lago recently to meet Trump. Kent says he fielded a check-in call with Trump in June, likening the process to "the candidate version of The Apprentice. It's like 'Who's gonna work the hardest, who's going to come up with the best plan to win?'"
Brad Klippert, a longtime state representative challenging Newhouse in Washington, isn't keen to participate in that sort of competition. "My goal is to be so good at this campaign, so good at my values and my principles, that Donald Trump hears Brad Klippert's name and I earn Donald Trump's phone call," he says. "He picks up the phone and he says, 'Mr. Klippert, this is Donald Trump. Can we talk?'"
And there is a possibility that McCarthy may persuade Trump to lay off Valadao and Katko for fear that a more conservative nominee would provide an opportunity for Democrats to flip those seats. Trump lost both districts by nine points to Biden in 2020, but Katko won it by 10 points and Valadao, who lost the seat in 2018, flipped it back by one point last year.
"This will come down to what Trump actually does," Wasserman says. "Does he go to each of these districts and campaign with their opponents? The answer is probably yes."
Longwell also doubts Trump will be able to stop himself regardless of whether McCarthy tells him Republicans could lose the seat with a more Trumpian nominee: "Trump is gonna play in all of these places and he will endorse the challenger in every single case."
Joe Walsh, for one, believes the outcome is preordained. "Many of the 10 know deep down there's probably no room in the party for them right now," says Walsh, a lifelong Republican who became an Independent last year. "Trump is stronger now with the base than he was six months ago. Trumpism is stronger now. I don't think there is a fight for the party's soul. That's already happened. Trump won."