'Fate of Ukraine Being Decided Now,' Zelenskyy Says as Russia Storms Kyiv
Ukrainian President Volodymyr Zelenskyy is issuing a dire warning for his country amid reports that Russian troops are closing in on the capital.
During a national address Friday night, Zelenskyy said that while several Ukrainian cities are under attack by the Russian military, he was calling on his country to prevent them from taking the capital Kyiv.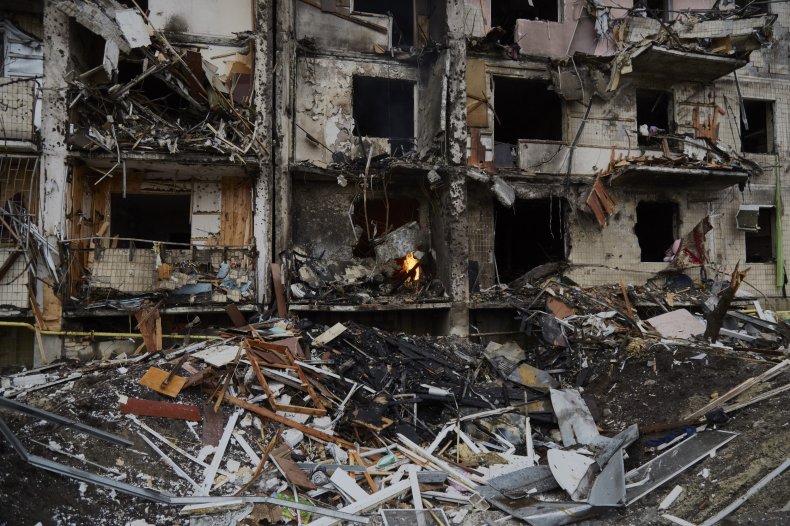 "Tonight we must endure! The fate of the country decides right now," Zelenskyy said.
Despite the advance of Russian troops, Zelenskyy's social media posts indicate that he plans to remain in the country, vowing to continue fighting.
Earlier Friday evening, the General Staff of the Armed Forces of Ukraine reported early success against Russian troops in a boisterous post on Facebook.
"Groups of the Armed Forces of Ukraine together with the Territorial Defense Forces hold the defense of Kyiv and previously defined borders," the post said. "The enemy insidiously inflicts air and artillery strikes on civilian infrastructure."
Ukraine's armed forces said in the post that it destroyed Russian military equipment including up to 80 tanks, 516 armored vehicles, seven helicopters and 10 aircraft. Additionally, it reported the loss of more than 2,800 Russian personnel and having shot down an Ilyushin Il-76 with Russian paratroopers.
"Welcome to hell!" Ukraine's armed forces said on Facebook.
Illia Ponomarenko, defense reporter for The Kyiv Independent, said on Twitter Friday evening that the Ukrainian military reported repelling an attack by Russia's military on Peremohy Avenue, a long roadway in the capital city.
He also posted a video of explosions erupting in a darkened city landscape in what he described as "extremely hard combat near the Kyiv Zoo."
Russian President Vladimir Putin in a televised speech Friday appealed to the Ukrainian people asking them to not "allow neo-Nazis...to use your children, wives and the elderly as a human shield."
"Take power into your own hands," Putin said. "It seems like it will be easier for us to come to an agreement than with this gang of drug addicts and neo-Nazis who settled in Kyiv and took all Ukrainian people hostage."
Earlier in the week, Putin declared war on Ukraine, which has a large population of ethnic Russians, saying he wanted to denazify and demilitarize the country.
Using its veto power on the United Nations Security Council, Russia on Friday blocked a resolution condemning its invasion of Ukraine.
During the session, Ukrainian Ambassador to the U.N. Sergiy Kyslytsya called on other countries to cut diplomatic ties with Russia, likening its invasion to Nazi Germany's aggression in World War II. He said thousands of Ukrainians have joined defense forces and that the population won't surrender even if Russia advances militarily.
Kyslytsya asked for a moment of silence for those who have been killed in the conflict. He also invited Russian Ambassador to the U.N. Vasily Nebenzya to "pray for salvation."
Russian Defense Ministry spokesman Major General Igor Konashenkov said armed forces have disabled 83 facilities of Ukraine's ground military infrastructure, destroyed four planes and four drones, reports the TASS Russian news agency. The Russian Defense Ministry said it is not targeting Ukrainian cities but is instead making targeted attacks on the country's military, making no threats to its civilian population.
The U.S. and its Western allies are moving forward with promised sanctions against Russia for its invasion of Ukraine. Senate Majority Leader Chuck Schumer said on MSNBC that said he expects Ukrainians to resist the invasion after having suffered brutal attacks and starvation under Soviet leader Joseph Stalin.
"I believe that their insurgency will be very, very strong," said Schumer. "Putin is just getting a taste of it now."
Schumer said sanctions will hurt Russia's already weak economy. He added that Ukrainian resistance will make the Afghan resistance to Russian occupation in the 1980s "look tame."
"These are proud people," Schumer said. "These are people who don't want the Russians to do what they have done to Ukraine in the past."
This is a breaking story and will be updated.
Newsweek reached out to the embassies of Russia and Ukraine in Washington, D.C., for comment.