Father of 5 Dies After Texting Fiancée, 'I Should Have Gotten the Damn Vaccine'
A 39-year-old father from Las Vegas who died of COVID-19 on Thursday told his fiancée from the hospital that he regretted not getting vaccinated.
"I should have gotten the damn vaccine," Michael Freedy said in a text message, according to Fox 5 in Las Vegas.
Freedy's fiancée, Jessica DuPreez, told the television station that after taking a vacation in San Diego two weeks ago, Freedy, a casino worker, returned with what he thought was a sunburn but then tested positive for COVID-19.
"He is only 39. Our babies now don't have a dad. You can't say, 'I am young, and it won't affect me,' because it will," DuPreez told the television station.
DuPreez said that Freedy wasn't vaccinated and that the couple had concerns about potential side effects from the vaccine.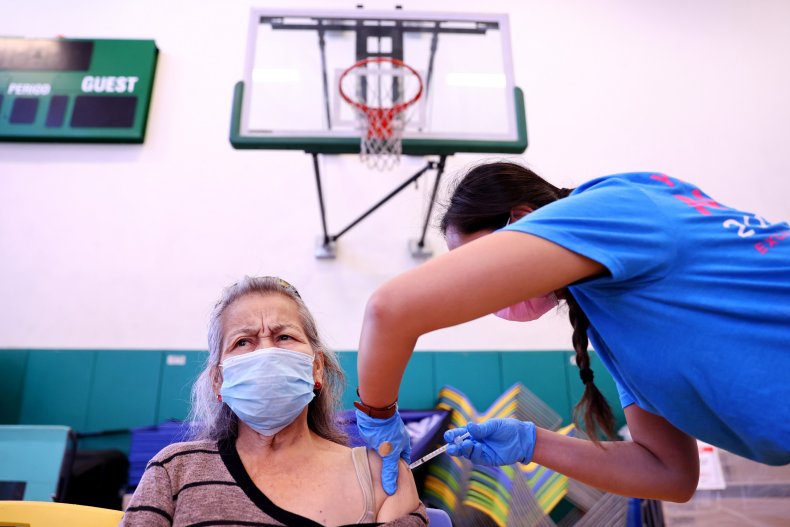 "We wanted to wait just one year from the release to see what effects people had, but there was never any intention to not get it," DuPreez said.
DuPreez told the television station she regrets that decision and that she and her oldest child, who is 17, have now been vaccinated.
Freedy's story comes as COVID-19 cases are surging around the country with the rise of the highly contagious Delta variant.
On a GoFundMe page she set up for her family, DuPreez said that after returning from their vacation to San Diego, Freedy was burned and had "all the symptoms of sun poisoning."
"He was getting chills, couldn't eat, couldn't get comfortable, couldn't sleep," DuPreez wrote.
Eventually, after going to two emergency rooms, he tested positive for COVID-19.
"They send him home, more or less with a pat on the head and tell him to hydrate, isolate and it'll be fine," DuPreez said.
But Freedy's health didn't improve.
"Mike is absolutely miserable. He is beside himself with how much everything hurts and how scared he is. He winds up waking me up at around 3 a.m. to tell me he can't breathe and is dizzy and when he tries to stand he starts to fall over. I rush him to another ER, and they admit him immediately," DuPreez recounted.
Eventually, Freedy was transferred to the intensive care unit.
"I was able to call him before they took him in," DuPreez told Fox 5.
"I was like, 'Please keep fighting don't give up.' And he's like, 'I'm trying to fight, but they're going to intubate me and put me under,'" she added.
DuPreez told Fox 5 she was with Freedy when he died on Thursday.
When contacted by Newsweek, DuPreez said, "He was literally a larger-than-life presence, and his good nature could fill a room and make friends with everyone. He is one of the nicest people I have ever met, and the world is darker with him not here. It just took him so fast."