Father, 19, Admits to Shaking His Baby Daughter to Death After 'Sudden Loss of Control,' Sentenced to Eight Years in Prison
A teenage father who admitted to shaking his newborn daughter to death has been jailed for eight years.
Thomas Haining was 19 when he shook his three-week-old daughter Mikayla Haining in June 2017, inflicting "catastrophic and unsurvivable" brain injuries, the BBC reported.
The baby girl died shortly afterwards at Raigmore Hospital in Inverness, Scotland, prompting an enquiry led by Police Scotland's major investigations team, police said.
Haining, now 21, had been charged with murder but prosecutors accepted a guilty plea to the lesser charge of culpable homicide at the High Court in Edinburgh on September 11. He was sentenced to eight years in prison in court on Tuesday, the Scottish Daily Record reported.
The High Court heard how Mikayla had been crying more than usual and suffering from diarrhea in the days leading up to her death, according to the BBC.
On the night of the attack, Haining was looking after Mikayla while his former girlfriend Shannon Davies, the baby's mother, slept upstairs in their home in Inverness.
He claimed Mikayla became sleepy and unresponsive after he took her out of her Moses basket to feed her in the early hours of June 8, 2017.
At one point in the early hours, Davies had gone downstairs to check on her daughter before going back to bed when it appeared the baby was sleeping, the Scottish Daily Record reported.
Haining later sent her a text, saying: "Babe sorry to bother you but where is Mikayla's thermometer," according to the newspaper. He then woke Davies up because he said the baby seemed cold.
But according to the Huffington Post, phone records showed he had made four online searches during this period, including asking: "What happens if a newborn baby is shake (sic) hard?"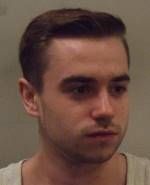 Thomas Haining was sentenced to eight years in prison after shaking his three-week-old baby daughter to death.
Police Scotland
Paramedics were called to the scene but were unable to revive the infant. She was taken to hospital where she was taken into intensive care with a ventilator after suffering a cardiac arrest and falling into a coma, the BBC reported. She also had a fractured skull and several broken ribs.
During Haining's sentencing, judge Lord Pentland said no sentence could restore the damage he had inflicted.
He added that although prosecutors accepted there was a "loss of control" on Haining's part, his immediate reaction had been to protect himself rather than seek medical help for his daughter, according to the BBC.
Police Scotland's Detective Inspector Brian Geddes thanked Mikayla's extended family for their support throughout the investigation.
In a statement following Haining's conviction last month, he said: "Haining took the life of his daughter, a beautiful baby girl, in the most horrendous of circumstances.
"At just days old, Mikayla should have been safest in the arms of her father - instead he inflicted injuries so severe that she would never recover.
"I would like to thank Mikayla's extended family for their support throughout our investigation and I sincerely hope that the punishment handed to Haining offers them some form of closure so that they can begin to move on with their lives."
Police Scotland declined to comment on Haining's sentence to Newsweek.