Father Angrily Confronts YouTuber After He Catcalls 15-Year-Old Daughter: 'Grow the F*** Up'
A YouTuber has publicly apologized after a video of a father angrily confronting him after he catcalled his 15-year-old daughter went viral on social media.
In the now-deleted video, recorded on Friday night, YouTuber King Aladdin films himself on Cahuenga Boulevard in Los Angeles using a selfie stick. He begins to yell out at Kylie, the teenage girl, "Come here, come here. Where you going? Come here little Blondie. Little Taylor Swift-looking a** b****."
At this point the young girl's father, actor and comedian Skyler Stone, confronts him
"She's 15 dude," Stone says.
"Hey bro, then why she out this late, bro? Why she out this late? This isn't Hollywood, bro," responds Aladdin.
"Why is she out this late? Because we just went on a father-daughter date, had dinner," Stone says.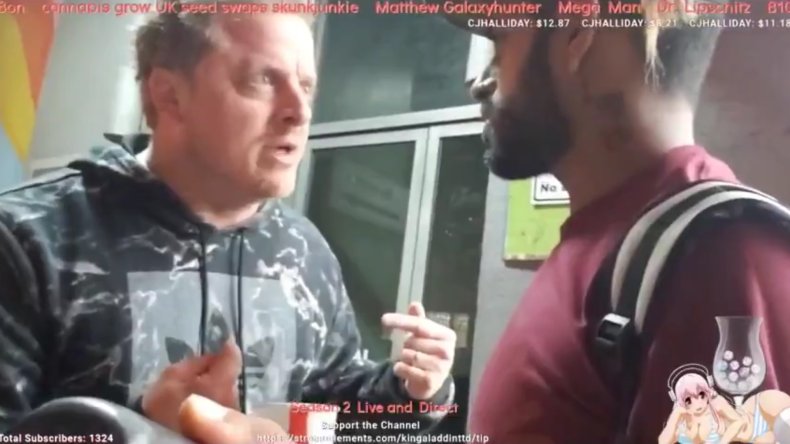 Upon learning this information, Aladdin then begins to apologize for his behavior.
"That's great. I apologize bro, I'm not trying to disrespect you in any way possible. I totally apologize."
"If I were you I would just shut the f*** up," says Stone.
"No problem, sir. No problem. I didn't know she was 15," says Aladdin.
"Stop catcalling after women. Grow the f*** up," Stone responds.
After this point Stone walks off and Aladdin turns away and begins walking down the street. Still recording the video, Aladdin then says to the camera, "She 15. Why's he hanging out with a 15-year-old girl. What a weirdo."
After Twitter user KEEM flagged the exchange on social media, a number of people praised Stone's actions for calling the YouTuber out on his behavior.
"Wow. Huge props for not beating his ass. And you're right he shouldn't cat call a female no matter what age they are. That took incredible strength not to punch him," one person posted.
"i think the world needs more men like you. You not only stood up for your daughter, but you stood up for women who get cat called everyday. Props man," said another.
Speaking to Newsweek, 40-year-old Stone said the video was endemic of how some people behave on social media in order to attract attention.
"It's just another example of toxic YouTuber syndrome," he said.
"We live in a live-streaming, check your mentions, how many views, how many likes do you have society, and these kids are growing up thinking that they're celebrities just because. And when you think you're a celebrity just because you signed up for social media, you start to think people are just going to watch anything you do.
"And so when they don't get what they think they are owed, I think they're starting to go out and go 'I'm going to set this on fire and film it. I'm going to push this person over. I'm going to catcall this girl in front of her father. And it's going to get likes. It's going to get views.'" Stone added.
Aladdin subsequently deleted the post and published a new video on Sunday titled 'I'm Sorry'.
"In the video I want to apologize to Skyler Stone," said Aladdin.
"I'm sorry for what I did to you the other night. It was embarrassing watching on my side. I'm sorry if I had ruined the night out with your daughter, I do apologize. More than likely I would have reacted the same way, whether it was my sister, daughter, whatever, I would have reacted the same way," he added.
"I'm learning from my experience in streaming. I want to become a good streamer and I'm learning...we all make mistakes in life and I'm learning from my mistakes," he further said.
Stone told Newsweek that he did not accept the apology as King Aladdin only apologized to him and not his daughter.
"It's super fake. He doesn't even address my daughter. It's directed at me...Make sure you talk to my daughter at some point. Because that's who you offended," Stone said.
"Now my daughter's been really upset today because she saw the apology and she was crying earlier...she said 'I feel like as a woman I'm never going to be treated the same as a man.'" he added.