Father of El Mula Victim Interrupts Press Conference With Shouts That Unknown Gunman 'Killed My Son'
A grieving father who said his son was one of the victims killed in the recent Miami-Dade mass shooting interrupted a police press conference Monday morning with threats against the unknown assailants.
Following the tragic mass shooting at a Florida concert in the early morning hours on Sunday that killed two and injured 21 others, the Miami-Dade Police Department organized a public press conference calling on the public for help identifying the gunmen.
As Miami-Dade Police Director Alfredo "Freddy" Ramirez spoke at the podium regarding the mass shooting, a distraught man approached him and turned to the audience and the camera admonishing the actions of the gunman who he accused of fatally shooting his son.
"You all killed my kid. You must burn!" the father exclaimed. As police security dragged him away, he was heard yelling off screen, "You're gonna burn! You hear me? You killed a good kid for no reason!
"You're going to burn ... until y'all find out who killed my son!" he added.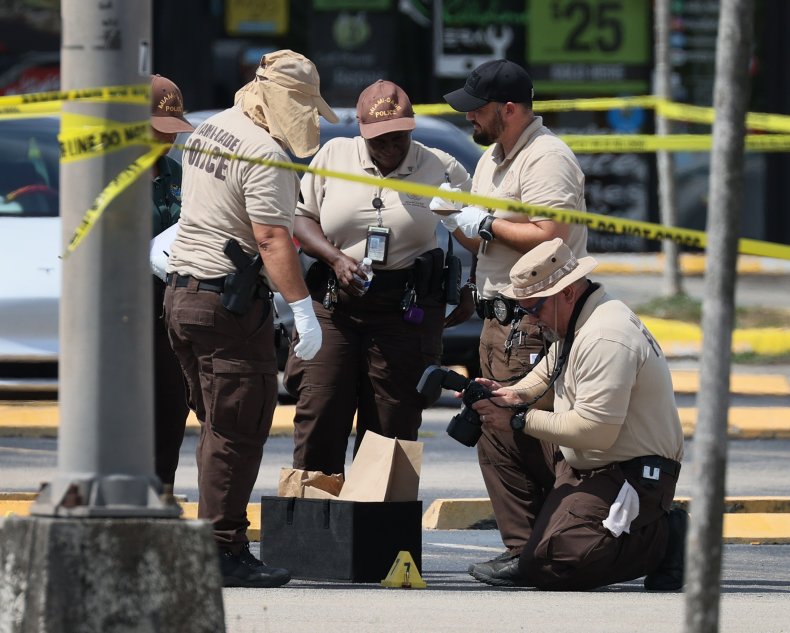 Ramirez added, "That's the pain that affects our community right there, right before us. That's why together, all of us, we must work harder to bring justice to these families who are crying as you hear right now.
"Know that the Miami-Dade Police Department will not stop. We will bring justice, our community is united," he added.
A subsequent ABC News report identified the man as Clayton Dillard. Dillard and his family said in a report with Local 10 News that his son, Clayton Dillard III, was one of the victims who died in the shooting. However, the Miami-Dade Police Department has not confirmed the family's statement, nor publicly identified any individuals killed or injured in the mass shooting, according to a news release obtained by Newsweek.
The outlet reported that as police roped off the area as a crime scene, Dillard desperately begged police to allow him to see his son's body for himself. Dillard also alleged that his son's body remained on the hot Florida pavement for approximately 18 hours.
Prior to Dillard's outburst at the press conference, Miami-Dade Mayor Daniella Levine Cava begged the public for assistance in identifying the assailants responsible for the "shameless" shooting.
"We need your help. We need your help," she said. "We need information. We need you to come forward if you have information to help us solve these crimes."
Footage has also released of the alleged attackers in the police's ongoing effort to locate them. Three people were seen exiting a white Nissan Pathfinder outside of the concert event late on Saturday night with assault rifles and handguns.
Newsweek reached out to the Miami-Dade Police Department for additional comment on the situation, but they did not respond in time for publication.