Jacob Blake's Father Asks Kenosha Police for Explanation During Rally: 'I'm Tired of This'
Jacob Blake's father asked the Kenosha Police Department for an explanation regarding the shooting of his son during a rally that took place outside a courthouse in Wisconsin on Saturday.
"What gave them the right to attempted murder on my child? What gave them the right to think that my son was an animal? What gave them the right to take something that was not theirs? I'm tired of this," Blake's father, Jacob Blake Sr., said to the crowd.
Blake's father was emotional as he recalled speaking with his son last week in the hospital. "My baby said, 'Daddy, why did they shoot me so many times?' I said, 'Baby, they weren't supposed to shoot you at all.'"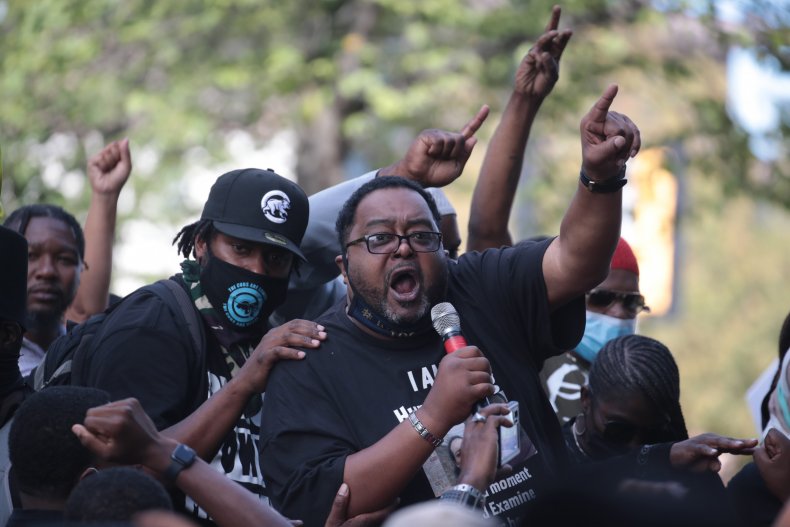 About 1,000 people marched in support of Blake and his family during Saturday's rally, according to the Chicago-based television station WMAQ. Once the group arrived at the Kenosha County Courthouse, Wisconsin Lieutenant Governor Mandela Barnes and Representative Gwen Moore of Wisconsin's 4th District joined Blake's father and other community leaders in calling for change and justice.
Blake, a 29-year-old Black man, was shot on August 23 as Kenosha police were responding to a domestic incident call, according to the Kenosha Police Department. The department said on August 28 that one officer, identified as Rusten Sheskey, first tased Blake while trying to arrest him and later fired seven shots into his back as Blake was leaning into his vehicle. According to Blake's father, Blake is now paralyzed from the waist down.
The Wisconsin Department of Justice Division of Criminal Investigation is investigating the shooting in collaboration with the Federal Bureau of Investigation, according to Kenosha police. Sheskey and the other officers present at the time of the shooting were placed on administrative leave, Kenosha police said.
While speaking at Saturday's rally, Barnes mentioned the Kenosha Police Department's mission statement, which says in part that it aims to "serve all people with respect, fairness and compassion."
"We're not asking for much. We're just asking them to live up to their word," Barnes said.
Newsweek reached out to the Kenosha Police Department for comment, but did not receive a response in time for publication.
One day after Blake was shot, Wisconsin Governor Tony Evers asked the state legislature to hold a special session on law enforcement transparency, a request the governor said he was repeating after he made a similar one more than two months earlier. Barnes reminded rally attendees of this special session request on Saturday and called on Wisconsin residents to contact their state legislators directly to encourage them to meet.
"We have to demand that the legislators respond to us," Barnes said.
Blake Sr. reiterated the importance of new legislation and told protesters that they should strive for change by demonstrating peacefully.
"Hell yeah, I'm mad. But understand: When you get angry, you lose control of your nature," he said.
"We need to capitalize with love, baby. Because they can't beat us. They can't defeat us. They've been trying to kill us a long time," he said.