Who Was Father Junipero Serra? Statues of California Missionary Removed
Last week, a statue of Father Junipero Serra at Father Serra Park in downtown Los Angeles was toppled, as was a statue of Serra at San Francisco's Golden Gate Park, along with statues of Francis Scott Key and former President Ulysses S. Grant.
But this is not the first time statues of the controversial figure have been protested. Statues of Serra in California have been vandalized for years, especially since he was made a saint in 2015. But who was father Junipero Serra?
Who was Father Junipero Serra?
Father Junipero Serra was an 18th-century Franciscan friar who led the California mission system during the era of Spanish colonization. The mission system's aim was to convert the Native population to Catholicism and European culture.
Native Americans were confined to missions across California and they were forbidden from escaping and beaten for disobeying. The missions banned indigenous beliefs and customs.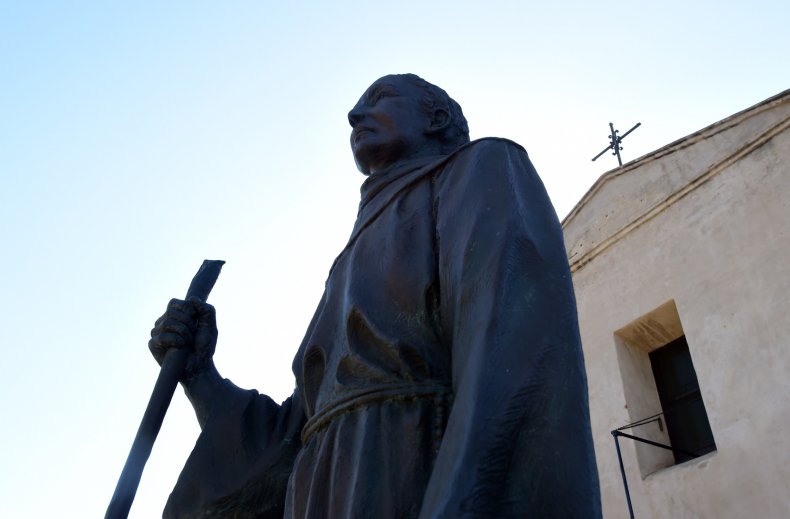 In 2015, Junipero Serra was controversially canonized as a saint, which resulted in statues being toppled and graves being damaged at the Carmel Mission, where his remains are buried.
Additionally, following the sainthood, a statue of Serra in Monterrey was decapitated and the head not found until months later, though it was eventually reattached.
When asked by Newsweek if Monterey is considering removing the statue, Mayor Clyde Roberson said: "Yes, the plans are happening as we speak."
In 2017, a statue of Serra in a park across the street from the San Fernando Mission was vandalized, with its hands painted red and the word "murderer" written across it.
In 2018, Stanford University removed Junipero Serra's names from its university buildings.
There are multiple statues of Serra still standing across the state. However, on June 18, the City of Ventura said it would remove its statue of Junipero Serra from its location near City Hall.
In a joint a statement, Mayor of the City of Ventura Matt LaVere, Father Tom Elewaut, and Pastor Tribal Chair Julie Tumamait Stenslie, said: "We all believe that the removal of the statue should be accomplished without force, without anger, and through a collaborative, peaceful process.
"This process has already commenced through our initial meeting and we look forward to continuing the discussion with the community to help guide further action on this."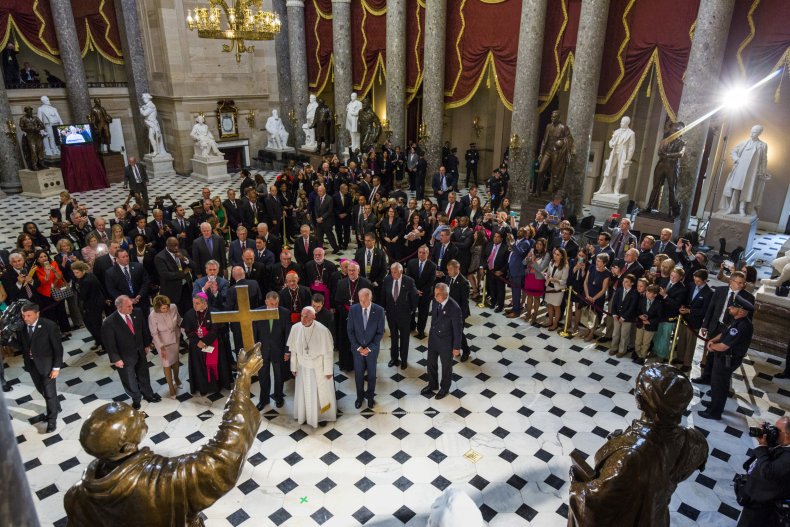 The recent removal of the statues of Junipero Serra by protesters has been criticized by San Francisco Archbishop Salvadore Cordileone, who said in a statement: "What is happening to our society? A renewed national movement to heal memories and correct the injustices of racism and police brutality in our country has been hijacked by some into a movement of violence, looting, and vandalism.
"The toppling and defacing of statues in Golden Gate Park, including that of St. Junipero Serra, have become the latest example."
Other statues of Junipero Serra
There is a statue of Junipero Serra that represents California at the National Statuary Hall Collection in the United States Capitol. In 2015, a lawmaker introduced a bill in the California legislature to replace the statue with one of astronaut Sally Ride, but the vote on the proposal was postponed due to Pope Francis' visit to the U.S. when he declared Serra a saint.
A statue of Serra sits at the Hillsborough rest stop near San Mateo, California, and there is a bronze statue of Serra at the California State Capitol's Capitol Park. Additionally, there are statues of Serra located at multiple Missions in California.
The speaker of the California State Assembly, Los Angeles City/County Native American Indian Commission, the California State Capitol's Capitol Park, and the Mission Dolores Parish have been contacted for comment.