Video Pleads for Amir Hekmati's Release From Iranian Prison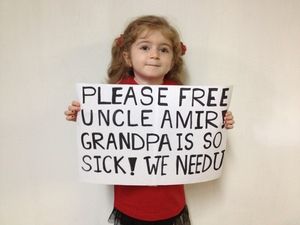 The ailing father of a former U.S. Marine jailed in Iran released a video Monday pleading to authorities to allow him to see his son before his condition worsens.
The video was released by the #FreeAmir campaign, an effort by the family of Amir Hekmati to raise awareness, funds and support to bring him home.
Hekmati, 31, was arrested in August 2011 while visiting his grandmother in Iran, according to the campaign website. He was first tried on charges of espionage and sentenced to death, but that verdict was overturned. He was later charged with cooperating with a hostile power, and his punishment was reduced to a 10-year prison term in a secret trial he didn't know was taking place, according to the campaign's website. He is now being held at Evin Prison in Tehran.
Patrick Clawson, director of research at the Washington Institute for Near East Policy and author of a dozen books on Iran, tells Newsweek that Hekmati was imprisoned without cause and that the charges leveled against him have no basis. "The Iranian government uses prisoners as bargaining chips for political advantage," he says.
The #FreeAmir video flashes through photos of congressional members, family and other supporters holding signs calling for Hekmati's release. It circles back to images of Hekmati's father sitting in a wheelchair in a bright red "Free Amir" T-shirt, delivering his message with difficulty.
"It's been a long time since last I've seen you," says Hekmati's father in the video. "During this time I've suffered a brain tumor, a stroke—two or three times—and I've had rough life. Life has not been the same."
"Now, more than ever, it's time to call on Iran to release Amir to see his father once again," reads a placard at the start of the short video. The family has timed its posting and a heightened effort to bring Hekmati home with the arrival of Iranian President Hassan Rouhani in New York. Rouhani is scheduled to address the U.N. General Assembly on Thursday.
Sarah Hekmati, Amir Hekmati's sister, and her husband, Ramy Kurdi, are in New York this week to meet with officials such as Samantha Power, U.S. ambassador to the U.N., according to the Agence France-Press, and are hoping to meet with Rouhani.
"We want to take this opportunity while the Iranian delegation is here to reach out to them if possible, but also to reach out to other officials that are here to help raise awareness about my brother's situation," Sarah Hekmati told AFP. She described her father's condition as "very dire" and said the family hopes Amir Hekmati will return to spend time with him before his condition deteriorates.
Born in the U.S. and of Iranian descent, Hekmati grew up in Flint, Michigan, and served in the Marine Corps as an infantryman, senior language and cultural adviser and an Arabic and Persian linguist, according to the campaign site. He was due to begin studies in economics at the University of Michigan when he returned from his trip to Iran. The Hekmati family's #FreeAmir campaign harnesses social media to raise awareness and support.
Officials in the Obama administration, legislators and Muslim leaders in the U.S. have called on Iran to release Hekmati. In a letter dated July 17, 2014, the Imams Council of the Michigan Muslims Community Council pleaded with the Supreme Leader of Iran, Ayatollah Ali Khamenei, to intervene in Hekmati's case and "help end his imprisonment so he can be with his family at a time when they need him most."
Hekmati is one of several Americans currently imprisoned in Iran, including Washington Post journalist Jason Rezaian, according to Suzanne Maloney, a senior fellow at the Brookings Institute. The arrests, says Maloney, reflect the "unpleasant realities of authoritarian power."
Efforts like those of the Hekmati family aren't for naught, Maloney writes. Past prisoners like Haleh Esfandiari and Maziar Bahari were released after campaigns for their freedom, and "have reason to believe that public attention and continuous pressure on Iranian officials about their status helped expedite their freedom."
The decision on Hekmati's case ultimately lies with the Supreme Leader, Clawson tells Newsweek. Rouhani, however, could make an effective pitch to Khamenei for his release.
"There is ample precedent for Khamenei deciding to release somebody after being pressed to do so by [the] reform-minded president," Clawson tells Newsweek.
Over the past few weeks, Hekmati has been permitted to call his mother from Evin Prison, his sister told AFP. In a statement Hekmati sent from Evin, he says hearing about the gestures of support from people all over the world has given him hope.
"It is this hope that helps me believe that I will return home to Michigan, to my family, and my life," he says in the statement published Monday on the campaign website. "It is with this that I hope I'll be able to thank you in person one day soon."