Father Praised for Refusing To Pay For Daughter's Wedding Over Dress Fight
A father is being supported for his decision to stop paying for his daughter's wedding after she destroyed a heirloom wedding dress.
The father, u/TRADressDistress shared his story to the popular r/AmITheA**hole Reddit forum, earning 5,000 upvotes and 1,200 comments in eight hours for his post, "[Am I the A**hole] not paying any more towards our daughter's wedding after she cut pieces off her mother's wedding dress for her own?"
He says that his wife and her mother made the dress that she got married in. She was justifiably proud of the dress and always wanted to keep it in the family, with her kids wearing the dress for their weddings, and for their children to wear at their weddings, and so on.
He and his wife went on to have four children, three daughters and one son. Though the youngest daughter declined to wear it, the eldest daughter wore the dress, as did their son's bride—and their son even held the dress against him for some photos so he wasn't left out. The only rule with the dress was that no alterations were to be made beyond taking it in or letting it out, as needed.
Now it's time for the remaining daughter, "Olivia," to be married. As tradition dictated, the original poster (OP)'s wife gave Olivia the dress so there would be more than enough time to get it fitted. Another tradition is that OP and his wife would give every child financial help, either for college, the wedding or a house.
Since he'd have to pay the vendors for Olivia's wedding, OP tagged along for some wedding errands. One of the errands was getting the final fitting and paying the seamstress, and though he noted Olivia seemed nervous, he'd just written it off as standard wedding jitters.
But when it came time for the final fitting, the OP was shocked—Olivia had her mother's wedding dress cut up and had parts sewn into her new dress.
"I was befuddled for a bit and then asked what the hell this was. Olivia's reasoning was that she was the last of our kids to get married and there wasn't anyone else to wear it and she made sure to instruct they keep the original dress to be returned to her. I told her that's not the same, she knows it, and the dress was never hers to do with what she wanted," u/TRADressDistress wrote.
He asked for the rest of the original dress and insisted that Olivia tell her mother—in person—exactly what she had done. His wife, he said, was "devastated." That wasn't the extent of Olivia's punishment, though—he also cancelled all the payments he'd made that day and said he would not be contributing anymore.
"Olivia took something irreplaceable from her mother for her own vanity. I know we originally offered help with the wedding but I think Olivia's actions warrant canceling that offer," u/TRADressDistress wrote.
The OP shared some additional details with Newsweek.
"The wedding isn't until the 3rd and right now the ball is in our daughter's court as to how this gets amended. So far, she has not apologized, or tried to make amends with my wife and intends to wear the new dress since she paid for it, and my wife really does not want to see the dress with her scraps on it,' u/TRADressDistress told Newsweek.
He also wanted to clarify that his wife's mother has passed away, and thus, cannot help mend the original dress.
"If the dress can be restored is a big if that depends on the cuts the seamstress made to take off the parts my daughter wanted. Right now, the original dress went from having a defined gown shape to looking as shapeless as a smock. Olivia did not intend to have the dress put back as it was since she was going to return my wife's dress to her before the wedding," he said. "My wife was fine with the dress sitting in a garment bag in her closet, she simply wanted to keep the memento of her mother since that was the biggest project they worked on together."
He also confirmed to Newsweek that his wife has not decided yet whether or not she'll attend the wedding. The wedding venue and cake are already paid for, as well, and u/TRADressDistress says he only stopped payment on the DJ, some of the catering, the bridesmaids' jewelry, and a day-of wedding planner.
"I was supposed to pay for the fee for having the dress only fitted, but suffice to say I did not pay that for her once I saw what she actually did," u/TRADressDistress added.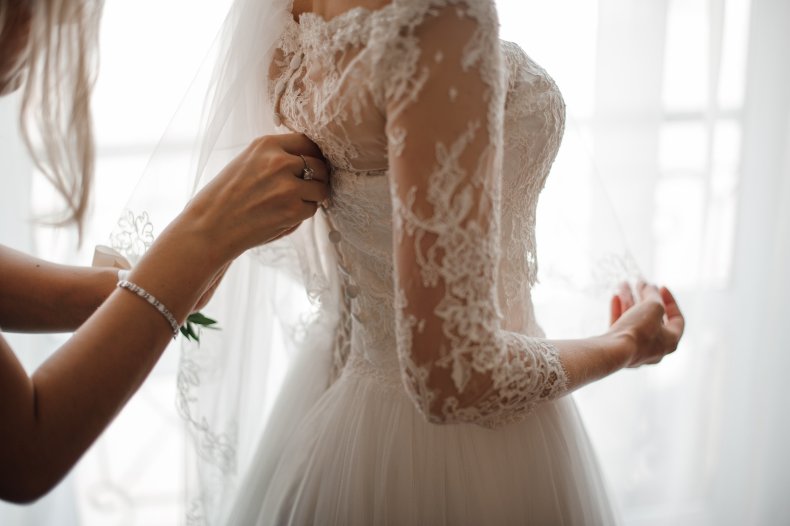 The wedding dress is one of the most important parts of a wedding, and Newsweek has done a number of stories about its place in the tradition. While a hand-me-down wedding dress is a tradition in many families, it doesn't always go well. In one case, a woman kept her sister from wearing their mother's wedding dress, because she had always bashed the dress and always said she didn't want to wear it—at least, not until she did.
In another case, a woman bought her wedding dress, telling her fiancé she always wanted her "own beautiful wedding dress." Even though it wasn't a case of finances—she could easily afford it—her fiancé felt it was foolish to buy a dress instead of rent one. He then returned the dress behind her back.
A Japanese bride wanted to follow her own traditions—wearing a Shiromuku, a traditional wedding kimono—but her fiancé's mother-in-law balked, as it was a Catholic church wedding. The bride was fine with the church wedding, even though she's not Catholic, but insisted that she be allowed to choose her own outfit.
Redditors were on u/TRADressDistress' side, and slammed Olivia.
"[Not the A**hole] That was hugely disrespectful to your wife. The dress didn't even belong to your daughter!" u/mdthomas wrote in the top-rated comment, with over 8,900 upvotes. "If they can't afford the big wedding without your help then they can downsize the wedding."
"Exactly. It doesn't matter that your daughter is the last one to use the dress - it doesn't give her the right to destroy/alter it. She should have discussed it with your wife first, and then abide by whatever decision your wife made. She arbitrarily made the decision to ruin the dress. [Not the A**hole]," u/alexemalexem agreed.
"And why the hell didn't she ask? It's because the answer would have been no, and she's damn well aware of that," u/randomly-what wrote. "Don't be an Olivia."
"Incredibly mean and incredibly dumb. What was the plan here, just wait and give her poor mother a heart attack when she sees her butchered dress during the ceremony? Hope that the societal pressure of a public place will keep her from showing how devastated she is?" u/Vilnius_Nastavnik wrote. "If you take your parents' money for your wedding then you're agreeing to their conditions. There was exactly one thing OP's daughter wasn't supposed to do, and she did it anyway because she thought the rules applied to everyone but her. Boo hoo, get married at the courthouse in your dress of lies."
Update 7/15/2022, 4:50 p.m.: This article has been updated to include comment from the original poster.