Father Rescues Young Daughters From Sinking Car After Being Run Over
Had it not been for the heroic efforts of dad Harley Day and a handful of bystanders, the Day family's Fourth of July could have ended in disaster.
On Sunday night, the family drove to English Park, which sits on the banks of the Ohio River in Owensboro, Kentucky, to celebrate the holiday.
Day, a pizza delivery driver, and his two small daughters, a one-year-old and a three-year-old, were sitting in the car waiting for the fireworks to begin when Day "stepped out...for a second" to ask his fiancé something, according to news station WFIE. "[W]ithin the time that I shut the door and looked over the front of my car to speak to her, my youngest, Abby, decided to put the truck into neutral," Day recounted to the local outlet.
As Day watched, the car began rolling down a steep incline toward the Ohio River. Horrified, Day tried to stop it, but slipped and was run over by the car. He was dragged into the river with it.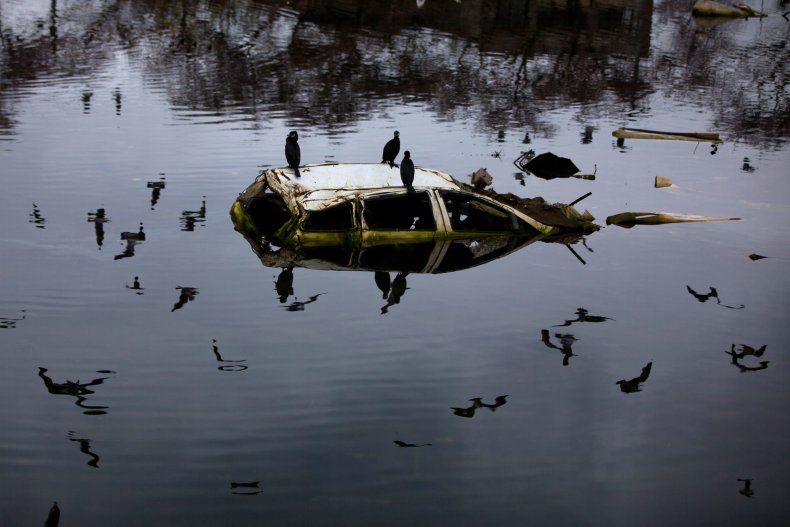 "My side is very sore from being drug across the concrete and having that much weight on me. I do believe my elbow is broke. It's disformed and all cut up," Day told WFIE.
The heroic father was "hurt pretty badly and probably won't be able to work for some time," according to a GoFundMe page created by Day's sister-in-law, Ashley Malcolm. So far, the fundraiser has raised $700 of its $1,000 goal.
Despite his injuries, Day struck out after the car in an attempt to rescue his daughters. In footage shot by a pedestrian and shared with WFIE, the red SUV is carried downriver by the current, the hood almost completely underwater, as several people paddle over to the driver's-side window to pull the two toddlers out.
"If it wasn't for them strangers' help, I don't know where we would be at right now," Day told WEHT, another local news outlet.
While the girls were submerged for a brief period of time, they were safely retrieved. Day swam to shore with his daughters as the car sank behind them, taking cash, food items, sanitary supplies, and important documents with it, the outlet reported.
"We had a month's worth of diapers for three kids because I have a baby boy that wasn't in the truck. We lost formula, lost social security cards, birth certificates, Medicaid cards, cash," Day told WFIE. "I mean, that vehicle was my only way to make money because I'm a delivery driver with Pizza Hut, so I lost my job."
While the family hopes to recover the car, they're relieved that no one was gravely injured.
"Everyone is thankful that we're still alive. It could have been much worse than it was," Day said.