Father of Sandy Hook Victim Found Dead Outside Newtown City Hall In Apparent Suicide, Police Said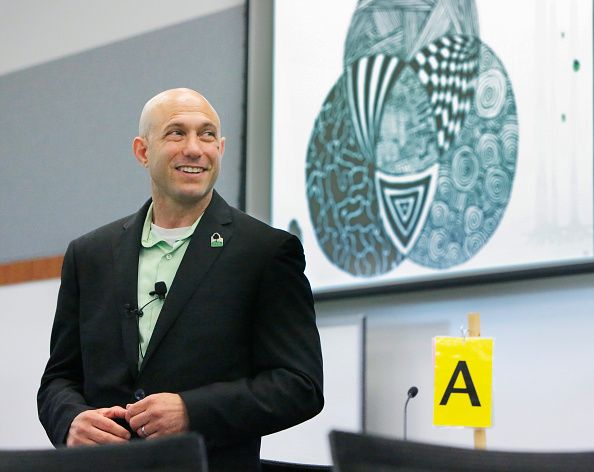 The father of a Sandy Hook school shooting victim was found dead after an apparent suicide, police said.
The Newtown Police Department told said in a statement on Facebook Monday that Dr. Jeremy Richman, 49, was found dead at Edmond Town Hall in Newtown, Connecticut, at approximately 7 a.m. Richman reportedly had an office at the town hall, ABC News reported.
Richman was the father of Avielle Richman, who was killed during the Sandy Hook school shooting in 2012.
"This is a heartbreaking event for the Richman family and the Newtown Community as a whole, the police department's prayers are with the Richman family right now, and we ask that the family be given privacy in this most difficult time," said Lt. Aaron Bahamonde, a spokesman for the department said in a statement.
U.S. Senator Chris Murphy said he had met with Richman two weeks ago and discussed the Avielle Foundation's recent work.
"My god. This is awful, horrible, devastating news. Jeremy was a good friend and an unceasing advocate for better research into the brain's violence triggers," Murphy tweeted on Monday morning. "He was with me in my office two weeks ago, excited as could be about the Avielle Foundation's latest amazing work."
Newsweek has reached out to the State of Connecticut Medical Examiner's Office for further information but did not hear back in time for publication.
Following the death of his daughter, Richman turned to activism and started The Avielle Richman Foundation, a non-profit organization that prevents violence through brain health research. Richman, a neuro-pharmacologist, was a Faculty Lecturer appointment in the Department of Psychiatry at Yale's School of Medicine, according to his biography on the foundation's website.
The activist and his wife, Jennifer Hensel, were one of the families who filed a lawsuit against Infowars talk show host Alex Jones, who claimed the Sandy Hook shooting never occurred, The Hartford Courant reported.
Richman's death comes just a day after a second student of Marjory Stoneman Douglas High School died in an apparent suicide, the Coral Springs Police Department said on Sunday. Shooting survivor and recent graduate Sydney Aiello also died of an apparent suicide earlier this month.
If you have thoughts of suicide, confidential help is available for free at the National Suicide Prevention Lifeline. Call 1-800-273-8255. ​
This is a developing story. Please check back for updates.