Father Says Goodbye to Daughter Allegedly Evacuating Ukraine in Viral Video
As the Russian military continues to infiltrate different regions of Ukraine, footage of civilians leaving their cities for safer ground has become commonplace.
That has included a viral video of one man saying goodbye to his wife and daughter, seemingly sacrificing his own life and well-being to save those closest to him.
The video, filmed by an unidentified source, showed an emotional father putting a winter hat on his daughter's head. He bends down and begins crying profusely, leaning his head into his daughter's pink jacket. She cries in unison.
The solemn father then embraced both his daughter and wife, seemingly as a final embrace until the next time he sees them again. The video concluded with the mother and daughter on a bus, likely leaving town for safety. The father then puts his hand on the window.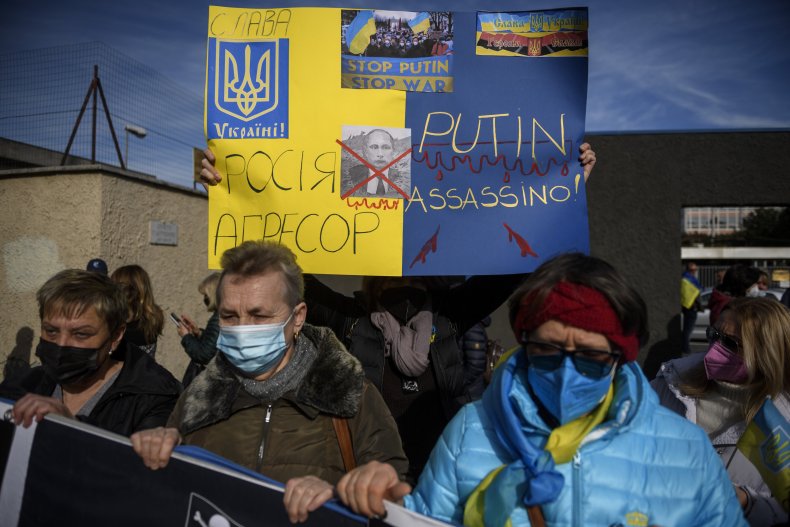 One platform where the video was shared included Reddit. User idk_what_a_name_is posted the video in the "interestingasf**k" forum, where it was upvoted more than 19,000 times and had more than 1,100 comments.
It is assumed that the father in the video is sending his family to a safe zone while he potentially helps fight in combat for his country's sovereignty.
"I can't imagine the terror and panic the child is facing," one user commented. "This is such a painful and heartbreaking situation."
"As a man, it hits me hard that he has to go to war; not knowing if he will see his little angel again," another user said. "A tear came to my eye watching this."
One user was among many who commented, saying they had young children and how difficult it was to imagine leaving their children in such a manner—wondering if you would ever see them again.
One user said the situation hit them even harder because of their own country's past.
"That was my father in the Yugoslav war," the user said. "3 kids. I was the oldest at 6. 2 yrs later he found us in a camp in [T]urkey and basically rescued us and moved us to the U.S. in 1995. My heart breaks for these innocent people just trying to live. F— war and everyone who gets to decide it."
Ukrainians are reportedly fleeing to different parts of the country, or to other countries altogether, while reports indicated that Russia's multi-pronged invasion of Ukraine that began earlier this morning is aimed at Ukraine's capital, Kyiv, according to a source close to President Volodymyr Zelenskyy who communicated with Newsweek.
Three U.S. officials also told Newsweek that they expect Kyiv to fall to Russian forces "within days." A former senior U.S. intelligence officer anonymously told Newsweek that following air and artillery attacks, a ground war is likely to heighten Russia's invasion efforts and lead to the overtaking of Kyiv.
Another video involving a man and his alleged daughter showed the pair drawing hearts on a foggy bus window. The pair then put their hands against one another before he seems to make the sign of the cross.