Father, Son Arrested After Meth Allegedly Found in McDonald's Soda: Police
Soda wasn't the only thing Michigan State Police allegedly discovered in a recent traffic stop.
According to a news release obtained by Newsweek, MSP troopers pulled over a vehicle with a father and son inside on March 18 near a rest area on Interstate 75 in Bagley Township. Officers reportedly found methamphetamine crystals "floating" in a large McDonald's cup full of Coca-Cola.
Police said that driver and father Victor Emmanuel McMillan, 54, of Rudyard, Michigan, and his son, Joshua McMillan, 30, of St. Ignace, Michigan, were allegedly in possession of a white crystalline substance later confirmed to be meth via testing.
A tied-off plastic baggie "soaked" in Coca-Cola was also allegedly found on a vehicle floorboard. Troopers said they found the top of a tied-off plastic baggie on the floor of the vehicle.
The father and son were arraigned on one count of delivery and possession of meth, respectively, and were arraigned in 87th District Court in Otsego County.
Michigan Department of Corrections showed that Joshua Lee McMillan was placed on parole on September 23, 2021, for a period of one year. In May 2017 he was also charged with three counts, including operating and maintaining a lab involving meth. His sentencing for those charges was in December 2017.
The bond for each suspect was $10,000, cash or surety. The next court date is scheduled for March 24.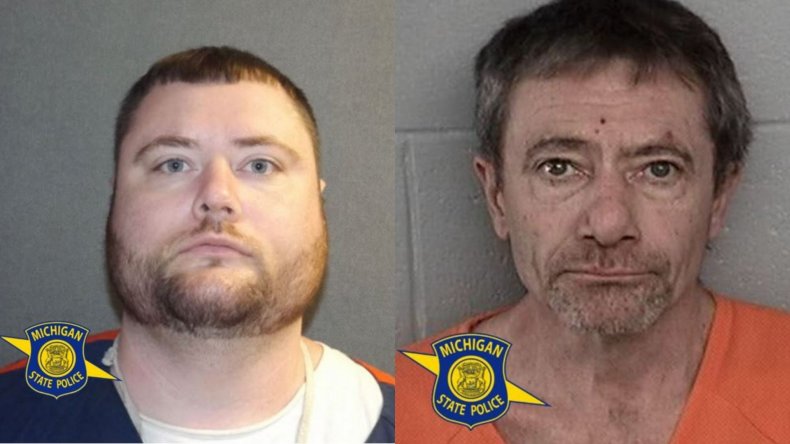 The Recovery Village reported that through January 2021 about 25,300 deaths were caused by psychostimulants like meth—approximately an increase of 8,500 deaths in the span of one year.
Meth deaths have had adverse effects on specific populations, according to a January 2021 study published in JAMA Psychiatry. While there was a dramatic uptick in total meth overdose deaths in the U.S. in an eight-year period between 2011 and 2018, research conducted at the National Institute on Drug Abuse showed that overall death rates of American Indians and Alaska Natives quadrupled during that same period.
Among individuals ages 12 years and above, the National Institute on Drug Abuse reported that about 2.6 million of them used meth at some point in 2020.
"The data further suggested that people who use methamphetamine have become more diverse," according to a National Institutes of Health report on meth-related trends published in October 2021. "Historically, methamphetamine use has been prevalent among middle-aged white people. But the researchers found a tenfold increase in [methamphetamine use disorder] without injection among Black people. This was much larger than among other racial and ethnic groups. [Methamphetamine use disorder] without injection also quadrupled among people aged 18-23 years, much larger than the growth among older age groups."
Meth, like other drugs, can bring big business while also leading to major arrests.
On March 11 in California, Customs and Border Protection reportedly arrested a 28-year-old who allegedly hid $300,000 worth of meth and fentanyl pills in his car's floorboard.
About one month prior in Texas, border officials seized over $18 million of alleged meth hidden in a commercial trailer. In January 2022 alone, Customs and Border Protection officials reportedly seized over 48,000 pounds' worth of alleged narcotics in over 6,000 seizure events.
Many meth-related arrests don't involve millions of dollars, however. That was the case with one male suspect from Florida who was reportedly arrested following a call to 911 due to thinking his recent alleged meth purchase was fake. The man reportedly told police he purchased the product, which he thought was bath salts, at a local bar.
According to the National Clandestine Laboratory Seizure system compiled by Missouri State Highway Patrol, Michigan and New York each led the U.S. in meth-related seizures in 2018 with 220 in each state.