Father, Son Arrested at Honolulu Airport for Allegedly Using Fake Vaccination Card
A father and son were arrested in Hawaii after they allegedly used fake COVID-19 vaccination cards to travel to the state.
Norbert Chung and his son Trevor Chung, who flew to Hawaii from the mainland U.S., were arrested on Sunday at Honolulu's Daniel K. Inouye International Airport, Hawaii's KHON reported on Wednesday. According to reports, the Hawaii Attorney General's office said the pair was arrested after a tip came in from the community.
"Attorney General investigators are committed to ensuring all such leads are investigated and thank the community for their assistance and support," the attorney general's office said in a statement emailed to Newsweek. "Along those lines, the Department of the Attorney General will investigate and prosecute those who cheat the Safe Travels program, which was established to keep our islands safe."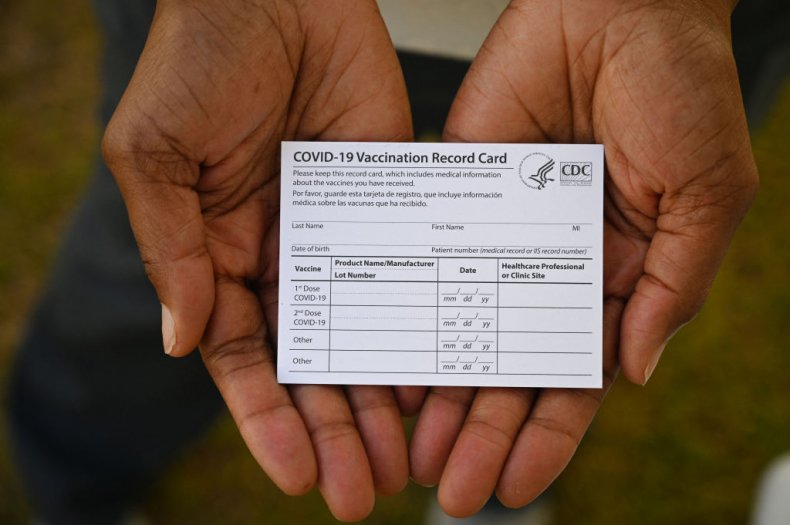 Arthur Logan, special agent of criminal investigations for the Department of Attorney General, said that there were "many, many hours" put into the investigation, according to KHON.
"To come to Hawaii and spend thousands of dollars on a trip and hotel and airfare and the money you're going to spend to enjoy paradise, you're going to risk that and spend even more money, because you put yourself, your family and others in jeopardy by trying to falsify documents to come and enjoy paradise," Logan said.
Falsifying a COVID-19 vaccine card is a crime and is punishable with up to one year in prison as well as a fine of up to $5,000. Selling or buying fake vaccine cards is also illegal. The Hawaii Attorney General's office has formed a task force to investigate violations of the state's Safe Travels rules.
"Part of that task force, our job is to investigate community complaints that come in about what's going on with visitors that may or may not be cooperating," Logan told KHON. "There are multiple investigations that we have and are continuing to do. This is the first one that culminated in the arrests such as we have, but that's not to say there are more to follow," he said.
The FBI has warned that fake vaccine cards can be found for purchase online for as little as $25. The FBI released a public service announcement at the end of March urging the public not to purchase or use falsified vaccination documents.
"Vaccination record cards are intended to provide recipients of the COVID-19 vaccine with information about the type of vaccine they received, and when they may be able to receive a second dose of the vaccine. If you did not receive the vaccine, do not buy fake vaccine cards, do not make your own vaccine cards, and do not fill-in blank vaccination record cards with false information," the FBI said at the time.
"By misrepresenting yourself as vaccinated when entering schools, mass transit, workplaces, gyms, or places of worship, you put yourself and others around you at risk of contracting COVID-19. Additionally, the unauthorized use of an official government agency's seal (such as HHS or the Centers for Disease Control and Prevention (CDC)) is a crime, and may be punishable under Title 18 United States Code, Section 1017, and other applicable laws," the agency explained.
The Attorney General's office told Newsweek that the the father and son "were arraigned this morning [Thursday, August 12] and are presumed innocent unless and until proven guilty."
Update: 8/12/21 3:50 PM --This article has been updated with further comment from the Hawaii Attorney General's office.