Horrific Viral Video Shows Bear and Her Cubs Being Slaughtered By Father and Son While Hibernating: 'They'll Never Be Able to Link it to Us'
A video that shows two men brutally slaughtering a black bear sow and her two cubs hibernating in their den has been made public by Alaska officials, following a successful public records request from The Humane Society.
In the clip, taken in April 2018, father and son Andrew and Owen Renner from Wasilla can be seen approaching the den on Esther Island before shooting the mother at close range. They then kill the two cubs in what an Alaskan trooper's report describes as a "poaching incident," SFGate stated.
At one point, the men boast that that they won't be caught with one saying: "They'll never be able to link it to us I don't think." However, they were unaware the den was under surveillance as part of a study being conducted by the Alaska Department of Fish and Game and the U.S. Forest Service.
"The video [which has been edited to remove the most graphic parts] shows A. Renner and O. Renner skiing up to the den and then O. Renner firing two shots at the denning sow," the trooper's report read. "A. Renner then kills the shrieking newborn bear cubs and discards their bodies away from the den."
After killing the mother, the men drag out her carcass and high-five each other. One of them then poses for a picture with the dead animal before they skin it.
Owen Renner can be heard saying, "You and me don't f*** around, we go where we want to kill s***."
Two days later, the two men are captured on camera again as they return to the scene of the incident to tamper with the evidence of the killing. They can be seen picking up spent shell casings before Andrew Renner says: "I gotta go in the den and make sure there's no little parts, right?" He can then be seen emerging from the den with the two dead cubs in a plastic bag.
The killing of bear cubs, or a mother bear with her cubs, is legal in some areas of Alaska. However, in the part where this incident took place it is illegal, according to The Humane Society.
In January 2019, both men pleaded guilty to illegally killing the mother and her cubs and were ordered to pay $1,800 restitution each.
Andrew Renner was sentenced to five months in jail with two months suspended and was also ordered to pay a fine of $20,000 with $11,000 suspended. His hunting licence was also revoked and he had to forfeit the equipment and vehicles that he used on the trip to kill the bear.Meanwhile, Owen Renner was sentenced to suspended jail time, community service and had his hunting licence revoked for two years. He was also ordered to take a hunter safety course.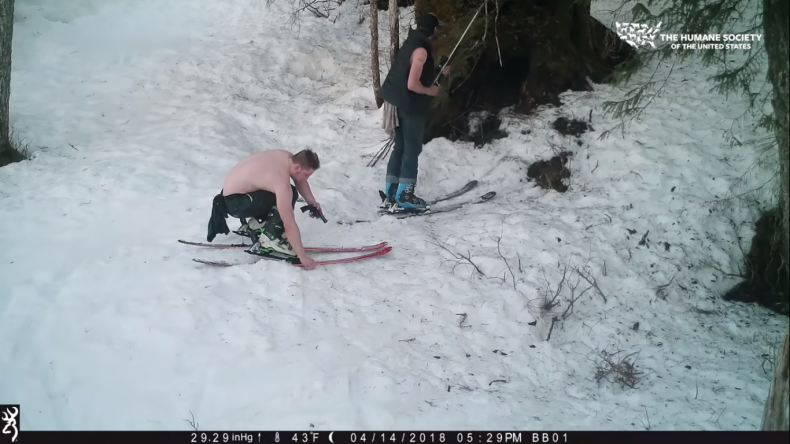 According to The Humane Society, the Trump administration is pursuing rules which will greatly expand the area where the kind of killing seen in the video can take place.
"This video of a father and son killing a mother bear and her babies in their den and showing complete disregard for the lives they are taking is reprehensible," Kitty Block, president of Humane Society International, said in a statement provided to Newsweek.
"The Renners' actions demonstrate the ruthless brutality that the government is poised to enact into law on millions of acres in Alaska, overturning a 2015 Obama-era rule that prohibits the killing of black bear mothers and cubs in their dens on these lands.
"This kind of killing runs contrary to the very purpose of federal public lands like national preserves and national wildlife refuges," Block said. "It is too sad and too late for this mom and her babies, but not too late for the government to abandon this heartless plan to enable such killing and instead maintain the rules that protect America's iconic wildlife."
This article was updated with comments from Kitty Block.