Father, Son Charged in Capitol Riot After Online Boast: 'Dad and I Were One of the First Inside'
A father and son are facing federal criminal charges for taking part in the January 6 Capitol riot after boasting online about being one of the first ones to storm the federal building.
Daryl Johnson, 50, of St. Ansgar, Iowa, and his son, Daniel Johnson, 29, of Austin, Minnesota, were charged with four federal crimes earlier this month. The charges are entering and remaining in a restricted building, disorderly and disruptive conduct in a restricted building, violent entry and disorderly conduct in a Capitol building, and parading, demonstrating or picketing in a Capitol building.
In the indictment charging both men, prosecutors said they were led to the Johnsons after multiple people tipped off officials about social media messages from Daniel that bragged, "We stormed capitol hill" and "Lol Dad and I were one of the first ones inside."
Daniel also publicly commented on a friend's Facebook page, writing, "I was one of the first ones inside the capital building" and posted several videos from inside the Capitol building to his Snapchat account.
In the days after the violent assault, Daniel claimed that Antifa caused damage to the building and alleged that "Trump supporters were restraining the Antifa people."
"I was there the media story is completely crap," he wrote on Facebook.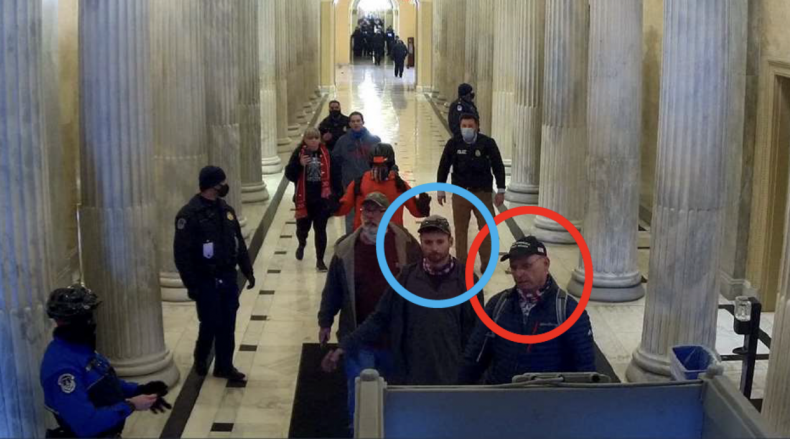 A search warrant of Daniel's Facebook account also showed a number of politically oriented posts around the time of the riots, which authorities believe show probable cause that he was at the riot.
The Johnsons were identified by numerous photos of them in the building illegally during the riot. They were captured in both surveillance footage and a news clip posted to ITV's YouTube page. Daryl was also spotted wearing the same articles of clothing at the Capitol riot that he had worn in other pictures he posted to his Facebook page.
Federal officials asked St. Ansgar police to review the photos. Officer Lane Schutjer and Detective Bruce Hemann confirmed the Johnsons' identity.
Schutjer said he recognized the two men because Daryl's father, and Daniel's grandfather, was the former mayor of St. Ansgar. Norman Johnson served one term as mayor, from 2017 to 2019.
Norman declined the Associated Press' request for comment on the charges against his son and grandson, saying, "I have plenty of thoughts, but I'm not going to share them."
Daryl made an appearance in an Iowa federal court last week, while Daniel appeared at a federal court hearing in southern Minnesota. Neither is in custody at this time, pending future court hearings in Washington, D.C.