Father and Son Killed at Same House Days Apart: Police
On Thursday, police in Houston say that a man was killed at a house days after his son was fatally shot at the same location.
Texas news outlets reported Thursday that the father was shot and killed Wednesday evening when he and the man's mother arrived at the house on Swiss Lane to pick up a vehicle.
Houston police said that when they arrived at the house, four or five masked individuals got out of a car and started shooting their vehicle, according to news station KHOU. The man was injured and taken to a hospital where he was pronounced dead, and the woman didn't suffer any injuries.
"You know it's unfortunate you must live in an area where this thing takes place, where you have four to five people jump out of car and shoot a truck up with two people in it," Houston Police Department Lt. Larry Crowson said, according to KHOU.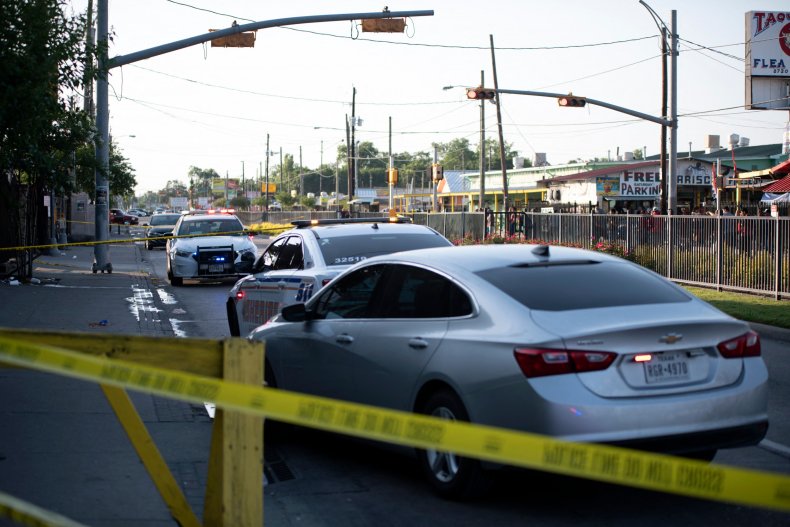 In a news release earlier this week, the Houston Police Department said that a 37-year-old man was shot and killed at the Swiss Lane residence on Monday.
The man was found "suffering from multiple gunshot wounds inside the residence" just before midnight.
"Investigators learned an unknown number of suspects forced entry into the victim's home and shot him before taking items from inside the residence. Investigators believe the suspect(s) also stole two vehicles from the home. The vehicles are described as a black Jaguar F-Pace and a dark blue Mitsubishi Outlander," the Houston Police Department stated in a news release.
In a press release about the second shooting, police said they responded to the same residence on Wednesday evening and found a victim "unresponsive in the street." He was later pronounced dead at the hospital.
"The unknown suspect(s) fled the scene before officers arrived. Detectives learned the victim was a family member of a man fatally shot at the same residence two nights earlier (June 13)," the department stated.
"A preliminary investigation indicates the motive in both shootings appears to be robbery and narcotics-related. The investigation is ongoing," it added.
A spokesperson for the Houston police referred Newsweek to the news releases and said that the department isn't releasing the identification of the victims yet.
In a separate incident in Houston in March, a father and son were shot at a self-service carwash after being ambushed by two men in ski masks, according to police. The father was killed and the son was taken to a local hospital at the time.
In another case this month, police in Nashville, Tennessee, said that a shooting connected to a birthday party at an apartment complex pool left two people dead, and injured two others.
Earlier this week, a Chick-fil-A employee was injured in a shooting and taken to the hospital after an argument with a delivery driver escalated.