Father and Son Set Word Record Crossing English Channel on Electric-Powered Boards
With two electric-power hydrofoil boards and some nerve, Rob Wylie and his son, Morgan, crossed the English Channel. They became the first people to cross the Channel using an eFoil board, setting a world record.
According to Metro, the pair used Fliteboards, which are electric-powered hydrofoil boards that travel up to 20 miles per hour and hover three feet above the water. The 23-mile journey was completed on a single battery charge in 1 hour and 44 minutes.
Starting from Cap Gris-Nez, a cape in northern France, Rob and Morgan powered through the English Channel before arriving to a shore in Folkstone, England.
"We did it," Rob said in an Instagram video posted to the official Fliteboard account. "We never thought we were going to make it, especially about halfway. The battery was getting low and it was choppy as hell. It was much more of a physical challenge than I thought it was going to be. It actually was 50 percent physical and 50 percent technology."
The post also noted that Rob's board was at just 4 percent by the time he reached the shore.
Crossing the English Channel wasn't without its challenges. The two fell off their boards several times because of masses of seaweed in the water and they had to dodge abandoned fishing crates.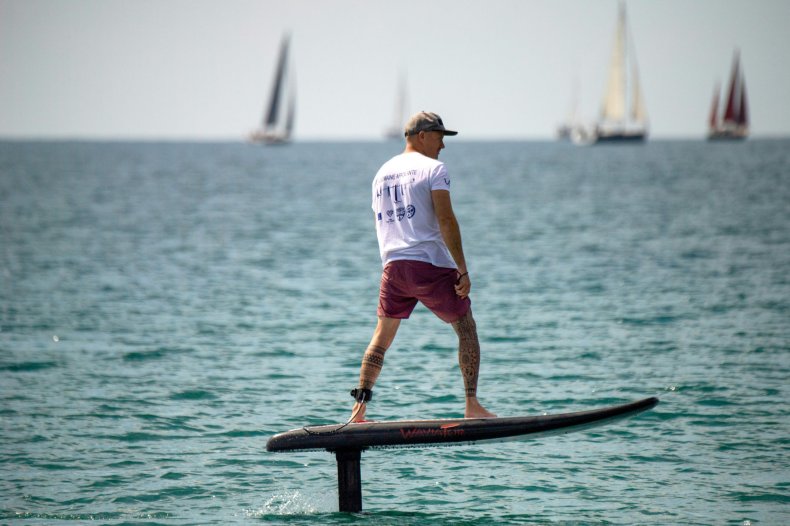 Rob told Newsweek as soon as he and his son set off from France, they had to stay concentrated on not falling or going off course.
"The sea state wasn't ideal," he said. "Not exactly waves but more like a lot of chop coming from every direction and enough power and size to unbalance you."
Seaweed, Rob said, was one of the biggest issues, especially in the middle of the channel where it collected in what he described as large "seaweed gardens."
Other shipping traffic was a challenge and a danger for the duo. They put the lead boat in charge of deciding whether they surfed behind or in front of the ships that were in their path.
Before attempting to cross the English Channel Rob and Morgan trained for weeks and also contacted Guinness World Records. They were informed if they completed the trek, they would create a new record.
In addition to completing test rides, Rob told Newsweek there was logistical planning involved.
"Getting a crew of six people in the right place at the right time with two support boats is a logistical nightmare," he said. "All that has to line up with the best wind, tide and sea state you can find. This summer has been very bad in the U.K. so we had to be patient and flexible to find a weather window that gave us a chance."
Rob also told Newsweek that he and his son had to time their departure from France to coincide with a following but reducing tide. By the time they reached the middle of the channel, there was no tide, and their journey was mapped out to an "L" shape after they picked up a following tide toward Folkstone.
The idea to set a new world record came to be when Rob and his son started experimenting to see how far they could travel on a Fliteboard in a single charge. They soon discovered that the slower they traveled, the further they went.
"Ever since I first experienced riding on a Fliteboard, I was hooked as I knew this was going to be the next generation of watersports," Rob told Metro. "It was 112 years ago that someone first flew across the Channel in a plane. Now 112 years later we have flown across on a self-propelled surfboard powered by electricity."
In July 1909, Louis Blériot, a French engineer, became the first person to fly across the English Channel. WYSO reported Blériot flew from Calais, France to Dover, England. The risky flight was made possible by a small monoplane that exploded either when it was overheated or after 30 minutes.
Despite having the odds stacked against him, Blériot successfully navigated the plane to the landing spot and made history.
Since then, many have tried to cross the English Channel in a number of different ways, including by boat, air, swimming and even car. Now, Rob and Morgan have joined the exclusive club of those who have successfully crossed the English Channel.
However, it took some time for that realization to sink in.
"To be first in anything is always special, as a first cannot be repeated," Rob told Newsweek. "In many ways, this is a technology achievement, it shows what's possible in the future with electric transportation on water."