Man Stabbed Repeatedly in Front of Daughter During Road Rage Incident
A road rage incident almost ended in tragedy as a father was stabbed multiple times in front of his family.
Johnny Duncan, aged 25, suffered two stab wounds to the chest, one to the stomach and a cut to the left arm after an altercation with another driver in Logan, Australia, the police have said.
Duncan's partner Tiani Grant-Williams and the couple's 18-month old daughter was present during the altercation on Tuesday afternoon, she told 7 News Australia.
She said a nurse explained to her that her partner was lucky to be alive as the stabbing could have been significantly worse.
A 21-year-old man, Hamish Jordan Conor Glasby, has been charged with one count of grievous bodily harm.
She said: "One of the head nurses told me, 'you need to let him know just how lucky he is to be alive right now.'
"It could have been so much worse. We're so lucky that he's even here still."
Explaining the altercation that lead to the stabbing, Grant-Williams said the attacker had been tailgating her family on Loganlea Road on Tuesday afternoon.
Grant-Williams claimed Duncan confronted the man and a scuffle broke out between the two men that resulted in the stabbing.
She was able to drive Duncan to the hospital where he received treatment for his injuries.
Grant-William's explained the journey and her partner's condition after the altercation.
During the drive, he pleaded with her to "hurry up".
She said: "Half his liver was hanging out.
"He looked like he was just passing out.
"He stumbled out of the car and collapsed at the hospital, I was in shock.
The accused man, Glasby, allegedly fled the scene but later handed himself to the police.
He appeared at the Beenleigh Magistrates Court on Wednesday and was refused bail.
According to Queensland Police Service's Online Crime Map, Logan has seen 238 assault offences between 17 October 2021 and 16 Nov 2021.
52 of these offences have occurred in the last week.
The Queensland police force has been contacted for comment by Newsweek.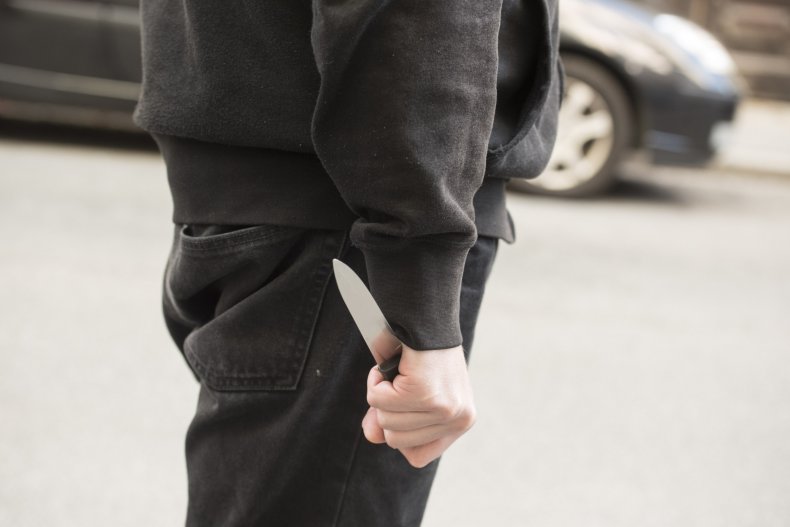 According to NBC News, a similar incident occurred in South Carolina earlier this month.
Two people have been arrested as a result of a fatal shooting after a road rage altercation on Thursday November 5th.
On Friday, authorities said that the altercation occurred on Interstate 26 in North Charleston.
Austin Blayne Faltermeier, aged 32, drove into the other car, which was driven by Parker Norman Gour, aged 24, who was riding with a woman and a child in the car.
Gour responded to this by shooting a pistol into Faltermeier's car hitting the woman, who was later pronounced dead at the scene.
Both Gour and Faltermeier have been arrested, Gour in connection with manslaughter and possession of a firearm and Fatlermeier in relation to first-degree assault, battery and unlawful conduct towards a child.
Charleston's police department has been contacted for comment by Newsweek.