Father of Teen Killed in Seattle CHOP Protest Zone Says Bring in the National Guard and 'Break This Up'
Horace Lorenzo Anderson, whose 19-year-old son was killed inside Seattle's Capitol Hill Occupied Protest (CHOP) Zone more than a week ago, is demanding that the National Guard be brought in.
"This doesn't look like a protest to me no more," Anderson said in a KIRO report. "That just looks like they just took over and said, 'We can take over whenever we want to.'"
Horace Lorenzo Anderson Jr. is one of two people who were shot and killed inside the CHOP Zone within the last week.
Anderson said Tuesday that the National Guard should be deployed to remove the protesters from the autonomous zone immediately.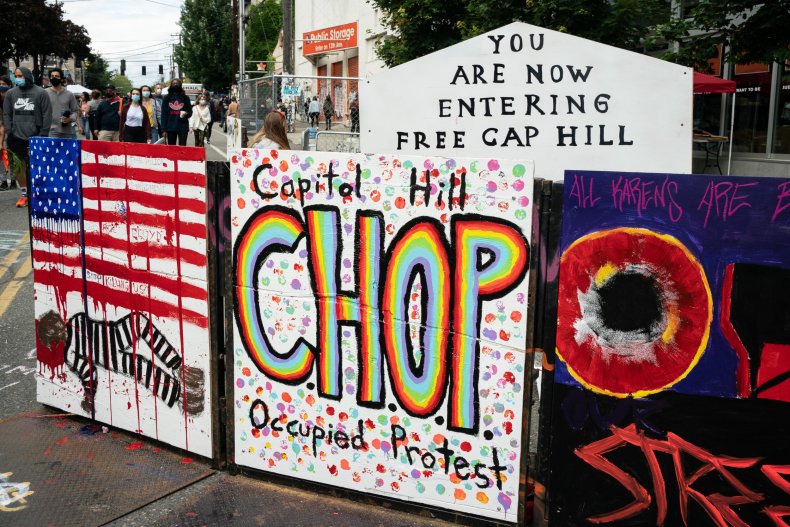 "They should deploy them here to say, 'Man, it's time to go,'" Anderson said. "It's time to move on. And break this up."
Washington Governor Jay Inslee activated the Washington National Guard on May 30 in response to a request from the City of Seattle to help protect against property damage and manage crowds and traffic during downtown protests.
Seattle was among the nation's hotspots for violent protests that ignited demanding justice for George Floyd, an unarmed Black man who died in the custody of officers from the Minneapolis Police Department on May 25.
Protesters took over a six-block region of Seattle's Capitol Hill neighborhood on June 8, placing barricades around the area manned by armed guards. The autonomous area has been plagued in recent weeks with random gun violence resulting in a number of injuries and at least two deaths.
Seattle Police Chief Carmen Best addressed the murders and the rash of violence during a press conference on June 29.
"Two African American men dead at a place where they claim to be working for Black Lives Matter. But they're gone. They're dead now. And we've had multiple other incidents. Assaults. Rape. Robbery. Shootings. And so, you know this is something that's going to need to change."
Meanwhile, Seattle Mayor Jenny Durkan was criticized in a Hot Air report for lacking "the intestinal fortitude necessary to bring this violence to an end."
On June 24, residents and business owners filed a federal lawsuit against the City of Seattle for how the city has handled CHOP, the Seattle Post-Intelligencer reported.
"Our clients want public order. They want public safety. They want access to their streets and to the properties," Angelo Calfo, who is representing the plaintiffs in the case said.
On July 1, Durkan issued a public safety emergency order demanding the protesters to vacate the East Precinct within the CHOP zone.
"As I have said, and I will say again, I support peaceful demonstrations. Black Lives Matter, and I too want to help propel this movement toward meaningful change in our community.  But enough is enough," Best said in a statement on Wednesday, adding that CHOP has become little more than lawless and brutal in its social justice pursuit.
Early Wednesday morning, local police began clearing the area of protestors as a result of Durkan's executive order.
Newsweek contacted Inslee and Durkan for additional comment but did not hear back before publication.